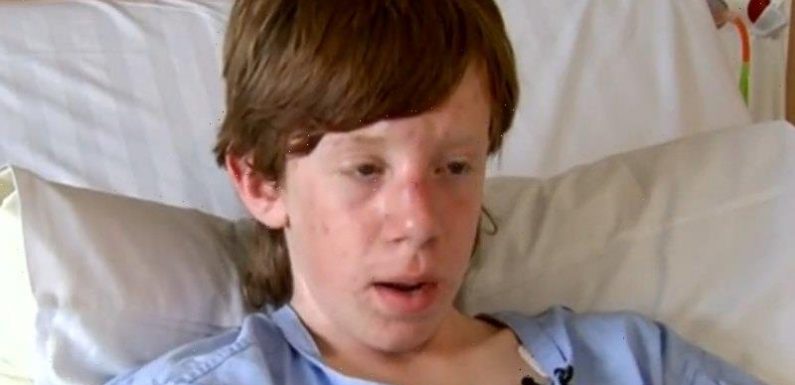 An 11-year-old boy has survived being swept into a flooded stormwater drain in Altona, in Melbourne's south-west.
Jake Gilbert was pulled from the overflowing drain on Thursday afternoon after flash flooding swept him into the drain, pulling him beneath street level.
Jake Gilbert, 11, recovers in hospital on Friday.Credit:Nine News
"[The water] was pulling me along, I was thinking sort of like 'am I going to die'," he told Ten News from his hospital bed.
Submerged in the gushing water, he clung to the grate covering the drain by his fingertips, but was not convinced he would survive.
"I tried to get out and then when I was getting pulled, I was thinking, like, goodbye and whatnot," Jake said.
By chance, off-duty SES volunteer Justin Costello and Victoria Police constable Peter Ivory were nearby and rescued Jake, who emerged with hyperthermia, grazes and bruises.
Jake's rescuers Peter Ivory and Justin Costello.Credit:Victoria Police
"At one stage he asked if he was going to make it and I said 'yeah you're going to make it mate, just hold on'," Ivory said.
SES volunteer Justin Costello said the cold water was powerful and pushing upwards through the grate, making the rescue particularly urgent.
Our Breaking News Alert will notify you of significant breaking news when it happens. Get it here.
Most Viewed in National
Source: Read Full Article