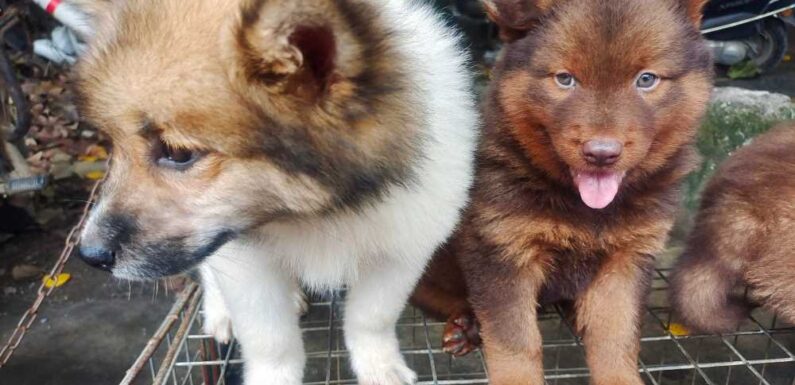 A BARBARIC dog-eating festival in China has returned "bigger and crueller" than ever after long-standing Covid restrictions were lifted and 'danger tourists' fly in from around the globe.
Undercover activists have revealed how record number of puppies are being hung, blowtorched and consumed in soups for £6 at the Yulin Dog Meat Festival – while even cats are on the stomach-churning menu this year.
The horrific 10-day event, which began today with a traditional midnight 'slaughter', has historically seen around 10,000 canines cruelled killed each season.
Chilling photographs provided to The Sun show canine carcasses on tables and tiny puppies crammed into claustrophobically small cages awaiting to be viciously slaughtered as meat. 
The flagrant scenes fly in the face of a supposed ban on the consumption of non-livestock animals in China following the spread of the coronavirus, which many experts speculated stemmed from similar 'wet markets'.
In an exclusive interview, activist Qin Xi Zhao, who went undercover ahead of the event for British charity NoToDogMeat, says one trader offered him bigger dogs if he "brought a big bag" – while he found other adorable animals like cats being boiled alive in large pots.
READ MORE IN WORLD NEWS
Inside Berlusconi's 'bunga bunga' parties – from 'orgies' to Ronaldinho masks
Rolf Harris' reclusive final years after prison – from ill wife to 24-hour care
Mr Zhao tells The Sun: "Dog carcasses are being displayed openly on tables in the main streets of Yulin, with no covers and blood and juices run into the streets as they are being chopped up.
"Down on the floor below the tables, there are live dogs in cages, which will be slaughtered in public near crowds of people. 
"They are often hanged before being blowtorched while they are still alive to remove their fur.
"The puppies have been bred for meat slaughter, and as well as at the puppy farm we have seen puppies on the stalls at the markets awaiting their fate. 
Most read in The Sun
Titanic sub searchers detect 'banging sounds' sparking new hope for crew
I signed up to go on missing Titanic sub but pulled out because of safety fears
God help the missing Titanic tourists… I did trip like them & had nightmares
Sky News and ITN presenter dies aged 56 as colleagues pay tribute