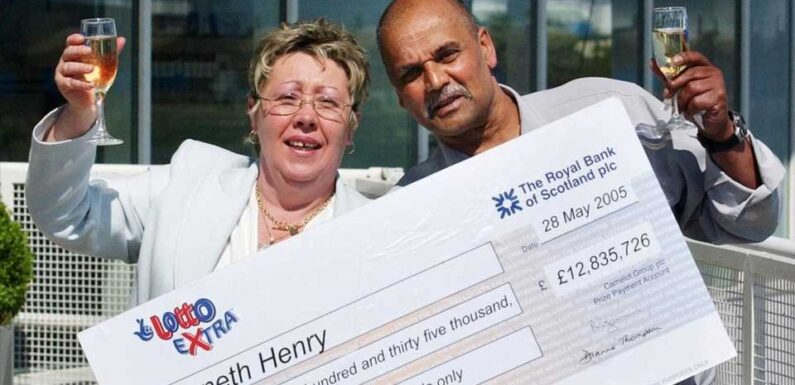 A MULTI-MILLION-POUND lottery win turned sour for a family torn apart in the wake of hitting the jackpot.
Sandra Fosbrooke and partner Ken Henry, from Llanelli in Wales, scooped a rollover National Lottery prize of £12.8m.
Yet their apparent good fortune paved the way for rancorous disputes with relatives, police call-outs and a fall-out with their teenage daughter.
The couple initially responded to their windfall by lavishing houses, cars and gifts worth hundred of thousands of pounds on family members.
Yet other relatives claimed they had been snubbed – including Sandra's sister, mother-of-three Elizabeth Davies.
Former £5.44-per-hour Asda supermarket check-out worker Sandra and bingo caller Ken bought themselves a £1.2m country mansion not far from their Llanelli home town.
Read More On The Lottery
Lotto players urged to check tickets after £10K-a-month prize unclaimed
Winning Set For Life numbers for Monday June 19, 2023 £10k a month jackpot
They gifted their old house to Sandra's son Matthew while Ken also bought £200,000 homes in the town of Abergavenny for his daughters Dee and Teri.
And Sandra invested in a £270,000 bungalow for her pensioner father Bob Cochrane, as well as a new Renault people-carrier for him.
But her sister Elizabeth complained: "It really hurts that Sandra has never been in touch with me about her good fortune or even offered me anything.
"If I was the one who had won such an amount, I wouldn't have hesitated helping my sister out if she needed it.
Most read in The Sun
Holly & Dermot speechless as Gino returns to This Morning with awkward Phil comment
Inside Titanic sub mission with '1% chance' as rescuers listen for thuds
Mrs Hinch shares 'nightmare' as son Ron, 3, is diagnosed with rare disease
Kevin Costner confronts tenant after 'he becomes close pals with his wife'
"I know we have had our ups and downs in the past but I just cannot understand her cutting me off like this.
"People stop me in the street and say I must be all right for money now – they are shocked when I tell them I haven't been given a penny."
And an unnamed friend was quoted as saying: "Welsh families are noted for being very close and doing anything for each other.
"It seems incredible that although Sandra is rich beyond her wildest dreams, she apparently hasn't helped out her sister and her family just a few miles away.
"Elizabeth is stony broke and can't even afford to treat herself to a night out at the pictures."
The couple declined to comment on the claims.
Sandra and Ken scooped their lottery win in May 2005 and soon moved from the former mining village of Furnace, near Llanelli, to a five-bedroom, six-bathroom mansion in rural Carmarthenshire.
They also celebrated by taking various holidays across the world, including a trip to Las Vegas in the United States.
The family hit the headlines again when Sandra's daughter Ffion Jenkins threw a house party for her 17th birthday – and more than 200 people turned up, after details went viral online on Facebook.
Mrs Fosbrooke was working that evening at a pub in the district of Five Roads which she co-owned – unaware of the hordes descending until being alerted that the police had been called.
Reports suggested it took 40 minutes for officers to calm down the party.
A witness said: "There were about 200 people, with fights starting everywhere. It was chaos.
"I think someone threw a flatscreen telly out of the window. The house has been badly damaged."
Ffion herself posted afterwards on Facebook, "Five Roads is now on the map of madness", while joking about how she should "show my face in this village again".
But she also revealed none of her family now wanted to talk to her and that both her birthday and Christmas had been "ruined".
A friend posting on the social media site, however, assured her: "You had one hell of a party – many thanks, you deserve a pat on the back!"
Another commented: "It was brilliant while it lasted!"
Ffion's contentious birthday party in November 2012 came just months after Sandra and Ken split, dividing their lottery fortune between them.
Sandra helped rescue her regular pub, The Stag, co-buying it and taking over as landlady – saying at the time she was "fed up with doing nothing" – adding: "There's only so many holidays you can take.
"When the chance came to take over the pub I jumped at it.
"I was determined to keep my feet on the ground and at the same time put something back into the community."
She also revealed how not only family members but some short-term pals became estranged following her lottery windfall.
Sandra said: "When we won the Lotto we found we had lots of new friends but they didn't last long.
"But we have managed to keep all our old friends because we have stayed the same people and not put on any airs and graces.
"Our friends realise we are still the same people we were before our win and we have been fortunate to retain their friendship."
Five Roads villager Graham Jones was among those praising her, however, saying of The Stag: "It's a really homely, sociable pub which is very welcoming and it's put the life back into the village.
"You would never think from the way that Sandra bustles around that she is worth millions – but that's the sort of person she is.
"There are no airs and graces about her – she just gets on with the job."
Other families have struggled amid the aftermath of a lottery win too.
A former chef felt he had to flee the UK after being bombarded with requests for hand-outs after scooping £6m.
Another man was devastated after his ex won £14.5m and immediately told him he would not see a penny.
One family netted £61m on the EuroMillions draw – but an ex-boyfriend of the parents' daughter narrowly missed out on claiming any share.
Read More On The Sun
Love Island rocked by shock daytime recoupling which will air TONIGHT
Phil Schofield's Dancing on Ice replacement 'revealed' as star wows bosses
More tragically, a former baker said winning £9m on the lottery ruined his life – before drinking himself to death.
And another EuroMillions winner followed up scooping £6.5m by splitting from his wife, crashing his Ferrari, being banned from driving and forced to sell his dream home.

Source: Read Full Article