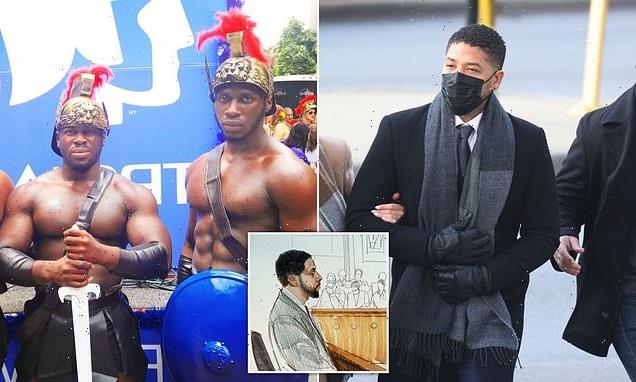 Jussie Smollett scolds white prosecutor for repeating N-word while reading out texts HE sent to Nigerian brother: Admits changing description of his attackers from 'white' to 'pale' during cross-examination at his 'hoax race attack' trial
Smollett is back on the stand for the second day to be questioned at his disorderly conduct trial in Chicago
He told the jury on Tuesday that he first called his attackers white then changed the description to 'pale' 
He said he had just 'assumed' they were white in his first description and claims he still doesn't know who attacked him 
Smollett said on Monday that he and Abimbola Osundairo had 'made out' at a bathhouse and 'masturbated'
He says he  did pay him $3500 but claims it was for nutritional plans and exercise guidance, not to stage the attack 
Smollett says the 'dry run' police say they performed days before the attack was just them getting 'stoned' 
He hasn't been able to offer a solid explanation for why the brothers may be lying, or who attacked him
Asked on Tuesday if it was the brothers in surveillance footage from the night in question, Smollett said: 'I just don't know. They're liars, so.. they also said I had something to do with it and that's not true' 
On Tuesday, he chastised the white prosecutor for using the N-word while reading texts he had sent Bola 
Smollett told him not to use the word 'out of respect for every African American in the room' 
He then told the judge he 'didn't want to answer yes or no' to the questions; the judge ordered him to 
Jussie Smollett has admitted changing his description of his attackers from 'white' to 'pale' under cross-examination from the special prosecutor at his trial where he became increasingly defensive on Tuesday, his second day of testimony, snapping at the prosecutor for using the N-word while reading aloud his texts and insisting he has permanent injuries from the incident.
Smollett took the stand again on Tuesday morning at his trial in Chicago where he is accused of lying to police about being the victim of a hate crime on January 29, 2019. 
During questioning by special prosecutor Dan Webb, the 39-year-old became exasperated and snapped, telling the jury and the judge that he didn't want to answer 'yes or no' to questions, and that he has scars on his face that will be there for the rest of his life.  
He said that he initially 'assumed' his attackers were white, but that he changed his story afterwards to say they were 'pale' and that it was the 'responsible' thing to go.
'I didn't want to make the assumption that they were white. So I said let me change that and just say that they were pale skinned.' He said it was the 'responsible' thing to change his description because he couldn't be sure, adding: 'They could've been a white person, they could have been a pale someone else.'
When asked if he'd described them as white because he thought it would more attention, he snapped: 'You'd have to ask someone who actually did a fake hate crime.' 
Smollett also became defensive when asked why he sent Instagram private messages to Abel Osundairo in the hours before the attack, with prosecutors suggesting he was filling him in on the fact his flight from New York to Chicago was delayed, which would delay the plan.  'N***** this is brutal. Still on this damn runway' was one of them, and another was: 'N***** finally made it.'  
In the messages, Smollett repeatedly used the N-word but on Tuesday, he told Webb not to while reading the texts out loud, out of respect for 'every African American person in the room'. 
Webb, who is white, apologized and Smollett quipped: 'Apology accepted but it's been used a lot.'  
Jussie Smollett arrives with his family on Tuesday morning before taking the stand again at his disorderly conduct trial. He maintains his innocence
Smollett, on Tuesday, heading into court. He told the jury that he still has 'bruises' and 'bags' under his eyes from the attack
Smollett is depicted in a sketch from yesterday. On Tuesday, he became agitated with the prosecutor and the judge 
Smollett says brothers Abimbola and Olabinjo Osundauro (left and right) are lying in their claims he paid them to attack him. He says he and Abimbola (left) had a sexual relationship in the past but that Ola (right) 'creeped' him out 
Smollett also claimed that in the days before the stunt, when prosecutors claimed he and the brothers were rehearsing the attack, they were actually getting together to smoke marijuana.  
Smollett also wouldn't say for a fact that brother Abel and Ola Osundairo were the men on surveillance cameras filmed near the area of the attack on January 29, 2019, despite previously claiming that it was them. 
'I just don't know. 
'They're liars, so.. they also said I had something to do with it and that's not true,' he said on Tuesday. 
His attorneys, in opening arguments, said it was the brothers who attacked him and that they did it because they 'hate the person he is'. 
They have also suggested the pair attacked him in a bid to frighten him into hiring them as their security guards. 
Smollett, on Tuesday, also said his injuries are worse than they appeared in his Good Morning America interview, taken less than two weeks after the incident where he did not have major injuries. 
He snarked at the prosecutor that he didn't understand what a Hollywood interview was like, and said: 'Mr. Webb, I have a scar under my eye that looks like a bag for the rest of my life. 
'It's absolutely a problem.' 
Smollett shocked the court yesterday by claiming he 'made out with' and 'masturbated' with Abimbola Osundairo, one of the brothers, during a visit to a bathhouse. 
Smollett told special prosecutor Dan Webb not to use the N word while reading out texts where he had used the word. Smollett asked him not to 'out of respect for every African American in the room'  
The jury was also shown this February 14 interview. Smollett said that he had on lots of make up to cover up his 'bruises' and 'injuries' which he says he'll have for the rest of his life and which 'will be a problem'
He maintains that he did think the pair were light skinned when they attacked him and that he couldn't see them both properly. 
He told the jury that he thinks they staged the attack on him to try to scare him into thinking he needed bodyguards, and to give them the job. 
The brothers, who testified last week, told the jury Smollett hired them to fake the attack because he wanted to boost his celebrity profile. 
On Tuesday, the actor insisted this was never the case and that he 'hates' attention. 
He said on Monday that he would never have involved the police because he doesn't trust them. 
'One, I am a Black man in America I do not trust police… I am also a well known figure and I'm openly gay … I want to play a boxer, I want to play a superhero… the moment I got beat I become a f****t who got his ass whooped,' he told the court on Monday when asked why he didn't call the cops.
The brothers have suggested that he didn't want the police involved because he didn't want them to expose the lie he'd orchestrated. 
Closing arguments are expected to begin either today or tomorrow. If convicted, Smollett faces a maximum of 18 years behind bars – three years for each of the six counts he is charged with – but it's more likely he will be sentenced with probation if convicted. 
TIMELINE OF JUSSIE SMOLLETT HOAX ATTACK SCANDAL
Jan. 22, 2019
Smollett receives a racist and homophobic threatening letter at the studio in Chicago where "Empire" is filmed. Police later say they believe Smollett sent the letter himself.
The brothers said Smollett also sent himself this letter to the Fox studio where Empire is filmed a week before the attack. If he did, he faces another 5-10 years in prison on a federal mail fraud charge 
Police say Smollett cut his own cheek to make it look like he had suffered injuries in the attack
Jan. 29, 2019
Jussie Smollett tells police he was attacked by two men in downtown Chicago at 2 a.m. 
The actor says the men used racist and homophobic slurs, wrapped a rope around his neck and poured an "unknown substance" on him. 
Police say Smollett, who is Black and gay, told detectives the attackers also yelled he was in "MAGA country'
Jan. 30, 2019
Chicago police say they've reviewed hundreds of hours of surveillance camera footage, including of Smollett walking downtown, but none shows the attack. Police obtain and release images of two people they want to question, calling them 'persons of interest'
Feb. 1, 2019
Smollett issues a statement saying he's OK, that he's working with authorities and has been '100 percent factual and consistent on every level.'
Feb. 2, 2019
Smollett opens a concert in West Hollywood, California, with an emotional speech, saying he had to play the show because he couldn't let his attackers win
Police released this image of 'persons of interest' taken near the reported attack
Feb. 13, 2019
Chicago police pick up two Nigerian brothers at Chicago's O'Hare International Airport after police learn at least one worked on Empire
Police question them and search their apartment 
Jussie Smollett on Good Morning America on February 14, 2019 
February 20, 2019
Smollett is charged 
Feb. 21, 2019
Chicago police say Smollett surrenders to face a felony charge of disorderly conduct, punishable by up to three years in prison.
Chicago Police Superintendent Eddie Johnson says Smollett staged the attack because he was unhappy with his salary and wanted publicity. Investigators say they have a $3,500 check that Smollett used to pay the two brothers to help him.
Chicago Police Department Superintendent Eddie T. Johnson tore through Smollett at a press conference on Thursday where he labeled him 'shameful' and 'despicable' 
Jussie Smollett is shown in his mugshot in February 2019
Feb. 22, 2019
Empire producers say Smollett's character to be removed from the final two episodes of the season.
March 7, 2019
A Cook County grand jury returns a 16-count indictment charging Smollett with falsely reporting an offense
March 26, 2019
Smollett's attorneys say charges alleging he lied to police have been dropped.
March 28, 2019
A city official says Chicago is seeking $130,000 from Smollett to cover the cost of the investigation into his reported beating, which police say was staged.
Smollett's attorney Tina Glandian claims on TV that the attackers could have been wearing 'white face' and that's what made him describe them as light-skinned  
April 11, 2019
The city of Chicago files a lawsuit seeking to recoup the investigation costs.
Jussie Smollett's lawyer Tina Glandian suggested on Thursday that the reason he told police his Nigerian attackers were white was because they 'might have been wearing white face' and had disguised themselves. Her evidence of the theory is 2016 video of Abel Osundairo (right) dressed up as the Joker 
Cook County State's Attorney Kim Foxx  recused herself from the Smollett case
April 23, 2019
The brothers who said they helped Smollett stage the attack file a defamation lawsuit against the actor's attorneys.
Aug. 23, 2019
Judge names former U.S. Attorney Dan Webb as special prosecutor to investigate why charges against Smollett were dropped.
Feb. 11, 2020
Webb says grand jury returns six-count indictment against Smollett, accusing him of lying to police.
Feb. 24, 2020
Smollett pleads not guilty to restored charges.
Oct. 15, 2021
Judge James Linn denies a last-ditch effort to dismiss the criminal case against Smollett and sets his trial for Nov. 29.  
November 29, 2021: Jury selection begins  
Source: Read Full Article