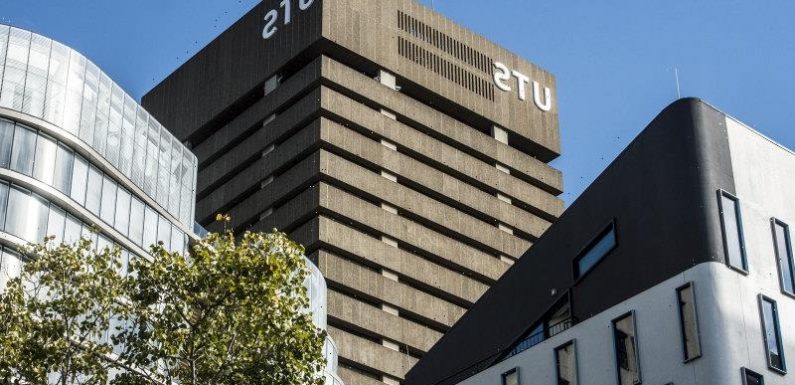 For our free coronavirus pandemic coverage, learn more here.
The University of NSW and University of Technology Sydney are among city institutions that will make COVID-19 vaccination mandatory for students to return to campus from this week.
UTS said people visiting the campus over the next few weeks, staff including contractors and students could attend campus "provided they have proof of vaccination and comply with COVID-safe requirements at all times".
UTS is among many universities which have made COVID-19 vaccination mandatory for all staff and students returning to campus.Credit:Steven Siewert
The majority of classes for the spring teaching session, which ends on October 29, would continue to be held online. But study spaces in most buildings will be open for fully vaccinated students from October 18 onwards, including during StuVac and the final assessment period. The library is already open for booked study seats and click and collect. The campus will not be open to visitors.
From December 1 until February 18, 2022 all fully vaccinated staff, students and visitors would be welcomed back on campus. The university said those unable to show proof of vaccination could provide evidence of a negative COVID-19 test in the previous two days.
Faculties would offer a mix of teaching and learning, including face-to-face on campus. The UTS library would be open for the summer session and COVID-safe Christmas parties will be allowed.
UNSW says that from this week only students who are fully vaccinated or who have a medical exemption will be allowed on campus and they must show evidence of their vaccination status.
"In accordance with the NSW Public Health Order, staff who are not vaccinated can only come to work if it is not reasonably practicable to work from home," the university's road map says.
Staff who are unvaccinated will need to seek permission from their department head and undergo a safety risk assessment.
A UNSW Sydney spokeswoman said it had "embarked on a cautious and phased return to campus".
"In our first phase, until December 1, staff and students have been asked to continue to work and study from home where they are able to do so," she said. "We are, however, allowing staff and students who cannot work or study from home to return to campus in certain circumstances, and with permission.
"Anyone who returns to campus during this phase will be required to observe a range of health and safety measures, including a requirement to be fully vaccinated or medically exempt, and have evidence of this on hand. Unvaccinated staff seeking to return will need to undergo a safety risk assessment."
A Macquarie University spokeswoman said its campus would open from October 18 to fully vaccinated students who were enrolled in a course that required their attendance. Other students would continue to complete their studies online.
"We will communicate further with students about session 1, 2022 once the relevant Public Health Orders and associated requirements are made available," she said.
The University of Sydney was contacted for a comment.
Monash, La Trobe and Melbourne University are also among those that have decided to enforce compulsory vaccination by early December.
The University of Melbourne said all students, staff contractors and visitors attending its campuses would be required to be fully vaccinated from November 5 in line with public health advice.
A review of staff and students by TAFE NSW last month found more than 80 per cent of staff and students were either already vaccinated or were planning to be vaccinated.
Stay across the most crucial developments related to the pandemic with the Coronavirus Update. Sign up for the weekly newsletter.
Most Viewed in National
From our partners
Source: Read Full Article