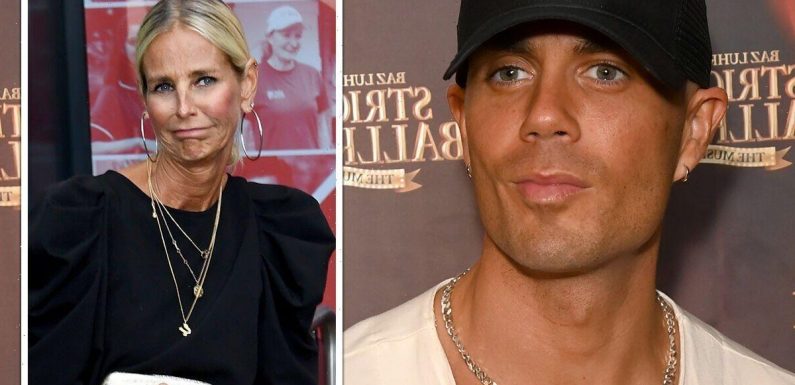 Ulrika Jonsson discusses marriage and divorce on Lorraine
We use your sign-up to provide content in ways you've consented to and to improve our understanding of you. This may include adverts from us and 3rd parties based on our understanding. You can unsubscribe at any time. More info
Max George, 34, posted a not-so-subtle jibe at the television presenter as their virtual feud continues. Ulrika Jonsson, 55, originally hit out against the singer's girlfriend Maisie Smith, 21, as she sparked split rumours after posting a cryptic video.
Max and Maisie were on a romantic holiday in Cyprus when the actress posted a clip of herself as a single tear ran down her face with the on-screen caption: "You didn't deserve me."
The cryptic TikTok was set to the tune of Omar Apollo's song Evergreen (You Didn't Deserve Me At All) and Maisie captioned the video: "Nothing but happiness these days."
The couple's combined fanbase went hysterical thinking they had split, but the Swedish-British presenter had other feelings.
Ulrika brutally slammed the actress in her column for The Sun, labelling her as self-indulgent and attention-seeking.
She wrote: "WHAT is the self-indulgent nonsense that possesses people to film themselves crying on social media?
"Surely, sadness, mourning, personal trauma or grieving is something private – not something you milk?"
She continued to say that Maisie's post was "insulting", as it caused her audience genuine concern.
Ulrika continued: "To do what Maisie did, which was to accompany her tears with a cryptic message and dramatic music which had everyone tearing their hair out with concern for her, fraught with anxiety – and then in a subsequent post to be pictured snogging the face off her boyfriend as if nothing had happened at all, is insulting."
The boyfriend in question viciously hit back at Ulrika, posting a photo on his Instagram story on Tuesday.
Posing in an elevator mirror, Max flashed his stellar jawline and a middle finger.
He captioned the post: "Just for you Ulrika."
Following Maisie's controversial clip, she has since posted many loving Instagram photos and TikTok videos with Max, ensuring their fanbase that they are still together.
Furthermore, one particular post sparked rumours that the couple may even be engaged.
She posted some photos of her and Max from their holiday, captioning the post: "Baecation."
In the photos, Max and Maisie pose outside of their luxury accommodation, both donning sunglasses and the EastEnders actress seemingly wearing a ring, although it has been debated that it's a simple piece of costume jewelry rather than an engagement ring.
Maisie donned a form-fitting leopard print dress and bright red heels while Max looked dapper in a white shirt and cream trousers paired with black and white sneakers.
Max adorably commented on the post: "I (heart) you."
The couple also delighted fans as Maisie took to TikTok again with a challenge, questioning: "You're in a room with your boyfriend, your celebrity crush and your childhood crush…
"Who are you running to?"
The video then cut to Maisie gleefully jumping onto Max while he lies on the couch with an on-screen caption: "Me running to all three."
Source: Read Full Article