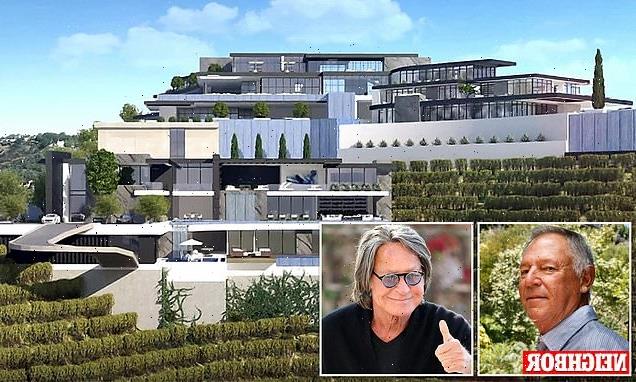 EXCLUSIVE: 'Pay up – and go away!' Mohamed Hadid's neighbors are jubilant as judge awards them $2.6M after five-year legal battle to demolish his Los Angeles mega-mansion labeled Starship Enterprise – but he now wants to sue them for hundreds of millions
Mohamed Hadid's neighbors who forced the demolition of his mega-mansion were awarded $2.6million 
'I feel vindicated,' neighbor Joe Horacek, told DailyMail.com. 'Now I just want Hadid to pay up and go away' 
Hadid, 74, angrily denounced the decision, telling DailyMail.com, 'This is a joke,' and threatened to counter sue 'for two or three hundred million dollars'
Neighbors who forced the demolition of celebrity real estate tycoon Mohamed Hadid's notorious Los Angeles mega-mansion have been awarded $2.6million toward the cost of the legal fees they ran up during almost five years of bitter court battles with the maverick developer.
'I feel vindicated,' the neighbors' leader, 81 year-old Joe Horacek, declared to DailyMail.com. 'Now I just want Hadid to pay up and go away.'
But Hadid, 74, angrily denounced the decision by LA Superior Court Judge Craig Karlan to make him pay his opponents' attorney charges, telling DailyMail.com, 'This is a joke – it's crazy,' and threatening to counter sue the neighbors 'for two or three hundred million dollars.'
Mohamed Hadid is vowing to fight the  $2.6million legal fees that have been awarded against him. 'This is a joke – it's crazy,' he told DailyMail.com
'I feel vindicated,' neighbor Joe Horacek (pictured at his front door before the megamansion was demolished) told DailyMail.com. 'Now I just want Hadid to pay up and go away' 
An artistic rendering show what the mega mansion would have looked like like if it had been completed
The saga over the giant house in ritzy Bel Air, that Hadid hoped to sell for $100 million, began in 2015 when he was criminally prosecuted by the City of LA for refusing to comply with 'stop work' orders issued because the structure grew to twice its originally permitted 15,000 sq ft, earning it the nickname 'Starship Enterprise'. 
The City ordered Hadid – father of supermodels Bella and Gigi Hadid and star of The Real Housewives of Beverly Hills – to reduce the size of the house to meet planning regulations or tear it down. But by 2018, neither of those orders had been obeyed.
Hadid has vowed to file a suit against Horacek (pictured) for millions 
So residents directly below the huge, hilltop mansion, accusing the City of dragging its feet enforcing its orders, filed a civil lawsuit, claiming that the massive, illegally-built 'monstrosity' tottering above them, complete with its own 70-seat IMAX theater, could come crashing down the hill and destroy their homes.
In November 2019, after hearing from engineers and architects, Judge Karlan agreed with the suing neighbors – Horacek and his wife Bibi, plus John and Judith Bedrosian – and declared Hadid's mansion a 'clear and present danger' to the local community, ordering it to be torn down.
The neighbors' battle with the Palestinian-American entrepreneur came to a climax two years later in September 2021 at the end of a six-week trial when the jury in Judge Karlan's Santa Monica court room awarded the Horaceks and the Bedrosians a total of $2.9million in damages.
Hadid claimed victory because that award was just a fraction of the $26million the neighbors were seeking in damages.
Also, the $2.6million in legal fees Judge Karlan awarded this week – the judge's last decision before retiring from the bench aged 56 – didn't come close to matching the $9million the neighbors estimated they spent on lawyers.
Still, Horacek, a retired entertainment lawyer whose clients have included movie star Michael Douglas and TV's Dr. Phil, told DailyMail.com that he feels 'vindicated' by the judge's ruling to grant the neighbors' motion for legal fees, even though they won't cover the sum he and his fellow residents shelled out.
Hadid, 74, angrily denounced the decision to pay his opponents' legal fees, telling DailyMail.com, 'This is a joke,' and threatened to counter sue 'for two or three hundred million dollars'
The mega-mansion nicknamed 'Starship Enterprise' is seen being demolished in February 2022
All that is now left of the dream mansion that Mohamed Hadid had imagined would tower over Bel Air
'In granting the legal fees, the judge clearly saw that we were not only suing Hadid for our own benefit, it was also for the safety of our whole neighborhood which was being endangered by Hadid's project.' he said.
Asked if he and the other suing neighbors have received any of the $2.9million in damages the jury awarded them, Horacek laughed and said, 'We haven't seen a penny from Hadid. We'll have to hire people to chase down his assets if we want to get paid.
'Hadid claims to be broke. But I'll bet you he'll arrive at the Cannes Film Festival this year…on a private jet!'
Hadid scoffed at the judge's award of $2.6million in legal fees to his long-time foes.
'This is a joke,' he told DailyMail.com. 'This is a judge who ordered my house to be demolished before there was even a trial. How can that happen?
'And then, after I won at the trial, I have to pay their legal fees? It's crazy.'
Hadid has a pending appeal against the $2.9 damages award against him. He said that he would also appeal against this week's $2.6 million attorney fees he's been ordered to pay.
And after the appeals are decided, he added, 'I will file a lawsuit against Horacek and the others. I will go after them for two or three hundred million dollars.'
Neighbors fought for years over the demolition of the property because of all the unapproved construction. The development of the home has also been an eyesore to nearby residents 
Meanwhile, demolition of his dream house that once dominated the skyline began last year and is now finished…. much to the relief of the Horaceks.
'We're so happy to be able to look outside and not see that monstrosity – and not have to worry about it coming down on top of us,' said Joe.
During the trial in 2021, the neighbors' legal team painted a picture of the Horaceks and the elderly Bedrosians being unable to enjoy their golden years in the quiet and peace of tranquil Bel Air because of the daily specter of Hadid's massive structure above them.
They told anguished stories of how 10 years of building work on the mansion on Strada Vecchia brought 'stress, anxiety, constant fear and sleepless nights' into their daily lives.
And they told the jury that they were afraid it could slide down the hill and crash into their homes directly below because its foundations didn't comply with safety standards and it was built atop a hill where illegal grading (shifting tons of earth) made the steep slopes it sits on unstable and prone to landslides.
The 74-year-old Palestinian-American real estate tycoon now says he wants to sue his neighbors for two or three hundred million dollars after losing his dream home
Hadid is the father of supermodel Bella Hadid, 26, and her sister Gigi, 27
Hadid adopted a defense of denial during the trial. He denied violating building regulations. He denied bribing City building inspectors to turn a blind eye to construction work being done without permits.
And he denied that the mansion's weak foundations and the unstable hillside it's built on pose a risk to other homes in the community.
Hadid tried several legal moves to try to stop or delay the demolition. First he filed Chapter 11 bankruptcy, claiming he 'couldn't afford' the $5million demo cost. That was dismissed.
Then he filed an appeal against Judge Karlan's order to tear down the giant house. That too was denied.
He went to California's Supreme Court to try to save his project. But the state's highest court torpedoed his efforts, refusing even to hear the case.
Still undeterred, Hadid's lawyers filed a second appeal – this time against Judge Karlan's decision to appoint a receiver to oversee destruction of the house. He lost that appeal as well.
In January 2022, Hadid's legal team filed a third appeal, this one against the $2.9million judgment awarded to the neighbors by the civil trial jury. That's still pending.
Source: Read Full Article