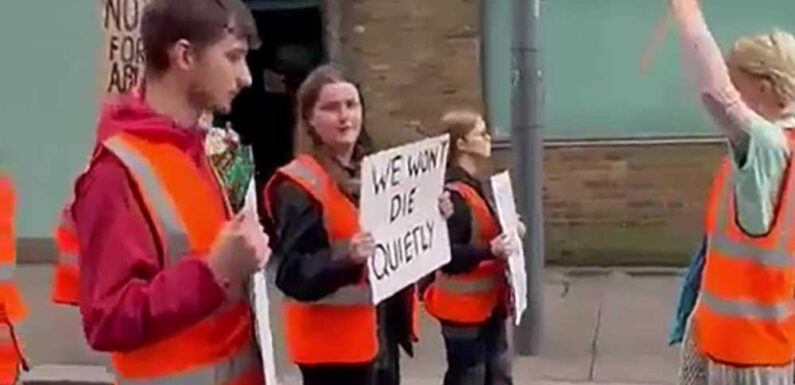 THIS is the moment a raging bystander hurled milk over Just Stop Oil protestors during another traffic-disrupting stunt.
The environmentalist group were holding up motorists in Hammersmith, West London, when one fed-up Brit took matters into his own hands.
In the clip, the man can be heard muttering to himself before throwing the dairy product over the six-strong group.
He slammed the activists as "f***ing wrong'uns" as they delayed drivers by slow-marching up the middle of the road.
They wore bright orange, high-vis jackets an carried signs calling for an end to oil and gas production.
The man walked around the crowd pouring milk over them, finishing off with the woman who appeared to be leading the march.
READ MORE UK NEWS
Ashes eco yob is son of millionaire who lives in £6m mansion
Our popular beach is being ruined by vile 'sex attacks' – we need a key change
He then launched the empty plastic milk carton at her head.
Social media commenters were left divided, with some slamming Just Stop Oil's tactics and other saying that the man overreacted.
One tweeted: "Just Stop Oil protest in Hammersmith and we are stuck on a bus as I try and get my kid to nursery after an appointment."
But another snapped: "I cannot condone this. That is assault, especially launching the empty milk carton at the girl's head.
Most read in The Sun
'Human remains' found in Titanic sub wreckage that was brought ashore
Madonna rushed to intensive care as star's world tour is postponed
Chrissy Teigen & John Legend welcome 4th child via surrogate & reveal unique name
Big Brother winner Nadia Almada unrecognisable 20 years after winning show
It comes after the organisation disrupted play at Lord's on the second day of the Ashes test.
England wicketkeeper Jonny Bairstow was spotted carrying one of the protestors off the pitch.
A similar scene occurred involving Tom Curry when the group ran onto the Twickenham turf during the Gallagher Premiership final in May.
The Sun revealed that one of those involved in the Ashes demonstration is the son of a millionaire who lives in a £6 million mansion.
All three activists were arrested on suspicion of aggravated trespassing.
Meanwhile, the Metropolitan Police confirmed the eye-watering sum spent on dealing with the "disruptive protests" at the expense of the taxpayer.

Source: Read Full Article