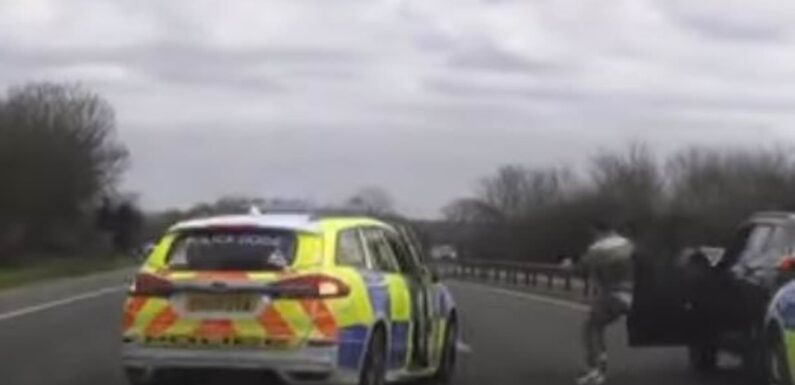 More than 500 'burglary tourists' are flying in from South America every year to terrorise middle class Brits in £50m raids
Burglars are coming from Chile, Peru and Brazil to ransack homes in Britain
Middle class Britons are being terrorised by hundreds of 'burglary tourists' who are flying into the UK from South America every year, it is claimed.
The criminals, from countries such as Chile, Peru and Brazil, are entering Britain on tourist visas with the intention of ransacking the homes of Middle England and trying to flee the country before being caught.
The gangs, who previously targeted Premier League footballers and celebrities, have now moved onto the wealthy middle class stealing tens of thousands of pounds in jewellery and valuables at a time.
Since the start of 2022 British police have arrested at least 20 Chilean nationals, but detectives have previously admitted they don't know the true scale of the problem.
Some suggestions have put the total number of burglars jetting into the UK at 500 every year, with those doing so with instructions on where to target and what to take, the Express reports.
Celebrity chef Marcus Wareing, pictured here with his wife Jane, was targeted by a gang of Chilean burglars
Bernadette Pinkerton and her husband Steve had their home targeted by a group of Chilean burglars earlier this year 
One police source told the publication the thefts are 'incredibly lucrative' for those that can get away with them.
'Police on have a small window in which to catch the people responsible', they said. 
The new wave of Latin American burglary gangs has been made possible by the opening up of long-haul travel following the Covid pandemic.
READ MORE HERE:  Chilean gang behind £33,000 jewellery raid on TV chef Marcus Wareing's £5m London home are 'burglary tourists' wanted over a catalogue of serious crimes
In 2020, the MailOnline revealed how a staggering 300 Chilean burglars were active in this country.
Gangs raided properties in the Home Counties and Cheshire, with targets including celebrity chef Marcus Wareing and former Manchester United goalkeeper Tomasz Kuszczak.
In Mr Wareing's case, a gang of four Chilean burglars ransacked his £5million London home, grabbing £33,000 of valuables from his bedroom, while he was staying at his second home in Kent with his wife Jane. 
The brazen gang had even sprayed an orange dot on his fence believed to denote they would target the property in October 2019.
Lockdown rules had the side-effect of closing down the route for Chilean criminals to reach the UK. 
But gangs of ruthless burglars have again begun flying from the South American country to target British homeowners in London, Surrey and Cheshire. 
Some of the Chileans coming to Britain to launch raids were allowed in despite having criminal records in their home country. 
In one case two women who flew to Britain from Chile and targeted a home in a Cheshire 'millionaires' row' for designer handbags and jewellery were jailed.
The pair broke into Bernadette Pinkerton's £3million lakeside home on June 1 after being picked up by a male accomplice, a court heard.
Beautician Francisca Santana – who claimed she originally came to Britain to watch the King's Coronation – and mother-of-three Rosa Dotes-Perez snatched up to £15,000 worth of items, including precious gifts given to the 62-year-old.
The pair both had criminal records back in Chile – in the case of Dotes-Perez, 19 previous convictions for theft.
Bernadette and Steve Pinkerton had their home in Cheshire raided by a group of Chilean burglars
Rosa Dotes-Perez (pictured) targeted a home in a Cheshire 'millionaires' row' for designer handbags and jewellery were jailed
Francisca Santana (pictured), along with Dotes-Perez snatched up to £15,000 worth of items
Paul Pizarro-Carrasco (pictured) acted as an accomplice for Santana and Dotes-Perez in the burglary of the Pinketon's home
'If they've both got criminal records in their home country, they should never have been let in,' Mrs Pinkerton's husband Steve told MailOnline.
'How was that even allowed to happen?
'It's just a relief that they're going to be deported after serving their sentences so this doesn't happen to anyone else.'
Along with a male accomplice, the pair damaged CCTV cameras before fleeing towards Liverpool John Lennon Airport where it is believed they were due to catch a connecting flight back to South America with their haul.
READ MORE HERE:  Gang of balaclava-clad Chilean burglars travelled 7,500 miles to Britain on tourist visas to raid luxury mansions in Cheshire's 'Golden Triangle' 
But they were arrested after passing police officers were alerted to their rental car displaying false numberplates.
Officers searched the vehicle and found designer handbags, jewellery and £400 in cash as well as a crowbar and other tools.
Both women later cited mental health issues as mitigation for their crime.
Dotes-Perez, 33, was jailed for 20 months while Santana – a 19-year-old mother-of-one – was locked up in a young offenders institution for 16 months after both admitted burglary at Chester Crown Court.
Construction worker Jean Paul Pizarro-Carrasco, 32 and also Chilean, was jailed for 20 months after he pleaded guilty to burglary.
All three will be sent back to South America following their release from jail.
Another Chilean burglary cell – this time targeting £1million homes in wealthy areas of Cheshire – was smashed following a frightening 115mph motorway chase in March.
Hector Paredes-Munoz, 39, his brother Victor, 31, and Sergio Sephulveda Castro, 27, arrived on tourist visas before buying tools and balaclavas.
The trio then set about raiding homes in two of the towns which make up Cheshire's 'Golden Triangle', a wealthy enclave long favoured by the north west's millionaire football stars.
On March 31 this year in Wilmslow a man noticed two intruders wearing balaclavas in his garden and the alarm at his next door neighbour's house was going off, a court heard.
He alerted the police who contacted the occupier Sarah Short, who was eight months pregnant and who had moved into the house only the day before.
One gang of Chilean burglars (pictured here in a back garden) raided homes in Cheshire's 'Golden Triangle' terrifying residents
The group were later involved in a dramatic high-speed chase which ended when they stopped in the outside lane of a motorway and ran across the opposite carriageway
Victor Parades-Munoz leaving Chester Crown Court was jailed for three years for burglary and an additional year for dangerous driving
Sergio Castro travelled more than 7,500 miles to take part in burglaries in Cheshire's 'Golden Triangle'. He was jailed for three years
Hecotr Paredes-Munoz claimed he was running out of money and that his girlfriend back in Chile was pregnant
She was not at home at the time.
Ms Short returned five minutes later and found that the window of a rear patio door had been forced and £60 stolen from her bag in the kitchen.
READ MORE HERE: Two Chilean 'burglary tourists' who flew to UK and targeted businessman and his wife's £3m Cheshire home to steal designer handbags and jewellery worth up to £15,000 are jailed
The following day a resident in nearby Alderley Edge reported a masked man inside his house who quickly fled after being discovered by his shocked teenage daughter.
Sabrina Worsley, 18, who had been in the lounge watching television, had heard two male voices.
One man had climbed the stairs and the other had opened the door into the lounge before all burglars ran away.
Nothing was stolen and minutes later the three-strong gang were caught on CCTV 'acting furtively'.
Police traced their rented Peugeot which was spotted driving on the M40 in Oxfordshire the following day.
However the men refused all instructions to stop, leading officers on what a court later heard was a 30-mile chase at 'eye-watering' speeds.
Then, in an 'incredibly dangerous' manoeuvre captured in terrifying police dashcam footage, the group stopped abruptly in the outside lane.
Five men jumped out of the car and ran across the opposite carriageway, narrowly dodging traffic, with two managing to flee.
In June Castro and the Paredes-Munoz brothers were all jailed for three years after admitting conspiracy to burgle.
Victor Paredes-Munoz was given a further one year sentence to run consecutively and banned from driving for four years after admitting dangerous driving.
All three blamed misfortune and poverty, claiming they had no intention of turning to crime when they arrived in the UK in January.
Hector Paredes-Munoz claimed he was running out of money and that his girlfriend back in Chile was pregnant, while his brother Victor said his daughter was in hospital awaiting heart surgery.
Castro's lawyer told the sentencing hearing he too had a sick daughter back in Chile and said he had been living on the streets in the run-up to the burglaries.
Jailing them, Judge Michael Leeming said the burglaries had involved 'significant' planning, adding that Victor's driving had put the lives of other motorists and police at risk.
Source: Read Full Article