Rodrigo Duterte was criticized for a "joke" he made about rape.
(Getty Images)
Philippine President Rodrigo Duterte was by women's rights groups after he allegedly made a joke linking the high rape crime rate in the southern city of Davao to the number of "beautiful women" living there.
Duterte made the quip while delivering a speech Thursday in Davao, the city where he was once mayor, Al Jazeera reported.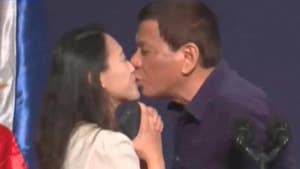 Philippine President Rodrigo Duterte kisses Filipino worker
"They said there are many rape cases in Davao," he said. "As long as there are many beautiful women, there will be more rape cases."
The president's comments were immediately criticized by women's rights activists and groups.
"Duterte seems to hate women so much that he comes up with statements that help normalize rape," Elizabeth Angsioco, a women's rights activist, told Al Jazeera. "This is unacceptable. Not from anyone, especially not from the highest official of the land."
"Instead of seriously addressing the problem, the misogynist Duterte has added insult to the scars of rape survivors," women's rights group #BabaeAko (I Am Woman) said in a statement.
Gabriela, a Philippines women's rights network, released a statement regarding Duterte's comments.
"Yet again, President Duterte sends a very dangerous and distorted message in his latest rape remark, that a woman's beauty is a cause of rape," the statement read.
PHILIPPINES' DUTERTE VOWS TO RESIGN IF ANYBODY CAN PROVE GOD EXISTS
"He toys with Davao pride and misogyny to gloss over a very important detail that women in his hometown of Davao City suffered the most number of rape cases in the country. This latest theatric only confirms one thing: President Duterte is proud to have rolled back whatever gains and legal mechanisms that have been instituted for women's rights in Davao City," the statement concluded.
Duterte's spokesman, Harry Roque, released a statement regarding the president's comments, saying people should not "give too much weight on what the president says by way of a joke."
"They're not O.K. with rape jokes but let's just say that perhaps the standard of what is offensive and what is not offensive is more liberal in the south," Roque told The New York Times.
This is not the first time Duterte has come under criticism for his comments about women before. He called his daughter a "drama queen" when she revealed she was a victim of sexual assault. In February, he bragged that he ordered troops to shoot female communist fighters in their vaginas, according to multiple reports.
Kathleen Joyce is a breaking/trending news producer for FoxNews.com. You can follow her at @Kathleen_Joyce8 on Twitter.
Source: Read Full Article