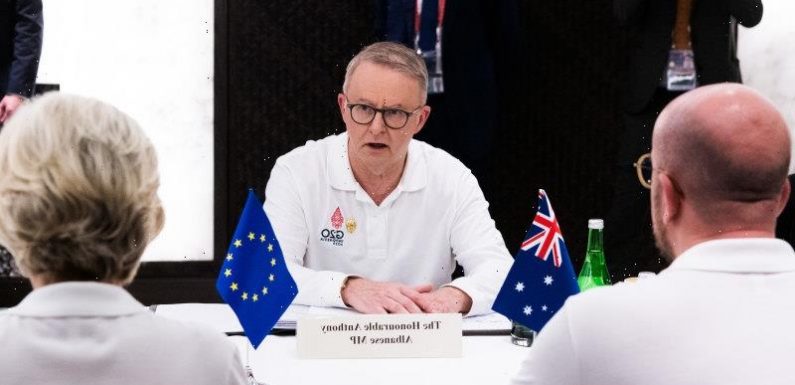 Bali: Prime Minister Anthony Albanese says a breakthrough statement agreed by G20 leaders in Indonesia demonstrates the growing isolation of Russia over its invasion of Ukraine.
The second and final day of the G20 summit in Bali was overshadowed by the deadly explosion of a missile in a Polish village near the border of Ukraine, with US President Joe Biden holding emergency talks with G7 and NATO leaders here before departing the Indonesian island on Air Force One.
Prime Minister Anthony Albanese meets top European officials in Bali.Credit:James Brickwood
As Moscow denied responsibility for the blast and it emerged that the rocket was most likely fired by Ukraine's air defence in response to a barrage of Russian missile attacks, G20 leaders released a 17-page joint statement that said "most members strongly condemned the war in Ukraine".
The communique, which stressed the suffering caused by the conflict and its impact on food and energy security and financial systems, also included an admission, believed to be at the insistence of China as well as Russia, that "there were other views and different assessments of the situation and sanctions".
Albanese, however, said on Wednesday night (Bali time) that it was a "very clear statement" that sent a message to Vladimir Putin.
"Russia is increasingly isolated. That is what the G20 showed," he said. "Australia stands with Ukraine and its people. We saw overnight 80 missiles fired into Ukraine. We've seen reckless use of force that has consequences for the region.
"Our condolences go to Poland with the loss of life that has occurred there. There will be an investigation of course into those details and then further response, an appropriate response, once those investigations are returned."
The Australian leader urged Chinese President Xi Jinping to pressure Putin to call off the war during the pair's meeting on the sidelines of the G20 in Bali.
As the summit wrapped up, Albanese reiterated that that was the path to peace.
"I used the opportunity of the bilateral with President Xi to encourage him to use his influence to promote peace and to pressure Russia into withdrawal from Ukraine. That's the solution," he said.
It was a message echoed by French President Emmanual Macron, who met Albanese on Wednesday.
Macron told a news conference that China needed to figure actively in seeking an end to the violence in Ukraine.
"I'm convinced China can play, on our side, a more important mediating role in the coming months, to prevent in particular a stronger return of ground assaults in early February," Macron said.
The G20 statement was a diplomatic achievement for Indonesia President and G20 host Joko Widodo.
Indonesian President Joko Widodo with US President Joe Biden. The G20 released a statement condemning the war in Ukraine.Credit:AP
Given the circumstances, there had been doubt about whether one could be agreed upon at all.
While it acknowledged division, it said "the use or threat of use of nuclear weapons is inadmissible" and that nations had discussed a United Nations General Assembly resolution in March that "deplores in the strongest possible terms the aggression by the Russian Federation against Ukraine and demands its complete and unconditional withdrawal from the territory of Ukraine".
Widodo said the wording on the war, which he called a "violation of territorial integrity" had been thrashed out until late on Tuesday night.
"Even though the debate was heated, everyone has agreed and the Bali declaration has been announced," he said.
"This war has caused massive public suffering and also jeopardised the global economy, which is still vulnerable from the global pandemic, also caused a risk for food and energy crisis as well as financial crisis.
"We agreed that the war has a negative impact to the global economy. Global economic recovery will also not be achieved without any peace."
With Reuters
Get a note directly from our foreign correspondents on what's making headlines around the world. Sign up for the weekly What in the World newsletter here.
Most Viewed in World
From our partners
Source: Read Full Article