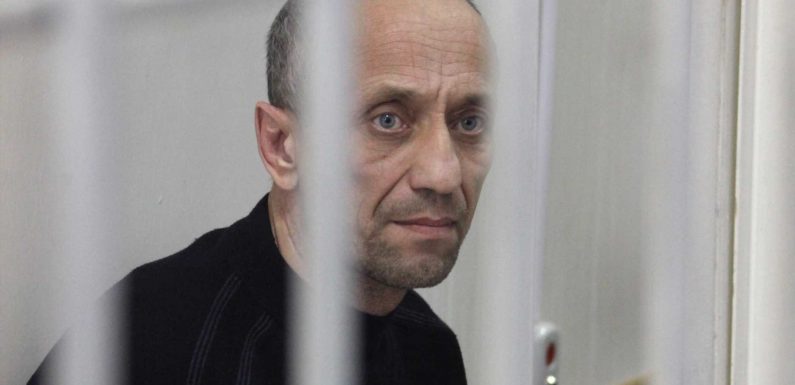 RUSSIA'S bloodiest serial killer who butchered "200 women" is volunteering to fight for Vladimir Putin in Ukraine. 
Mikhail Popkov, 58, aims to be released under the clause in Russian law that pardons criminals of past convictions if they fight in the war and stay alive for more than six months.
The controversial scheme has already seen thousands of murderers, rapists and other criminals become mercenaries in the Kremlin's campaign.
Putin has vowed to pardon those who fight and stay alive.
Known as "The Werewolf" and "The Anagarsk Maniac", Popkov was convicted of killing at least 78 females between 1992 and 2010.
However, a police source believes his true toll is closer to 200.
READ MORE ON UKRAINE
Putin used X-22 missile made for sinking warships to blitz flats as 60 feared dead
Humiliating vids show Vlad's soldiers care more about STEALING than fighting
Up until now, the vile rapist was serving two life sentences and an extra nine years after three separate trials.
The ex-policeman raped most of his victims aged 18 to 50 before killing them with axes, hammers, knives, screwdrivers and spades.
Despite this, the Russian authorities permitted state TV to interview the lunatic behind bars as he pleaded to join Putin's cannon fodder.
In the clip, he claimed he had radio-electronics experience from his time as a Red Army conscript. 
Most read in The Sun
At least 67 dead as passenger plane crashes while coming into land
LIVE reaction as KSI knocks out FaZe Temperrr in first round
Harry told 'lay off' Wills' kids after claiming he aired gripes to help them
The Masked Singer fans fume as 'married' Cat and Mouse are booted off
Popkov said: "I would not hesitate to do so [join the war]. 
"If I refer to my military registration profession, I think it's in rather high demand now.
"Though it's probably more modern these days… radio and electronics.
"Even though I've been in prison for ten years, I don't think it would be so hard to learn [new skills] quickly."
The mass killer has suddenly confessed to more murders as he seeks to win a place in the Wagner private army, headed by Putin crony Yevgeny Prigozhin.
The sickening Kremlin scheme has freed more than 40,000 convicts since the invasion began on February 24.
Popkov is from Norilsk, Krasnoyarsk Krai, the third largest city in Siberia.
But he conducted the majority of his terror in Angarsk, Irkutsk Oblast, a large region about 2600 miles east of Moscow.
The married father-of-one claimed he committed his crimes where he lived to "cleanse it of prostitutes".
According to Russian state news agency TASS, a psychiatric evaluation diagnosed Popkov with homicidal mania, "a condition when a person has an irrational desire to kill someone".
Nevertheless, the mass murderer was declared sane.
During the pandemic he worked in jail making face masks. 
Popkov said: "There were moments when I thought the death penalty was better." 
Russia has had a moratorium on use of the death penalty since 1996.
Before this, the condemned were shot in the back of the head by an executioner. 
Speaking earlier from behind bars in Irkutsk, Popkov expressed "regret" for his butchery. 
Popkov said: "I have a lot to regret… for example, that none of this had happened, that I had not done these things. 
"It is a natural desire of any person – to regret. 
"I have had a lot of time to think."
Read More on The Sun
Full list of free cash, discounts and freebies you can get if you receive PIP
People are realising where parmesan cheese comes from – and it's not good
A chilling video from his family archive showed the killer in the 1990s walking towards the camera clutching a knife and reciting a post-war nursery rhyme based on Nazi prisoners of war attacking locals. 
In the clip he said: "I will slash you, I will beat you, now it's your turn."

Source: Read Full Article