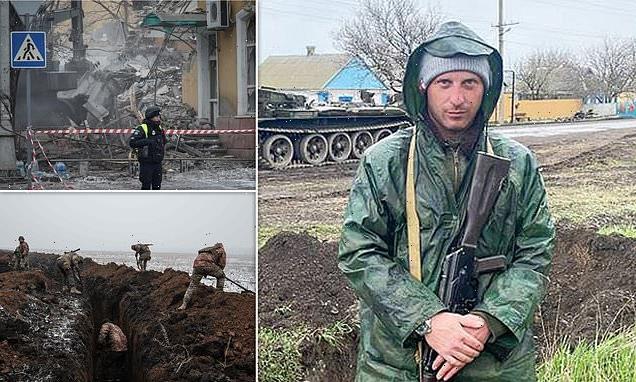 Most senior Russian officer yet reveals horrific details of torture carried out in Ukraine: Prisoners were shot in the limbs, deafened with gunshots next to both ears and sexually assaulted with mop handle
Ex-senior lieutenant Konstantin Yefremov fled Russia after witnessing torture
He witnessed routine beatings, humiliation, torture and executions in Ukraine
Read more: Wagner recruits 'pumped full of drugs to keep fighting'
The most senior Russian officer yet to reveal the horrors of the Ukraine war has described brutal torture, rape and executions carried out by Kremlin forces.
Konstantin Yefremov, an ex-military officer who has since fled the war and Russia, said he witnessed Moscow's sadistic tactics against the defending forces twice a day during Vladimir Putin's murderous campaign.
The former senior lieutenant, who tried to resign from the army multiple times before being dismissed for refusing to return to Ukraine, is now considered a traitor and a defector by Moscow after serving his country in the Zaporizhzhia region.
He told the BBC how prisoners were shot in their limbs, stripped naked and humiliated as part of Putin's dehumanising crusade against Kyiv's troops.
Konstantin Yefremov, an ex-military officer who has since fled the war and Russia, said he witnessed Moscow's sadistic tactics
Yefremov arrived in Crimea for 'military exercises' on February 10 last year, before the war broke out, as the head of a de-mining unit of the 42nd Motorised Rifle Division.
After witnessing the 'Z' tanks rolling in, the officer wanted no part of the barbaric invasion and tried to resign, but was told he would face 10 years in prison for desertion.
He was placed in temporary charge of a rifle platoon and ordered to move north to Melitopol from Crimea on February 27.
The officer described how his comrades looted everything they could find from Ukrainian homes, including bicycles, axes and even a lawnmower. 
They then moved to guard a 'logistics headquarters' in Bilmak, north-east of Melitopol, where Ukrainian prisoners were being held.
He recalled: 'One of them admitted to being a sniper. On hearing this, the Russian colonel lost his mind. He hit him, he pulled the Ukrainian's trousers down and asked if he was married.
"Yes,' the prisoner replied. 'Then someone bring me a mop,' said the colonel. 'We'll turn you into a girl and send your wife the video."
Ukrainian servicemen make a trench near Bakhmut yesterday amid Russia's invasion 
Ukrainian rescuers work on site following an overnight missile strike on a residential district in Kramatorsk
A police officer guards near a site of a residential building destroyed by a Russian missile strike
'It's like a zombie movie': Click here to read how Wagner recruits are pumped full of drugs to fight in Ukraine 
On another occasion, the colonel asked a prisoner to hand over the names of every Ukrainian nationalist in his unit, but he did not understand the question.
When he failed to give the answer they wanted, Russian captors knocked out his teeth.
They told him to put a blindfold on and warned they would shoot him in the head on the count of three.
The twisted soldiers then shot at the side of his head next to his ears, deafening the begging Ukrainian.
In one interrogation, a colonel shot a prisoner in the arm and in the leg right under his knee, hitting a bone.
After helping bandage him up, Yefremov realised the Ukrainian would die of blood loss unless he was treated immediately.
But to avoid his 'crazy' colonel, they dressed up the enemy fighter in Russian uniform and sent him to hospital. 
Yefremov said: 'We told him: 'Don't say you're a Ukrainian prisoner of war, because either the doctors will refuse to treat you, or the injured Russian soldiers will hear and shoot you and we won't be able to stop them."
Russians were given orders to give captured Ukrainians only water and crackers to survive and sleep on the bare ground, Yefremov said.
But he tried to sneak them tea and cigarettes, and toss them hay at night to sleep on when no one could see. 
The UN's Human Rights Office says it has found instances of torture carried out by both Russia and Ukraine during the war.
Yefremov arrived in Crimea for 'military exercises' on February 10 last year, before the war broke out, as the head of a de-mining unit of the 42nd Motorised Rifle Division
Ukrainian servicemen fire a mortar towards Russian positions near the town of Soledar
Click here to read: Putin 'mobilises half a MILLION troops for new offensive' 
Matilda Bogner, head of the UN's Ukraine-based monitoring team, said: 'If we compare the violations, the torture or ill-treatment of Ukrainian prisoners of war tends to happen at almost every stage of confinement. 
'And, for the most part, the conditions of internment are worse in many areas of Russia or occupied Ukraine.'
She said Ukrainians have been subjected to electrocution, hanging and vicious beatings during interrogation.
Ukraine is investigating more than 58,000 potential Russian war crimes – killings, kidnappings, indiscriminate bombings and sexual assaults allegedly carried out in the invasion. 
Reporting by The Associated Press and Frontline, recorded in a public database, has independently verified more than 600 incidents that appear to violate the laws of war. 
Some of those attacks were massacres that killed dozens or hundreds of civilians and as a totality it could account for thousands of individual war crimes.
As Karim Khan, chief prosecutor of the International Criminal Court in The Hague, said: 'Ukraine is a crime scene.'
But Ukrainian authorities face serious challenges in gathering air-tight evidence in a war zone and the vast majority of alleged war criminals have evaded capture and are safely behind Russian lines.
Throughout the war Russian leaders have denied accusations of brutality.
Rescuers remove debris in a search for survivors at a destroyed apartment building hit by a rocket in downtown Kramatorsk on February 1
Moscow's U.N. ambassador, Vassily Nebenzia, said no civilians were tortured and killed in the Kyiv suburb of Bucha despite the mountain of evidence of the atrocities.
'Not a single local person has suffered from any violent action,' he said, calling the photos and video of bodies in the streets 'a crude forgery' staged by the Ukrainians.
Experts say Russia under President Vladimir Putin has repeatedly ignored the rules of law established by the Geneva Conventions, a series of treaties that dictate how warring countries should treat each other's citizens, and the Rome Statute, which established the International Criminal Court and defined specific war crimes and crimes against humanity.
'These abuses are not the acts of rogue units; rather, they are part of a deeply disturbing pattern of abuse consistent with what we have seen from Russia's prior military engagements – in Chechnya, Syria, and Georgia,' said Beth Van Schaack, the U.S. Ambassador at Large for Global Criminal Justice.
Short of a regime-toppling revolution in Moscow, however, it is unlikely Putin and other high-ranking Russians end up in court, whether in Ukraine or the Hague, experts say. 
Source: Read Full Article