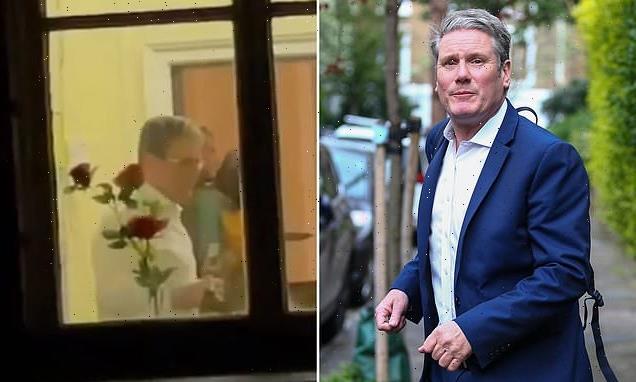 'Very worried' Keir Starmer 'tells colleagues he will have to QUIT if he gets Covid fine and asks Lord Falconer to put together Beergate legal defence team'
The Labour Leader has reportedly told his colleagues he will have to quit if fined
Durham Constabulary are investigating claim he breached lockdown regulations
Starmer reportedly instructed Lord Falconer to put together legal defence team
Labour leader Keir Starmer has reportedly told colleagues he will have to quit if he gets a Covid fine over the Beergate investigation by Durham Police.
Reports from political website Guido Fawkes suggest Starmer is so concerned about the outcome of the investigation he has asked Lord Falconer to put together a legal defence team.
A source told the website: '[Starmer] has told people he will have to go if he's fined.'
The source added: 'He's put his fate in the hands of the police and lawyers now.'
The news site suggests Starmer's lawyers have said there is a 60 per cent chance he will escape the investigation without a fine.
It comes as the Labour leader has been branded a hypocrite by Conservatives who say he should resign in light of the Beergate probe.
Meanwhile, Labour shadow health minister Wes Streeting has called the investigation a 'desperate attempt by the Conservatives to muddy together events that were a year apart'. 
Durham Constabulary is investigating claims an evening event attended by the Labour leader with other senior party figures and activists while campaigning last year might have broken pandemic social distancing regulations.
Cabinet minister Nadhim Zahawi questioned why Sir Keir was not resigning after the Labour leader had called for Boris Johnson to quit while under investigation over the No 10 partygate row.
Sir Keir Starmer has reportedly told colleagues he will have to quit if found to have breached lockdown rules as Durham Constabulary confirmed they are investigating the Labour leader
Labour had dismissed the Beergate row, sparked by this picture, as a Tory election smear
Labour allies of Sir Keir insisted he would be cleared by police and there was a sharp contrast between him and the Prime Minister.
Durham Police said they had U-turned on an earlier decision on the case that no offence had been committed after receiving 'significant new information'.
Police have not revealed what additional details sparked the probe but The Times reported a 'key factor' was confirmation deputy leader Angela Rayner attended the evening. Labour had previously denied she had been present.
The Daily Telegraph said the so-called 'beergate' investigation will take up to six weeks, with those suspected of having breached lockdown rules due to be sent questionnaires.
Sir Keir, a former director of public prosecutions, told reporters on Friday in London – having returned from a victory lap around the country following Labour local elections successes – he did not believe the event had breached the rules.
This message was repeated by allies on Saturday, with shadow health secretary Wes Streeting telling the BBC that he would not 'entertain' the prospect of Sir Keir resigning over alleged lockdown rule-breaking last April.
'I have absolute faith and confidence that Keir Starmer did the right thing all the way along,' he said.
'He's maintained that all the way along. He's someone who practices what he preaches, and as I say the police have looked at this before and found no case to answer.
'We're confident that'll be the case this time. I think the contrast between Keir Starmer and Boris Johnson will be even sharper because I do think it's ridiculous, actually, after everything that we've seen Boris Johnson is still there and Conservative MPs haven't removed Boris Johnson.'
Sir Keir had called for Mr Johnson to resign because he was under investigation by Scotland Yard and when asked why the Labour leader was not following his own standard, Mr Streeting said: 'Police looked at this before, they found no case to answer, no action was taken.
'We expect that to be the outcome now.'
Speaking later on Sky News, Mr Streeting branded the allegations 'a desperate attempt by the Conservatives to muddy together events that were a year apart in very different circumstances'.
Also dismissing the probe as 'a lot of sort of hype built up by the Tory press', Diane Abbott said Sir Keir would have to 'really consider his position' if he is handed a fixed penalty notice.
Speaking to LBC this morning, the shadow home secretary said: 'If he actually gets a fixed penalty notice he really has to consider his position. I mean, I don't think he will, I think this is a lot of sort of hype built up by the Tory press.
'But if he were to get a fixed penalty notice he would have to consider his position.'
Source: Read Full Article