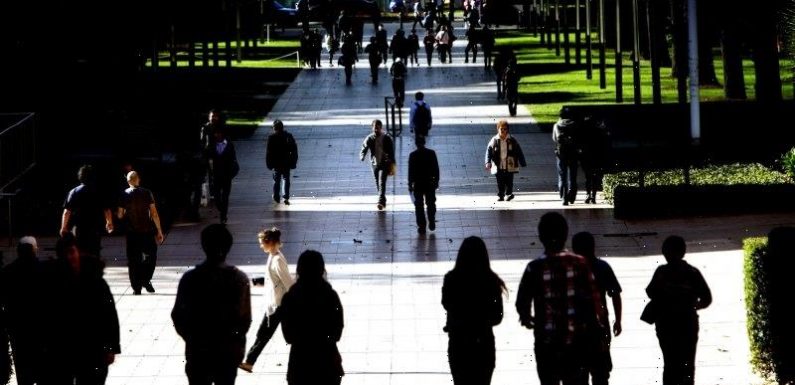 Australian universities have a problem with sexual assault.
The Universities Australia's National Student Safety Survey released on Wednesday makes that clear. Sixteen per cent of students reported sexual harassment and 4.5 per cent reported sexual assault since starting university.
More effective policy leadership and education is required to ensure all women know how to report a sexual crime. Credit:Tamara Voninski
While it is difficult to know the prevalence of campus-based sexual harm when the survey was conducted during a COVID-19 lockdown, what is clear is that until the sector starts conducting evidence-based research into what does and doesn't work to address sexual assault and harassment at universities, we will never trulydeal with the problem.
Professor Charlene Senn, chair in Sexual Violence at the University of Windsor in Canada, told a presentation at the United Nations in April last year that the bulk of sexual harm at universities is against women perpetrated by heterosexual men, and that the highest incidence of sexual assault is experienced by young women in their first two years of study.
Professor Senn designed a program which teaches women to recognise risk cues for sexual violence in diverse situations and in men's behaviour and highlights personal obstacles to prioritising sexual rights in acquaintance situations. It shows women how to trust their instincts and gives them strategies to defend their bodies and boundaries in collaboration with a self-defence program.
Designed for women of all sexual identities, the program is also open to trans women, though its supporting research comes from the study of cisgender women, due to a knowledge gap around impacts on trans women.
In one of the few rigorous studies of the efficacy of intervention programs tackling campus based sexual assault, the program has been tested in a multi-site randomised control trial. Canadian studies have shown that it reduced campus rape and attempted rape by 50 per cent. Both La Trobe and Monash Universities adopted pilot studies of the program.
The Australian program aims to assess the feasibility of implementing the Professor Senn's program into Australian universities and how it would work for first-year female students at La Trobe and Monash University campuses.
To our knowledge, this is the only research project being undertaken in Australia into whether an intervention program reduces sexual assault long term at universities. There is clearly willingness by the higher education sector, and government, to tackle this issue.
According to Professor Senn, this is not only an Australian problem. "Designing action based on research evidence is critical," she says, "yet on some campuses, researchers are never consulted about sexual assault prevention initiatives. Student services workers are sometimes left to make up information on the fly, or delegate programming to students who are left to draw from internet searches.
"It's not that universities lack people that really care and want to make a difference," she said, but often, "there's this disjuncture between using the tools of the university and research to actually solve the problem."
So what needs to happen before the next survey of sexual assault/harassment on campus in another five years?
When Universities Australia's Changing the Course report was released in 2017, many universities acted to ensure that students not only felt safer (increased lighting, after-hours buses) but had no ways to report sexual assault and harassment. The universities also took steps to ensure that students and staff were aware of what constitutes an offence, and a uniform approach to the perpetrators, so that victims knew that reporting a crime leads to action.
There clearly needs to be more effective policy leadership and education to ensure all women know how to report a sexual crime, to educate international students, many from patriarchal countries, about what constitutes assault, and where they can go to discuss issues such as contraception and abortion, and to expand the study and implementation of the Professor Senn's program.
Ultimately, it is ironic that universities, which are about research and learning, continue to implement actions todeal with sexual assault on campus without any evidence that they work. Australia could be a world leader in this area of research rather than garnering attention because of our sexual assault statistics.
Professor Angela Taft is a principal research fellow and former director of the Judith Lumley Centre at La Trobe University. Associate Professor Leesa Hooker is a principal research fellow at the Judith Lumley Centre.
The Morning Edition newsletter is our guide to the day's most important and interesting stories, analysis and insights. Sign up here.
Most Viewed in National
From our partners
Source: Read Full Article