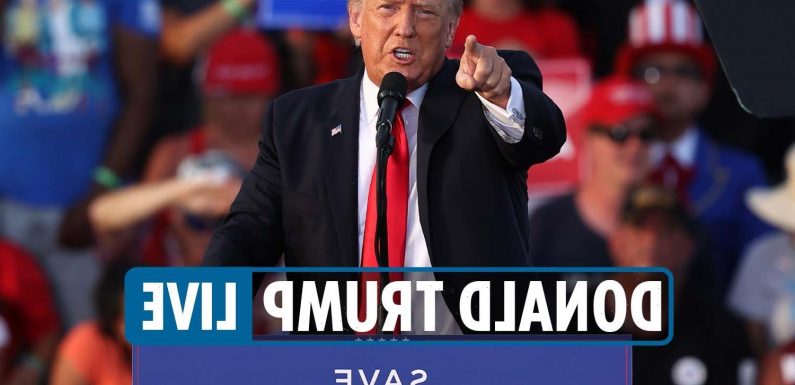 FORMER President Donald Trump slammed President Biden, Ilhan Omar and Nancy Pelosi in Iowa, as has bragged that he 'never conceded' the election, as 2024 presidential run speculation grows.
Trump was due to speak at 8pm EST on Saturday night at the Save America Rally in Des Moines, Iowa.
Several Republican officials who are facing re-election next year spoke at the rally, including Gov. Kim Reynolds, Sen. Chuck Grassley and Reps. Ashley Hinson and Mariannette Miller-Meeks.
Earlier this week it was reported aides had to hold Trump back from making an official announcement on his intentions but Republicans are viewing his candidacy as a near certainty.
"I think he's already in and he's just waiting to make it official," said one Republican who has spoken with Trump told The Hill. "His focus right now is on making sure Republicans win in 2022, and I don't think he wants to do
Read our Donald Trump rally live blog for the latest news and updates…
G. P. Rodriguez

'SCARED OF STACEY ABRAMS'

Trump slammed Georgia governor Brian Kemp, saying Kemp won the election thanks to him but "refused" to do anything about alleged voting irregularities in Georgia.

The former president then accused Kemp of being "afraid" of former candidate for governor and Democratic leader Stacey Abrams.

G. P. Rodriguez

CROWD CHANTS 'TRUMP WON'

During his speech Trump continued to claim there were a large number of irregularities in the 2020 election, despite lack of proof.

He said the "horrific findings" of election irregularities "are in the hands of the Arizona attorney general."

"Let's hope he does the right thing."

He also claimed Georgia Republican officials "refused to do anything" about the alleged irregularities.

G. P. Rodriguez

'NO DEFUNDING OF THE POLICE'

Trump said Republicans would not support "defund the police" policies.

"That's not working out too well in Minnesota or Indianapolis.

"People want other people to stop shooting and knifing people to death," he added.
G. P. Rodriguez

ON THE BORDER

Trump claimed to have handed Biden the "most secure border" in terms of both illegal immigration and drug smuggling.

"If Biden would have just gone to the beach, you'd have a great border today, because it was getting better."

"The best we ever had. People could come in but they had to do it legally," he claimed.

G. P. Rodriguez

'SHOULD'VE NEVER HAPPENED'

Trump lamented the deaths of US soldiers during the Afghanistan withdrawal.

"We should have taken everything, and most importantly we should have never lost 13 warriors."

"We love those 13 and they're looking down at us cause we know what we're doing."

He then said "we defeated 100 percent of the ISIS caliphate in record time."

G. P. Rodriguez

ON AFGHANISTAN

Trump accused the Biden administration of leaving "dead soldiers for no reason whatsoever" in Afghanistan.

He also lamented the equipment left behind will be used by Russia and China to develop their own weapons.

Trump then alleged that some of the US equipment left behind is being sold on the black market.

G. P. Rodriguez

'THEY USED COVID TO CHEAT'

Trump accused the "fake news media" and Democrats of using the Covid-19 pandemic to "rig" the 2020 election.

"They used Covid in order to rig the election and in order to steal the election."

 

 

G. P. Rodriguez

'WOKE FASCISM'

Trump accused the Democrats of trying to implement "woke fascism"
in congress.

He also went after Mitch McConell and the 11 Republicans who agreed to raise the debt ceiling until December.

"When they talk about the debt ceiling we have a very powerful card there, we don't want to violate that," he added.

G. P. Rodriguez

'I NEVER CONCEDED'

"When you look at the numbers in swing states, there was no reason to concede." said Trump, bragging that unlike Hillary Clinton, he never admitted to having lost the 2020 presidential race.
G. P. Rodriguez

ON ABORTION

Trump claimed the Democrat's tax plan would force Americans to pay for abortions.

He accused democrats of supporting "Ripping babies from their mother's wound right until the moment of birth."

Trump also claimed some babies are "killed after birth."

G. P. Rodriguez

ON IMMIGRATION

"People coming into our country are uneducated, in many cases don't speak the language," said Trump of migrants at the US border.

"They don't have what it takes to make America Great Again."

Trump then claimed Biden would "admit every foreign national previously denied in my travel ban."

G. P. Rodriguez

ON TAX POLICY

Trump claimed Biden's taxes would be some of the highest in the world, compared them to "Communist China."

"The Biden plan will build up China and in the Republican Party we want to build up America.

He added that Biden's "socialist bill" included amnesty and free college for "illegal aliens."

G. P. Rodriguez

'SHE DOESN'T LIKE ISRAEL TOO MUCH'

Trump slammed Rep. Ilhan Omar in his speech.

"Didn't she marry her brother?" said Trump of unconfirmed information surrounding the congresswoman.

G. P. Rodriguez

'SPENDING BINGE'

Trump spoke against President Biden's infrastructure bill, saying it was a "monstrosity so dangerous for our country" that would "end America as we know it."

"Republicans have to stay strong. We have to fight," he said.

G. P. Rodriguez

''NO ONE HAS BEEN BETTER TO IOWA THAN TRUMP'

The former president thanked Iowa, saying the state "humiliated" President Biden in the Iowa primary caucus.

"You proved why Iowa should continue to vote first in the nation."

Trump then touted his highest-ever approval ratings in the state.
G. P. Rodriguez

'CHINA IS TAKING OVER OUR JOBS'

Trump claimed the Taliban has taken over Afghanistan and radical socialists are taking over the US.

"You can't say I didn't warn you," added Trump.

"The election was rigged."

"No one can blame Iowa because, boy, we did really good here."

G. P. Rodriguez

OPENING REMARKS

"I am thrilled to be back," said Trump, adding the fairgrounds allegedly broke a record for the most people at an event.

"As we gather tonight millions of Americans are realizing Joe Biden brought our nation to the brink."

The crowd frantically chanted "USA" as they welcomed him.

G. P. Rodriguez

TRUMP TAKES THE STAGE AT IOWA RALLY

Former president Donald Trump has taken the stage at the Save America rally in Des Moines.

 

G. P. Rodriguez

GRASSLEY SAYS TRUMP NEVER TRIED CHANGING ELECTION RESULTS

In an interview with Newsmax after his speech at the Save America rally, senator Chuck Grassley denied that Donald Trump tried pressuring the Department of Justice into stepping into the 2020 election results.

Grassley claimed Trump "considered all options" before ultimately deciding to do nothing and hand over the presidency.

Jon Rogers

TIFFANY TRUMP PART 2

She's also interned at Vogue magazine, and like sister Ivanka dipped into modelling – posing for Andrew Warren during New York Fashion Week this year.

Tiffany is something of a social media personality, regularly uploading snaps to Instagram – a habit that has seen some New York newspapers dub her a member of the so-called 'Snap Pack', a similar concept to the Rich Kids of Instagram.

Tiffany, who has now graduated from law school, spoke at the 2020 Republican National Convention.

G. P. Rodriguez

'ANY MINUTE NOW'

Former president Donald Trump is expected to take the stage in Iowa any minute now.

He was scheduled to speak at 8pm EST but had not taken the stage as of 8.30, when a video often used as introduction to his speeches started playing.
Jon Rogers

WHO IS BARON TRUMP?

Trump's youngest child, 14-year-old Barron, is his only child with current wife and First Lady Melania Trump. Born in 2006 – a year after his parents' 2005 nuptials – he is closer in age to his eight nieces and nephews than to his siblings.

Speaking to Parenting.com, Melania said of her son: "He is a very strong-minded, very special, smart boy. He is independent and opinionated and knows exactly what he wants. Sometimes I call him little Donald. He is a mixture of us in looks, but his personality is why I call him 'Little Donald'."

The youngest Trump became a viral sensation after appearing to begin falling asleep during his father's victory speech in November 2016 following Hillary Clinton's defeat in the presidential election.

G. P. Rodriguez

LIST OF GRIEVANCES

Republican speakers at the Trump Save America rally had a list of pressing concerns as they described a "horrible" situation under the Biden administraiton.

Inflation, gas prices, and the situations at the border and the Middle East were among the most cited issues by speakers.

Jon Rogers

'FRONT ROW JOES'

Richard Snowden from Delaware is part of a group called the "Front Row Joes."

They're the people who consistently wait at Trump's rally sites days in advance.

"It's a great way that we can give back to Mr. Trump, show him support, and give him back certain love, because he has, sadly, had so much hate directed towards him," Snowden told KCCI 8.

G. P. Rodriguez

TRUMP RUNNING LATE

The former president was scheduled to take the stage in Iowa at 8pm EST.

However, Trump had still not appeared as of 8.15pm.
Source: Read Full Article