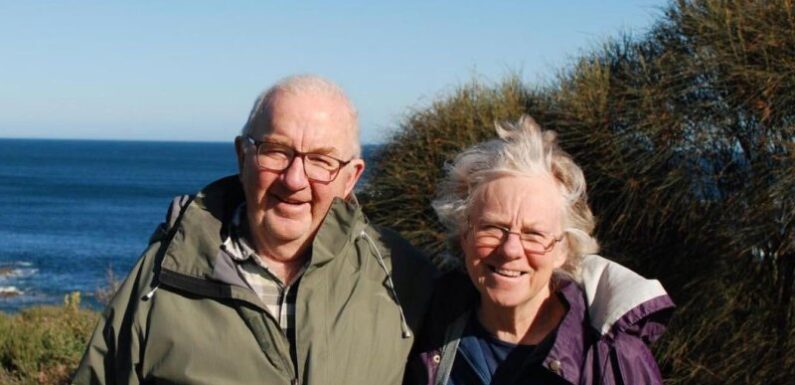 Save articles for later
Add articles to your saved list and come back to them any time.
Two victims of the mystery mushroom poisoning have been laid to rest and will be memorialised in a public service in Gippsland next week.
Don and Gail Patterson died after they are believed to have eaten poisonous death cap mushrooms during a family lunch at their former daughter-in-law Erin Patterson's house in Leongatha in regional Victoria on July 29.
Don and Gail Patterson used to work at the local high school and were well-respected members of the Korumburra community.
A Patterson family statement released on Wednesday extended an invitation to the community for a public memorial service for Don and Gail at the Korumburra Recreation Centre next Thursday, August 31 at 2pm.
The statement said the pair were buried in a private ceremony earlier this week.
"The Patterson family has expressed their deep gratitude for the outpouring of love, support, and understanding during this challenging time," the fresh family statement said.
"They have been touched by the many memories and stories shared by friends, acquaintances, and even strangers who were touched by Don and Gail's kindness and generosity.
"In keeping with Don and Gail's wishes and character, the family has chosen to commemorate their lives in a manner that reflects their values and the love they shared with their community. A private burial was held earlier this week, attended by close family members."
Gail's sister Heather Wilkinson also died after coming down with gastro-like symptoms following a family lunch. Her husband, Korumburra Baptist pastor Ian Wilkinson, has been fighting for life in hospital after suffering from similar suspected mushroom poisoning.
Victoria Police are investigating the unexplained deaths.
Homicide squad detective Dean Thomas has said Erin Patterson remained a suspect because she cooked the meals.
Patterson has given a sworn written statement to police documenting her side of the incident, in a bid to answer questions and refute what she claims has been wildly inaccurate media reporting.
Patterson said she bought the fungi used in a beef Wellington served at the lunch at an Asian grocer in Melbourne's east.
Victoria's deputy police commissioner last week said it was unhelpful that Patterson's lengthy legal statement about how she cooked the mushroom meal believed to have killed three people was widely circulated before detectives could examine its veracity.
More to come.
Get the day's breaking news, entertainment ideas and a long read to enjoy. Sign up to receive our Evening Edition newsletter here.
Most Viewed in National
From our partners
Source: Read Full Article