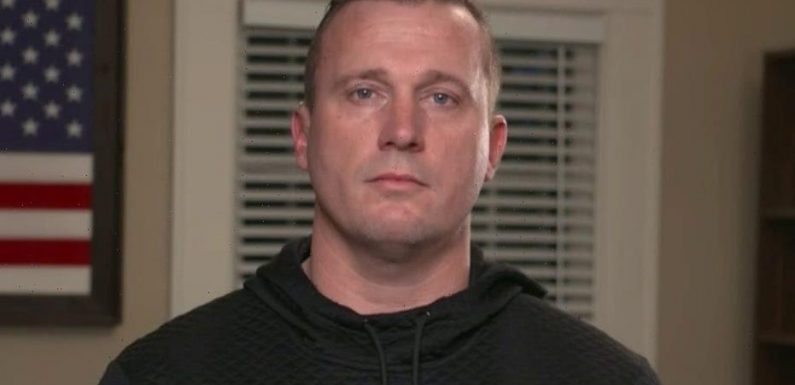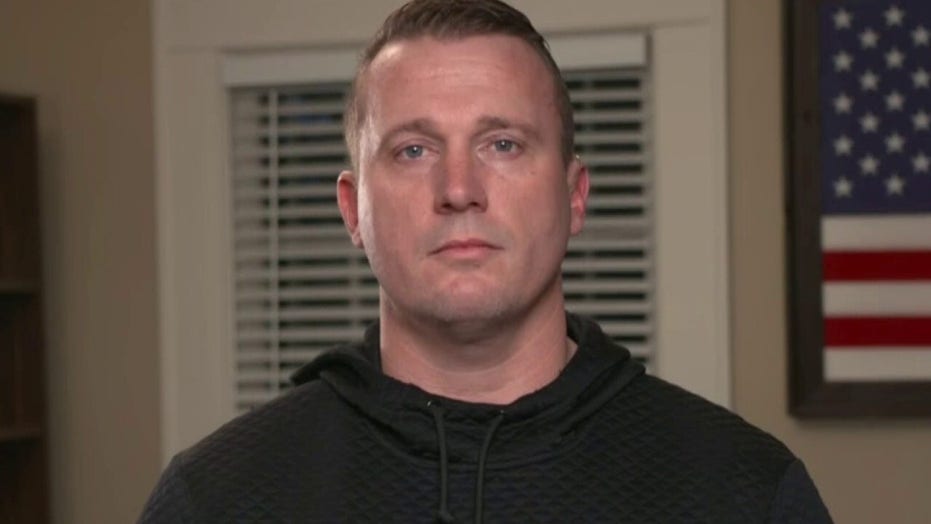 Marine veteran travels to Poland to provide aid to Ukrainian refugees
Dakota Meyer reacts to the humanitarian crisis in Ukraine as Putin wages war.
A Ukrainian police officer in Mariupol is pleading with President Biden to provide a modern air defense system to his country as he is warning that the city has been "wiped off the face of the earth."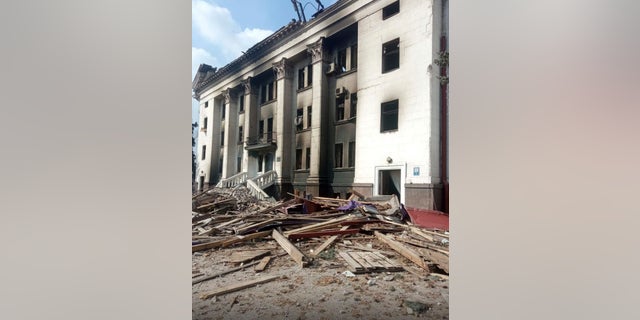 This image made available by Azov Battalion, shows the drama theater, damaged after shelling, in Mariupol, Ukraine, Thursday March 17, 2022.
(Azov Battalion via AP)
Mariupol police officer Michail Vershnin made his plea in a video to President Joe Biden and French President Emmanuel Macron and said that while assistance has been promised, "what we have received is not quite it."
Vershnin pointed to his war-torn city, which has been devastated by Russian missiles, and said that the two leaders need to save the civilian population.
"Children, elderly people are dying. The city is destroyed, and it has been wiped off the face of the earth," he said, speaking in Russian. During the video, apparent explosions can be heard.
"You have promised that there will be help, give us that help. Biden, Macron, you are great leaders. Be them to the end," he said.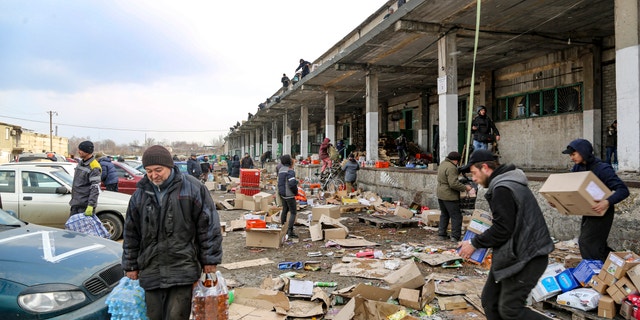 Local residents carry water from the food warehouse, on the territory which is under the Government of the Donetsk People's Republic control, on the outskirts of Mariupol, Ukraine, Friday, March 18, 2022.
(AP Photo/Alexei Alexandrov)
Vershnin issued an even stronger message to the Western leaders, saying that the city is beginning to look like Aleppo, the Syrian city which was collapsed by their government in 2016, and aided by Russia.
"Maybe you want a new Aleppo. In fact, you have almost received it. Please give Ukraine air defense," Vershnin said.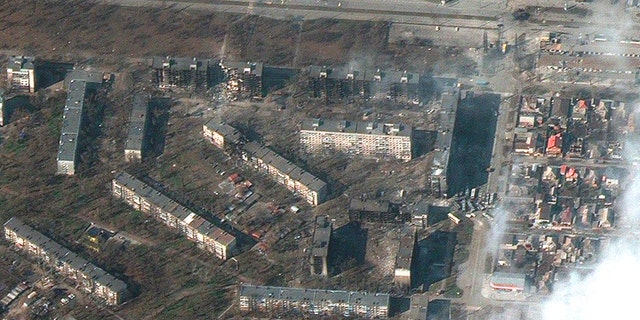 This satellite image provided by Maxar Technologies on Friday, March 18, 2022 shows damaged and burned apartment buildings in Mariupol, Ukraine.
(Satellite image ©2022 Maxar Technologies via AP)
In recent days, residents in Mariupol have become desperate to leave the city and flee to somewhere safe.
Oleksandr Bezimov, a refugee who left the city, said that they left shortly after a bomb hit the city and gathered little of their personal belongings.
"When a bomb hit, my wife rushed outside wearing my boots, pyjama pants with teddy bears and a fur coat because it was cold in the apartment, around +4-5 Celsius. So she ran outside wearing a fur coat. We collected some things: underwear, documents, money. That's it, we did not take anything else. So everything we've got easily went into the trunk," Bezimov said.
Bezimov said that he decided to leave after a residential building nearby was shelled, and added that his son is missing.
"Final drop was when a residential building nearby got under the shelling. When the artillery sound is non-stop, when planes fly over all night and bombard the city, it is very loud, it feels very nervous when you listen to it. You should see it with your own eyes how people cook food in the courtyard of a residential building and then someone hears plane coming and shouts 'In the air,' and the whole crowd rushes towards the porch to take shelter. It is a state of horror. When you walk around the city and see shell craters everywhere. When you don't know who stays where. I don't know where my son is since March 2," Bezimov said.
The Associated Press and Reuters contributed to this report.
Source: Read Full Article