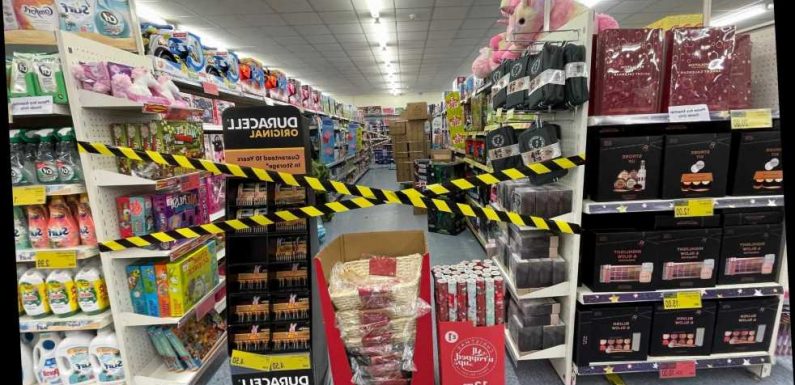 WALES has relaxed its lockdown rules further by opening non-essential shopping aisles in supermarkets from today.
Garden centres can also reopen for the first time since the country's Covid lockdown started on December 20.
🦠 Read our coronavirus live blog for the latest news & updates…
Stores such as supermarkets selling essential items have remained open during lockdown, but aisles selling non-essential items were closed until today.
Shops selling only non-essential items are due to reopen on April 12.
It comes after hairdressers and barbers reopened for appointments in Wales last week for the first time since December.
But people in England will have to wait another three weeks for a chop under Boris Johnson's roadmap out of lockdown.
WALES EASES RULES
Wales is easing out of its Level 4 restrictions and a "stay local" requirement.
A "rule of thumb" limit on travel of about five miles is set to be lifted on March 27, allowing people to travel anywhere within the country.
Last month, First Minister Mark Drakeford also relaxed rules on outdoor exercise by allowing four people from two different households to work out together. 
Wales's Covid case rate has plunged below 50 per 100,000 people and the national positivity rate is less than 5 per cent.
All primary and some secondary school children have returned to the classroom in Wales.
Under the first step of Mr Johnson's roadmap to ease Covid restrictions, schools in England reopened from March 8.
Lockdown rules in England are expected to be relaxed further on March 29, when either six people or two households will be able to meet outside.
As part of Boris Johnson's four-step roadmap, the high street can welcome back customers from April 12 at the earliest in England.
Non-essential retail is set to reopen from mid-April at the earliest, along with pubs and restaurants which can offer outdoor table service and takeaways pints.
What four tests does the gov need to pass before easing restrictions?
1. The vaccine deployment programme continues successfully.
2. Evidence shows vaccines are sufficiently effective in reducing hospitalisations and deaths in those vaccinated.
3. Infection rates do not risk a surge in hospitalisations which would put unsustainable pressure on the NHS.
4. Our assessment of the risks is not fundamentally changed by new Variants of Concern.
They are expected to open fully for drinking and eating indoors later on May 17 with table service only.
Under the PM's plan, hairdressers and barbers in England can also reopen from April 12 at the earliest as part of the second stage of easing lockdown restrictions, if conditions allow.
Hairdressers have been shut throughout the third lockdown in England, which started on January 5.
A full list of businesses that must stay closed until April 12 was revealed in February – with cinemas and bingo halls to stay closed until May 17.
ROADMAP TO FREEDOM
And up to 10,000 fans will be allowed into stadiums from May 17 in a summer bonanza for lockdown-weary Brits.
The remaining restrictions are due be eased by June 21 at the earliest — with the hope of normality by July, when every adult will have been offered a first dose of the coronavirus jab.
But the roadmap is undepinned by four tests: the vaccine rollout going as planned; vaccines being effective in bringing down deaths and hospitalisations; the NHS not risking being overwhelmed by a surge in csaes and new variants not creating unforeseen risks.
On Saturday, Health Secretary Matt Hancock announced that half of all British adults had received their first jab.
Yesterday, Britain smashed its smashed its Covid vaccines' record for the third day in a row with more than 840,000 jabs in 24 hours.
Nearly 28  million Brits have now had at least one dose, with Boris Johnson and Health Secretary Matt Hancock thanking the NHS for the heroic efforts.
The PM, who was snapped getting his first dose of the Oxford/AstraZeneca jab on Friday evening, said: "A huge thank you to everyone involved and please come forward to get your jab when you are invited to do so."
Source: Read Full Article