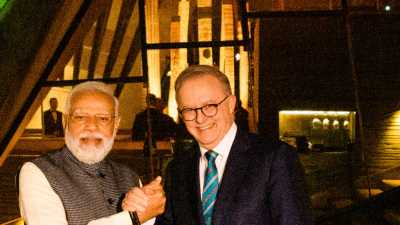 Save articles for later
Add articles to your saved list and come back to them any time.
Australian trade negotiators have been told to make "swift progress" to clinch a comprehensive trade deal with India after prospects for the long-planned agreement were given fresh impetus during last week's visit to Sydney by Indian Prime Minister Narendra Modi.
Officials will meet next month in a bid to advance the pact, which Trade Minister Don Farrell says will lift Australia's economic ties with India "to the next level".
Narendra Modi and Anthony Albanese outside the Opera House with the sails lit up with the Indian flag following bilateral meetings last Wednesday.Credit: James Brickwood
Prime Minister Anthony Albanese and Modi discussed an "early" conclusion to the Comprehensive Economic Cooperation Agreement, or CECA, when they held bilateral talks on Wednesday. Albanese said there is shared ambition for the deal to be finalised later this year.
Negotiators have already held two rounds of talks in 2023 – in India's capital New Delhi in February and in Sydney last month. Work on the trade pact is now accelerating, with virtual meetings scheduled between June 5 and 16, followed by another round in Delhi in mid-July.
"I have an excellent relationship with my Indian counterpart, Minister Piyush Goyal, and look forward to taking our trading relationship to the next level, cutting tariffs further and deepening our ties," Farrell told this masthead.
"We have instructed our negotiators to make swift progress for an early conclusion of this new free trade deal."
Goyal, who is India's powerful Minister of Commerce & Industry, predicted last year that two-way trade between Australia and India would double in five years. India overtook Britain to become the world's fifth-largest economy in 2022.
Negotiations for the CECA were launched in 2011, suspended in 2016, and then revived again in 2021. In April last year Australia and India signed the Economic Cooperation and Trade Agreement (ECTA) – an interim deal, which liberalises trade in some goods and services, and forms a foundation for the more ambitious accord. India has a protectionist trade history and some analysts were surprised at the level of market access India agreed to in the interim agreement.
Modi's visit to Sydney was a high point in relations between Australia and India, which have improved rapidly over the past decade.
Closer ties have been driven by recognition of shared security interests in the Indian Ocean region and mutual concerns about an increasingly assertive China.
Albanese has met his Indian counterpart six times since becoming prime minister a year ago.
Anthony Albanese and Narendra Modi hold bilateral talks at Admiralty House in Sydney.Credit: Photo: Janie Barrett
Modi said the intensity of engagement between the two leaders reflected the "convergence in our views" and the maturity of the India-Australia relationship.
"If I may say in the language of cricket, our ties have entered the T-20 mode," he said.
Peter Varghese, a former secretary of the Department of Foreign Affairs and Trade who authored an India Economic Strategy for the federal government in 2018, said finalising a comprehensive deal this year was "ambitious" but not impossible.
"India may well see some advantage in concluding a free trade agreement with a country like Australia to signal that they're continuing to open up their economy at a time when that's an issue for global perceptions of India," he said.
Varghese said the momentum in the relationship made it more likely both leaders would be willing to make the political interventions needed to get the comprehensive deal over the line.
"The bilateral relationship is in a sweet spot," he said. "It's like being on an escalator – getting stronger and stronger."
Ian Hall, professor of international relations at Griffith University, says a key factor has been a shift in the Indian government's attitude to Australia.
"One of the driving forces in the relationship is the last couple of years has been that suddenly India is very interested in us and thinking about us," he said. "This makes it a fantastic opportunity."
Narendra Modi addresses a stadium packed with supporters at Homebush Bay during his visit to Sydney.Credit: James Brickwood
Trade and business links between the two countries have lagged the speedy advances in diplomatic and defence ties. India was Australia's sixth-largest trading partner in 2021-22, one behind the relative minnow Singapore. That year, a single commodity – coal – accounted for almost 70 per cent of the value of Australian exports to India. Despite recent tensions between Beijing and Canberra, the value of Australian exports to China was five times more than to India.
Boosting trade with India will help diversify Australia's exports and reduce exposure to China, which now purchases more than 30 per cent of the value of the nation's exports.
Modi said there had been "constructive discussions on strengthening our strategic co-operation in the sectors of mining the critical minerals" during his talks with Albanese. Indian officials later emphasised the focus on rare earths and critical minerals.
Modi also held one-on-one meetings with mining billionaires Gina Rinehart and Andrew Forrest in Sydney. Following the talks Rinehart said India's future economic growth is "going to be huge" and that Australia "really needs to work harder to develop its relations with India".
Vice-Chancellor of Sydney University Mark Scott, who met Modi at a business roundtable, said there is no sector in India with greater promise for Australia than education.
"The Modi government's National Education Policy has a target to get 50 per cent of young Indian students into higher education and vocational education by 2035 and Australia can play a key role in that ambition," he said.
One factor that makes India an attractive strategic partner for Australia is its liberal democratic character. But since Modi came to power in 2014, there has been growing concern about the treatment of religious minorities in India.
A key reason for the success of Modi's governing Bharatiya Janata Party (BJP) has been its appeal to Hindu nationalism and Hindutva, a philosophy that equates Hinduism with Indian national identity.g
Earlier this month, the US State Department's annual report on religious freedom listed attacks on religious minorities in India, including Muslims and Christians.
Hindus comprise nearly 80 per cent of India's 1.4 billion people, while Muslims make up around 14 per cent and Christians 2 per cent.
Bharatiya Janata Party (BJP) supporters wear masks of Prime Minister Narendra Modi at a rally in 2021.Credit: AP
In a recent speech Varghese, now chancellor of Queensland University, said there are signs the liberal democratic character of India is under pressure.
"I do not share the view that India has already become an illiberal democracy," he said. "But there are indeed signs that minorities fear for their freedoms, that incitements to communal violence are met with silence, that charges of sedition are misused to advance a communal agenda and that key institutions tasked with independence may be too accommodating of the wishes of government."
The Economist Intelligence Unit's annual Democracy Index shows the health of Indian democracy has declined since the BJP took office in 2014.
Albanese and Foreign Minister Penny Wong were quizzed about India's democracy and human rights record while Modi was visiting Australia.
But Hall says Australia must have realistic expectations of India, which faces complex political and governance challenges.
"We are very different countries with very different conditions of government," he said. "Indian democracy has great virtues but, like all democracies, there are features of it that are not great."
Despite these differences, Hall says the increasingly uncertain strategic environment in Australia's region makes deeper cooperation with India essential.
The Morning Edition newsletter is our guide to the day's most important and interesting stories, analysis and insights. Sign up here.
Most Viewed in National
From our partners
Source: Read Full Article