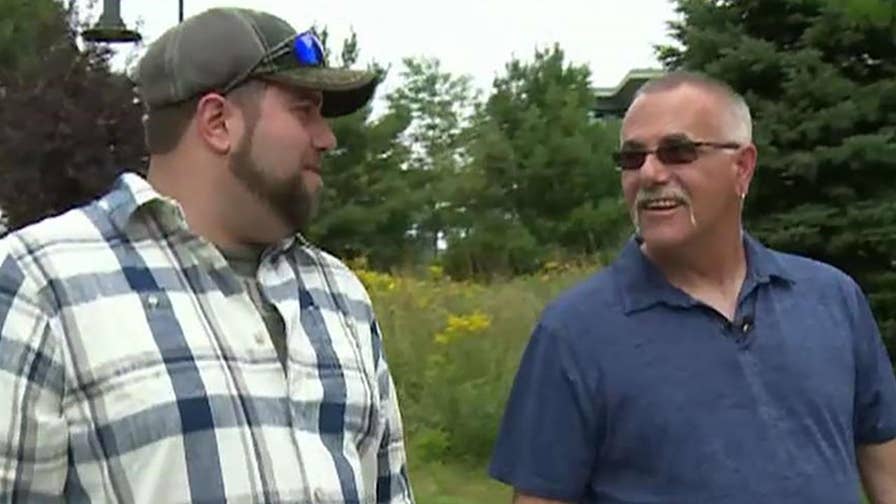 Co-workers learn they're father and son
Wisconsin business co-workers discover they're more than just friends on the job.
A friendship between two co-workers in Wisconsin turned into an unexpected family reunion after a man discovered his friend on the job was actually his biological father.
Nathan Boos told WLAX-TV he was adopted at birth and never knew who his biological parents were.
"Growing up I always knew that I was adopted, it just never crossed my mind that I would ever find my parents," he said Wednesday.
While Boos didn't know who his parents were, his adoptive parents did and just happened to notice recently that Nathan was friends on Facebook with his biological father. Boos said his adoptive mother pointed out that his biological father is a truck driver, just like him.
Nathan Boos (left) and Bob Degaro (right) recently discovered they were not just friends at work, but father and son.
(WLAX-TV)
"She just went on my Facebook and went through my friends list and brought up his picture and I said get out of here," Boos told WLAX.
That man was Bob Degaro, who has worked with Nathan at Rock Solid Transport in Chippewa Falls, Wis., for the past two years.
ARMY SOLDIER RETURNING HOME SURPRISES DOG WITH 'WHAT THE FLUFF CHALLENGE' IN ADORABLE VIDEO
"It's still kind of a shock and there's days I'm not sure exactly what to say or how to act," Degaro said. "I mean, he is my son but we didn't have that father son relationship growing up and then we became working partners before we knew who we really were."
Degaro told WLAX the choice to give Nathan up for adoption was a difficult one caused by financial stress, and that he has two other children with his ex-wife
"It's still kind of a shock and there's days I'm not sure exactly what to say or how to act,"
"Back then I wasn't much of a dad," he told the television station. "His biological mom had chosen the adoptive parents because they were somewhat related, distant cousins, I believe, but I didn't know that."
The newfound father and son duo are now working to grow their new friendship, and Bob is planning to attend Nate's upcoming wedding.
Travis Fedschun is a reporter for FoxNews.com. Follow him on Twitter @travfed
Source: Read Full Article