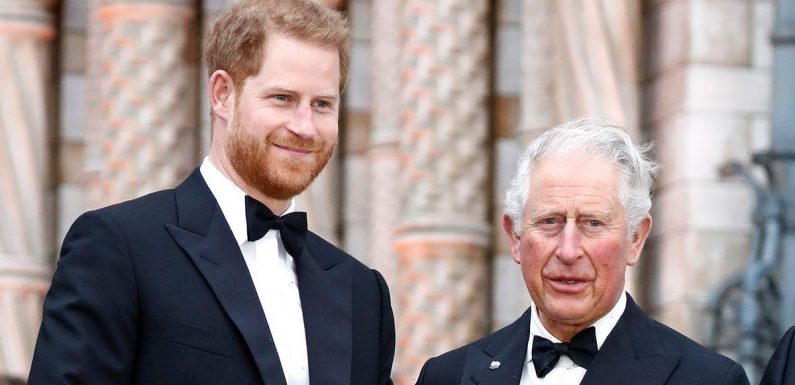 Prince Harry rocked the royal family with the release of his long-awaited memoir Spare, which certainly didn't disappoint when it came to intimate details about King Charles III.
Spare, which has become the fastest selling non fiction book in history, includes stories about King Charles' stuffed animals, his morning routine and even what he looks for in a woman.
The Prince, who says he hasn't spoken to his family for "some time,", is also embarking on a media tour and recently joined Stephen Colbert for another interview.
Let's take a look at some of the biggest and most surprising revelations Harry gave us about the new King…
He has an acrobatic morning routine
Charles reportedly has a very unusual routine to get his day started: doing headstands.
Harry claims that Charles would begin his mornings with a series of headstands in his bedroom, and was greatly concerned about keeping the ritual a secret.
In Spare, Harry writes that his father would yell at anyone who tried to open the door during his time limbering up, and that he even had a bar installed so he could practise his moves "like an acrobat."
He begged his sons to reconcile at Prince Philip's funeral
Harry details his father's attempt to avoid a fully fledged war between his two sons at Prince Philip's funeral, when Harry and William came face to face for the first time in months.
Harry writes that Charles implored his sons not to make his "final years a misery," and to reconcile.
So far, it doesn't seem to have resonated.
He's fond of an audiobook in the bath
Harry tells us that Charles used to carry his portable CD player to the bathroom with him, as he "liked to listen to his storybooks whilst soaking."
The anecdote from the book is from the nineties, though, so the King might well have updated his tech since.
He didn't hug Harry when Diana died
Harry claims that his father, who he describes as "not great at showing emotions,", didn't give him a hug when he delivered the news of the Paris car crash.
The 38 year old Prince says that his father did put a hand on his knee for comfort which, he claims, was "quite a lot for him."
He avoids reading the papers
Despite alleging in Spare that his family had been leaking tales to the press, Harry also claims that his father never read the newspapers and would only rarely switch on the TV news either.
Plus, according to Harry – when Charles did decide to switch on the BBC, he would often find himself so incensed he would take to hurling the remote across the room.
King Charles is a surprising fan of the Spice Girls
It might be difficult to imagine King Charles enjoying a rendition of Wannabe, but that's exactly what Harry says happened in Spare.
The pair met the band for a public appearance but Harry says he was flabbergasted when Charles decided to stay for the show.
In his memoir, Harry says that he thought it was "impossible," for his father to enjoy the show, but that Charles was "gamely nodding to the beat."
He had a habit of (literally) sniffing out his sons
A particularly odd detail readers of Spare are treated to is King Charles's supposed superb sense of smell.
Comparing his dad to a "bloodhound,", Harry writes that his dad was "often sniffing things," and was especially taken with sniffing the top of his sons' heads.
Charles is very attached to his stuffed animal
Prince Harry divulges that, despite Charles heading into his mid-seventies, he's not beyond getting a little TLC from a teddy.
38 year old Harry claims that Charles has had the toy since his time boarding at Gordonstoun and that his attachment is now virtually unbreakable.
In Spare, Harry claims that he saw the thing as representative of the "essential loneliness," of his dad's childhood.
Charles refused to talk about James Hewitt
Shocking some readers, Harry uses Spare to address the rumours that have dogged him for years that one of Diana's lovers, James Hewitt, could be his real father.
He mentions that Charles would sometimes joke about his, and Harry's, potential paternity, but hits back at the popular tabloid suggestion that he and Charles had a heart to heart about Hewitt.
"If Pa had any thoughts about Major Hewitt, he kept them to himself," Harry writes.
READ MORE:
Golden Globes 2023 moments you missed – from Jennifer Coolidge's hilarious blunder to host's awkward jokes
Kelsey Parker says 'kids will find the road ahead tough' without Tom
Meghan Markle's bridesmaids tailor breaks silence over row that left Charlotte in tears
Love Island's new stars and their 'twins' from past series as winter series is set to kick off
Source: Read Full Article