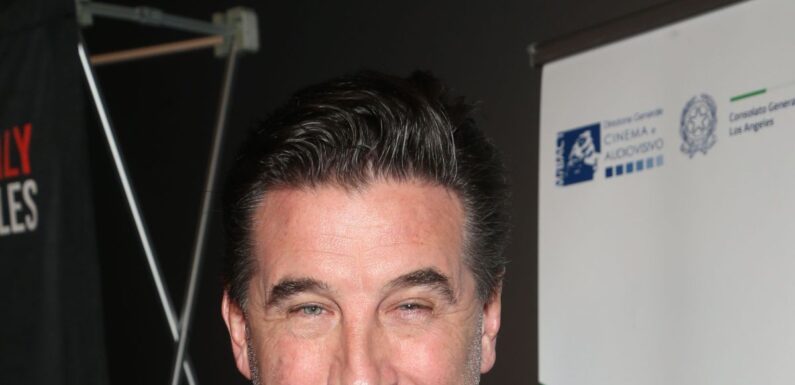 Stunning connection
An arrest has been made in a case that's baffled authorities for more than a decade… and Billy Baldwin has a connection to it! On Friday, July 14, officials announced that Rex Heuermann, an architect, had been arrested for the unsolved murders of at least 10 women whose bodies were found on Long Island's Gilgo Beach more than a decade ago. Most of the women were sex workers who advertised on Craigslist. Billy, it seems, went to high school with the suspect. "Woke up this morning to learn that the Gilgo Beach serial killer suspect was my high school classmate Rex Heuermann," the "Backdraft" actor tweeted. "Berner High School. Massapequa, New York. Class of 1981." Billy continued, "Married, two kids, architect. 'Average guy… quiet, family man.' Mind-boggling… Massapequa is in shock. 23andMe strikes again???" A murder investigation began in 2010 when police investigated an escort's disappearance. They soon made a grisly discovery when the remains of several women were found near the area of the disappearance. Over time, more remains in the area were also found strewn across the Long Island beach. The case spawned a best selling book called "Lost Girls: An Unsolved American Mystery." The book was later adapted into the 2020 Netflix movie "Lost Girls." The previously unknown suspect was often called the Craigslist Ripper, Gilgo Beach Killer, Manorville Butcher and the Long Island Serial Killer. The suspect, Billy's high school classmate, is a registered architect who has owned the New York City-based architecture and consulting firm, RH Consultants & Associates, since 1994, its website says.
MORE: Follow Wonderwall on MSN for more fun celebrity & entertainment photo galleries and content
Ladies-only luncheon
Matt Lauer is still a lady's man. The disgraced former newsman showed up to a ladies-only luncheon at Sebonack Golf Club, his exclusive Southampton golf club on Thursday, July 13. "He was the only man who came in out of all the men at the club," a source told Page Six. "There was zero reason for him to be… there lurking." The insider added, "A maitre d' escorted him to [a] private area where he had his lunch." The former "Today" host ate lunch alone at the exclusive club, where initiation fees reportedly start around $500,000. Matt, although thought of as a parasite to many, is "beloved" at Sebonack. "They take great care of him there," the source said. Matt was fired him from "Today" in 2017 after former NBC producer Brooke Nevils claimed that the once-respected TV host raped her in his hotel room while they were in Russia covering the 2014 Winter Olympics. Matt, who was married at the time of the sexual encounter, said Brooke was a "willing partner."
Can I ask you a question?
Don't ask the question if you don't want the answer! On Thursday, July 13, Selena Gomez decided to have a little fun with a new TikTok filter that asks, "Why Am I Single?" Video shows the "Only Murders in the Building" star sitting patiently as a multitude of answers began flashing rapidly above her head. The filter eventually settled on: "You Have Bad Taste." After seeing this, Selena looked stunned and turned to someone off camera. "Well thats rude tik tok," the "Wolves" singer captioned the video. Ironically, Selena's fans have been saying this for years. She was recently linked to The Chainsmokers' Drew Taggart. Prior to that, she dated The Weeknd and Justin Bieber. After sharing the video, the singer's fans chimed in. "Well…" a fan said in the comment section, seemingly agreeing with TikTok's assessment. Another said the answer was "so true."
Health update
Things are getting better for Bowen Yang. While on Melissa Gorga's "On Display" podcast, Matt Rogers, who co-hosts the "Las Culturistas" podcast with the "Saturday Night Live" star, provided an update on Bowen's health. "What I really want everyone to know is that already things are better," Matt said. "Already, there's more perspective and there's going to be steps taken to get him to a healthier place because he knows he deserves that." In early July, the comedian announced that he would take a break from his podcast to treat "bad bouts of depersonalization," a condition where he believes things around him aren't real. "Taking a very short break from ['Las Culturistas']. Bad bouts of depersonalization are f****** me up bad, but I am doing my best to get better!" he wrote on his Instagram Story. Depersonalization, often associated with people who've experienced trauma, is a psychological condition in which people have out-of-body experiences that cause them to believe that things around them aren't real, according to the Mayo Clinic. Of Bowen, Matt said, "No one should be living every day feeling anything less than good about themselves, baseline."
Ooops!
Joe Jonas made a TMI confession while on Australia's Will & Woody show: he once crapped his pants on stage. "It's fresh, but I've been able to work through it, a lot of therapy," he quipped. Joe noted that the incident occurred about four years ago. "Let's just say it was a bad day to choose to wear white clothing. You think it might be a little toot, it might've been a little something else, a little something extra," he said. Joe recalled his "mid-wardrobe s*** change during the set" and encouraged the hosts of the radio show to try to pinpoint where and when it happened via video and photos. He's positive someone has footage of his sudden wardrobe change. "The whole time, I thought this is definitely, somebody is going to be able to see this and know what is happening, but it was all in my head. It wasn't as big of a deal as I thought. But such is life," he said. "It's happened to many artists. I feel like I've paid my dues, and I feel like I'm a part of some secret club now."
Trouble brewing?
Fans are convinced that something is amiss in Sofía Vergara and Joe Manganiello's marriage, and it all stems from a birthday post. Earlier in the week, Joe wished his wife of seven years happy birthday. "¡¡¡Feliz Cumpleaños Sofía!!!" he wrote alongside a blurry photo of the two of them. Fans were unimpressed. "What a cold greeting, not a drop of love expressed Joe Manganiello," one said. Another said it was "dry." Another said, "Am I the only one who doesn't like the way it sounds? " Sofia"…. not even " My love, My beloved wife" …." Only fueling separation speculation, it turns out that the "True Blood" alum and Sofia aren't even together on her big day. Instead, she's in Italy with friends. "So lucky to have my best friends in my favorite restaurant in my favorite island!!!" she wrote on Instagram. After her post, fans wondered where Joe was. Per Page Six, one person pointed out that in addition to not being on the "Modern Family" star's birthday trip, Joe also hasn't "commented on" the photos she's been posting either. Things that make you go, hmmmm.
Those wicked words
During this week's episode of "The Kardashians," Khloe Kardashian referred to herself as a "third parent" and "more than an aunt" to her niece Dream, but she now thinks her words were "taken out of context or twisted to be something it's not." "I love ALL of my nieces and nephews more than I can express," she said on her Instagram Stories after media outlets published her words. "Dream and I are particularly close. My brother and I are extremely close. I am with Dream all the time because I'm with my brother all of the time." She noted that Dream's parents, Rob Kardashian and Blac Chyna, are "doing the best" they can "as a parent and in life." She added, "We are ALL trying to do our best in life. Our children are healthy and happy! Most of all they are LOVED!! LOVED by everyone in our tribe." The reality TV star also tried to squash speculation of tension between her and Chyna, who sued Khloe and her famous TV family for $100 million last year. (The Kardashians prevailed in court.) "I'm sure the narrative of 'The Kardashians VS Chyna' is more fun to read about but there really is nothing there anymore. We all want to move on from the negativity," Khloe wrote. "The focus is on Dream and her happiness and making sure she feels unconditional love at her mommy's house, her daddy's house and any family members house for that matter. Please stop pinning us against one another." 

Source: Read Full Article