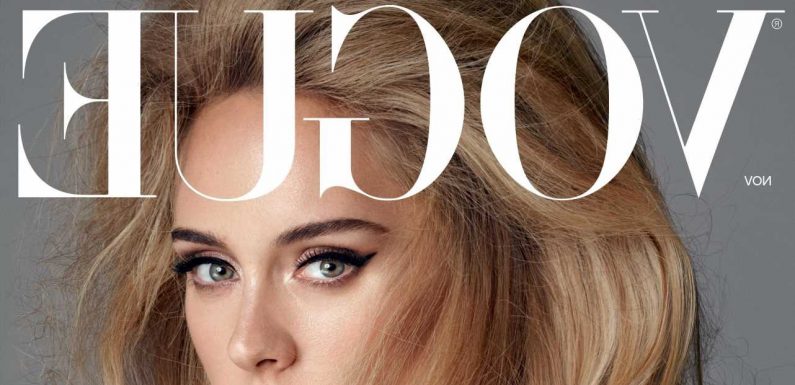 Adele opens up about her new music, divorce in her first interview since 2016
After mostly avoiding the spotlight for the past five years, Adele covers the November issues of British and American Vogue, where she opens up about her new single, "Easy On Me," and the new album that's slated to follow. The singer also speaks candidly about the major personal milestones she's endured since 2016 — including her marriage to and divorce from Simon Konecki, with whom Adele shares a son, Angelo, who'll soon turn 9. Speaking to British Vogue, Adele reveals much of the album served as her way of explaining the divorce to Angelo, who she says asked "good" and "innocent questions" like why she and his dad couldn't live together. "I just felt like I wanted to explain to him, through this record, when he's in his twenties or thirties, who I am and why I voluntarily chose to dismantle his entire life in the pursuit of my own happiness," Adele says. "It made him really unhappy sometimes. And that's a real wound for me that I don't know if I'll ever be able to heal." Despite Angelo's feelings about her split from Simon, Adele says there wasn't one "bad" precipitating event, she "just left" when it was over. "It just wasn't right for me anymore," she muses. "I didn't want to end up like a lot of other people I knew. It wasn't 'miserable' miserable, but I would have been miserable had I not put myself first." "Easy On Me" is due out Oct. 15.
RELATED: 'OITNB' actress ends engagement, plus more celebrity splits of 2021
Beyonce and JAY-Z turn premiere night into date night in London
JAY-Z and Beyoncé turned the premiere of Jay's new film, "The Harder They Fall," into an excuse to share a glammed-up date night at the BFI London Film Festival on Oct. 6. When Jay — who served as a producer on the all Black Netflix Western — hit the red carpet in a Tom Ford tux, Bey dodged the cameras, letting her husband and the movie's stars do their thing. But judging from photos Bey shared on her Instagram, the couple had plenty of romantic moments together in the backseat of what appears to be their limo escort to the screening. Clad in what ET reports is an elegant and curve-boasting black strapless Valdrin Shahiti gown and Lorraine Schwartz jewels, Bey snuggles up to her husband in the pics, wearing a smile as she rests her head and soft wavy hair on his shoulder. Another snap shows the Beyoncé throwing up a rock 'n' roll salute to the camera. While Beyoncé seemed happy to support her love at the premiere, she and Jay could soon find themselves competing for the same Best Original Song Oscar. Variety reported this week that "Be Alive," the singer's contribution to Will Smith's new "King Richard" film, is already a frontrunner for an Academy Award nod. Jay, meanwhile, has two contenders in "Guns Go Bang" and "The Harder They Fall," songs he recorded for the new movie. If they both score a nod, Variety reports they'd be the first married couple to go head-to-head in the same Oscars category.
RELATED: See Kristen Stewart and more stars on the 2021 BFI London Film Festival red carpet
Ryan Seacrest's team 'staged an intervention' to slow his work schedule: Report
Ryan Seacrest's prolific work habits are no secret at this point in his career, but a new report from Us Weekly suggests the situation may have escalated. When the "Live with Ryan & Kelly" star sat out from his hosting chair on multiple consecutive days in late September, "his team was so concerned they staged an intervention," a source told the outlet. "He's in bad shape," the insider added. The update comes just months after fans expressed concern for Ryan over a moment on "American Idol" when he seemed to have slurred his speech in May. He missed "Live" the next morning, but his reps said fine — just extremely busy juggling multiple shows and work commitments in different cities with little time to rest. According to another Us source, he's now more careful about getting adequate downtime. "Ryan has been doing his [radio show] live on the air, [and is getting ready] to head to Austin for 'American Idol' auditions," the insider says. "He recognizes he needs to find windows of time to rest during these busy windows of work." Kelly Ripa's husband, Mark Consuelos, filled in for Ryan during his missed "Live" dates in September.
RELATED: TV talk show host feuds and controversies
Daniel Craig gets his star on Hollywood's Walk of Fame
"It's an absolute honor to be walked all over in Hollywood," quipped Daniel Craig on Oct. 6. The British actor was thanking his "No Time to Die" co-stars and supporters outside the James Bond-inspired address, 7007 Hollywood Boulevard, where his brand new Walk of Fame star now sits, right next to that of Roger Moore. "If happiness was measured by the company we keep, then me being on this pavement surrounded by all of these legends makes me a very, very, very happy man. So thank you very much," he added, per the BBC. Daniel, 53, launched his James Bond tenure with 2006's "Casino Royale." He continued to play agent 007 in four more films in the famed series, the final being this year's "No Time To Die," which hits theaters Oct. 8.
Dave Chappelle defended by late trans comic's sisters amid Netflix special controversy
Dave Chappelle is facing a serious wave of criticism and calls for cancelation following the release of his Netflix stand-up special, "The Closer." In his new special, the comic jokes about trans women, among others. He also defends anti-LGBQT comments made by rapper DaBaby, and "Harry Potter" author J.K. Rowling, a staunch believer in the notion that transgender women should be excluded from spaces devoted to women who were born as such. "Effectively, she said gender was a fact, the trans community got mad …," Dave says. "I agree. I agree, man. Gender is a fact." He also references his late friend, Daphne Dorfman, a transgender comic who died in 2019. "I don't know what the trans community did for her," Dave says, "but I don't care, because I feel like she wasn't their tribe. She was mine. She was a comedian in her soul." At the end of the show, he announces he's staying away from LGBTQ-related jokes until everyone can get on the same page about comedy, life and identity, as he and Daphne had done during their friendship. "I'm done talking about it," he says. "All I ask of your community, with all humility: Will you please stop punching down on my people?" he asks, referencing comics. While organizations including GLAAD and the National Black Justice Coalition, have issued formal statements decrying Dave's routine and demanding Netflix yank the special, Daphne's sisters think critics are missing the point. "Dave loved my sister and is an LGBTQ ally," her sister Brandy told the Daily Beast this week. "His entire set was begging to end this very situation."

Source: Read Full Article