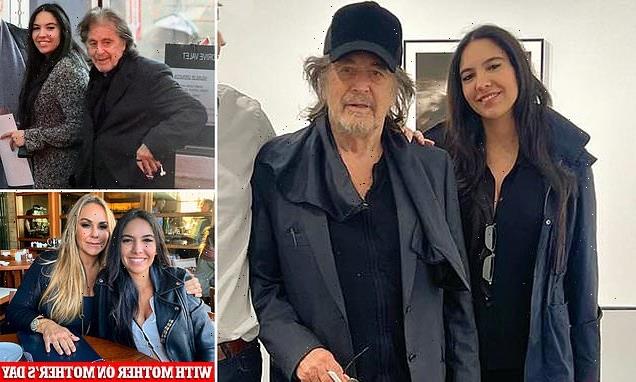 EXCLUSIVE: Al Pacino's 29-year-old girlfriend Noor Alfallah 'has wanted to have a baby for YEARS' and they 'could not be happier' about the surprise pregnancy – which was conceived NATURALLY because actor, 83, 'is still very able'
Al, 83, is getting ready to become a dad for the fourth time, as his 29-year-old girlfriend Noor is eight months pregnant

The Beverly Hills socialite dated Mick Jagger, 79, and billionaire Nicolas Berggruen, 61, before falling for The Godfather several years ago

READ MORE: Inside Al Pacino's VERY modern family, including twins with Beverly D'Angelo and his eldest child who's following in his footsteps 
Al Pacino 'could not be happier' about his 29-year-old girlfriend Noor Alfallah's surprise pregnancy – and is over the moon at the prospect of welcoming his fourth child with his partner, with whom he is very much 'in love', despite their 54-year age gap. 
Amid unhappy reports branding Sony executive Noor a 'gold digger' and suggesting that she kept her pregnancy under wraps from the 83-year-old actor, DailyMail.com has learned that the reality could not be more removed from these rumors. 
A close friend of the couple slammed suggestions that the age-gap romance is anything but blissful, insisting that Al was overjoyed to learn that he is expecting a fourth baby – even though the news was 'not expected' – and denying any speculation that Noor kept him in the dark about it for 11 weeks. 
'If she waited until 11 weeks to tell Al it is because she found out then,' the insider told DailyMail.com 'She's wanted to have a baby for years and Al could not be happier. He loves Noor and the feeling is mutual.'
Al Pacino 'could not be happier' about his 29-year-old girlfriend Noor Alfallah's surprise pregnancy, a close friend of the actor has revealed 
DailyMail.com has exclusively learned that Noor has 'wanted to have a baby for years' and is 'in love' with Al, 83, with whom she conceived her baby naturally because he is 'still very able'
The iconic Godfather actor (pictured in 2020) and Noor were not trying for a baby when they conceived, however the insider insists that he is overjoyed at the news 
The source added that Al and Noor were not trying for a baby when she got pregnant, admitting that the conception was a 'surprise' for the pair – although they took care to note that it did happen naturally, saying: 'Obviously, Al is still very able.' 
And of the recent reports that Noor is in the relationship simply to take advantage of Pacino's considerable wealth, the insider slammed the rumors as 'complete and utter b******t'. 
'Not only does Noor come from an extremely wealthy family, but she has also worked to obtain her own wealth,' they continued. 
In fact, Noor is a native of Beverly Hills and attended the UCLA School of Film and Television, later pursuing a career as a producer. She now works as the head of a production company for Sony. 
Prior to Pacino, she was in a relationship with Rolling Stones rocker Mick Jagger, 79. The socialite dated the Rolling Stones frontman in 2017, when Mick was 74 and she was just 22. 
After their split she dated 61-year-old billionaire Nicolas Berggruen. In 2019, she was spotted out and about with Clint Eastwood, 93, but insisted they were just friends. 
'Noor is no stranger to older men. She has a thing for them and always has,' the source says. 
Why did the couple – who share a 53-year age gap – wait until she was eight months pregnant to drop the bombshell? 
According to the source, 'Al waited to reveal the pregnancy news until now because they didn't want people hounding them. They are a private couple and would like to keep it that way.'
The award-winning actor (pictured in 2020 with his three kids, twins Anton and Olivia, 22, and daughter Julie, 33) 'couldn't be happier' about his new baby on the way
Al and his former partner Beverly D'Angelo, 71 (pictured together in 1996) had twins together back in 2001 – 12 years after the actor welcomed his first child with ex Jan Tarrant
Noor was previously in a relationship with Rolling Stones frontman Mick Jagger, now 79 (seen cuddling during their relationship) whom she split from in 2017
In 2019, Nool dated art heir and billionaire philanthropist Nicolas Burggruen, 61. The source tells DailyMail.com that 'she always has liked older men'
The Scarface leading man is already father to three children with two women: he shares 22-year-old twins Olivia Pacino and Anton James Pacino with Beverly D'Angelo; and Julie Pacino, 33, with Jan Tarrant. This is Noor's first child.  
News of the pregnancy comes the same month that the actor's longtime colleague Robert De Niro, 79, welcomed his seventh child with Tiffany Chen. 
The Hollywood legends have shared the screen in movies including 2019's The Irishman, 1995's Heat and 1974's The Godfather Part II. 
Noor grew up in the exclusive Beverly Hills neighborhood of Los Angeles and she studied at the UCLA School of Film and Television, before going on to secure a job as a film producer.
The oldest of four siblings, Noor was raised by a Kuwaiti father, Falah, and an American mother, Alana.
Both have their social media accounts set to private, and according to her dad's LinkedIn page, he is the president of a company called Q8 Capital Inc.
Noor is currently working as the vice president of Lynda Obst Productions at Sony, and is also reportedly developing two feature films with Obst.
The VP, along with her sister Remi, reportedly struck a pod-producing deal with Imagine Entertainment chairman Brian Grazer in 2021.
Noor's younger sister Remi made headlines back in 2013, when she was linked to late singer Michael Jackson's son Prince.
They reportedly dated while they both attended the super-private Buckley School in Sherman Oaks, California, and the pair was spotted on a series of dates around LA at the time.
The New York Post reported in 2013 that Noor's family had a fortune 'estimated to be in the high nine-figures.'
Over the years, Noor has built up an impressive circle of high-profile friends – including Grazer, 70, and his wife Veronica, with whom she regularly posts photos on her Instagram account.
She also often flaunts her lavish jet-set lifestyle to her 17,000 followers. Last year, she posted snaps of herself vacationing in numerous luxury locations including Cap d'Antibes, France – where she spent time at fashion designer Jean Pigozzi's private villa.
Source: Read Full Article