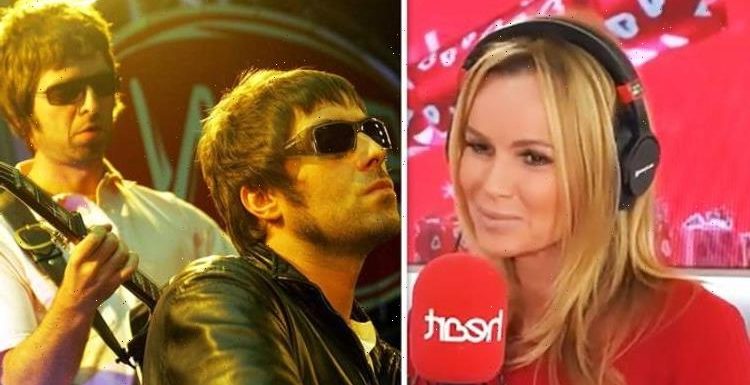 Amanda Holden apologises to Oasis for Instagram blunder
We use your sign-up to provide content in ways you've consented to and to improve our understanding of you. This may include adverts from us and 3rd parties based on our understanding. You can unsubscribe at any time. More info
Amanda Holden, 50, issued an apology to Noel and Liam Gallagher while hosting the Heart FM Breakfast Show with Jamie Theakston. The former admitted she had made a faux pas whilst uploading a photograph to Instagram, and thought the Oasis stars would have quite the shock when they saw.
She told co-host Jamie: "Do you know what I've just done Jamie.
"I just did my fashion shot, as you do every day.
"My red dress is from Oasis and I just tagged in Oasis…Noel and what's his face!"
Jamie then jumped in saying, "Liam!", as the pair burst into fits of laughter.
Amanda shared the hilarious on-air exchange to her Instagram story in view of her 1.8 million followers.
She captioned the post "Whoops!" and said: "Apologies to [Oasis] when they are waking up to a picture of me in a red dress this morning!"
It is not the first blunder Amanda has made live on air this week.
Yesterday, she and Jamie were discussing which direction they face when showering.
The question had been discussed during I'm A Celebrity…Get Me Of Out Here! Castle Coin Challenge on Wednesday night.
The campmates had to answer, "What percentage of Brits said that they face towards the shower when washing?" order to win treats for the camp.
Jamie repeated the question and Amanda shared her thoughts on the debate.
However, when describing her own experiences she accidentally revealed too much about her shower habits.
DON'T MISS
I'm A Celeb's Richard Madeley spills secret to ageless looks[INSIGHT]
Debbie McGee's appearance on Strictly leaves viewers distracted[LATEST]
Naga Munchetty bids farewell to BBC Breakfast co-star amid final shift[NEWS]
She said: "When I first get in, I might go, 'Oh yes, here it comes!'
"But then I think I turn around…"
Jamie then interjected: "Oh, so you're facing towards the shower to begin with?"
The radio presenter then suffered a slip of the tongue, as she said: "Well, only for sex… for a little bit…"
After realising what she had said, Amanda burst into fits of giggles and explained that she was trying to say "for seconds", rather than "for sex".
Jamie poked fun at Amanda's error saying: "What you do in the shower is your own business."
Amanda then joked: "My husband will be like, She blinking doesn't!'
Source: Read Full Article