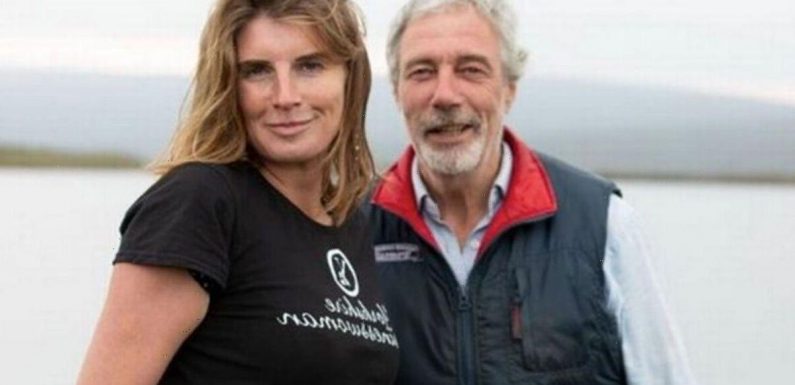 Amanda Owen watches as stream carries sheep away
We use your sign-up to provide content in ways you've consented to and to improve our understanding of you. This may include adverts from us and 3rd parties based on our understanding. You can unsubscribe at any time. More info
Viewers of Our Yorkshire Farm have called for the show's return despite the programme getting cancelled last year. It comes after Amanda Owen and her estranged husband Clive Owen announced their marriage split.
The shepherdess, who shares nine children with the Yorkshire farmer, has since gone on to front her own reality series with More4 while Clive had a Channel 5 spin-off show alongside the former couple's son Reuben.
Taking to her Instagram account on Wednesday, Amanda, 48, shared a snowy update of two of her horses grazing out in the plummeting temperatures that have hit England in recent days.
She also posted some selfies, captioning the post: "Ah, the sheep are all fine and dandy today and far happier with a sprinkling of snow than yesterday's deluge. One or two are possibly rather cleaner after their unscheduled soaking. Thank you for lending us the tracked dumper @reubenowen74."
Amanda's fans flooded the comment section as they called for the reality series to return.
View this post on Instagram

A post shared by Amanda Owen (@yorkshireshepherdess)
Janey said: "I want the whole family back as they were the best! Don't like the two new separate series as there is no go in them! Bring back the Yorkshire family!"
Mrs J C commented: "We need another series of Our Yorkshire Farm."
JJb remarked: "I've been rewatching some of the earlier programmes. Really relaxing TV. I love how polite and respectful you all are to each other. Always saying 'Well done ….' and never critical. An example to us all."
Sam pleaded: "Come on please do another series of our Yorkshire farm you really don't understand how much the show means to all of us."
In 2022, Channel 5 confirmed the escapist reality series would be ending after five years.
The series saw huge success and critical acclaim, becoming the channel's highest-rated factual series to date.
A total of 15 million viewers tuned in across the five seasons to see the honest portrayal of family life in the country.
Amanda and Clive announced their split back in June 2022 after 22 years of marriage.
The joint statement read: "Clive and I have are sad to confirm that we have made the difficult decision to separate. This hasn't been easy, but we both believe it's the right choice for the future of our family.
"Although we are no longer a couple, we continue to work on the farm and co-parent together with our number one priority the happiness and well-being of our children."
The shepherdess admitted it has been "tough" since she and Clive announced they were separating last year but that they "just have to get on with it".
She told the Radio Times: "Look, there are two simple facts: if he thought I was brilliant, and I thought he was brilliant, then we wouldn't have separated.
"It's a fact, isn't it? But, you know what, that's not unique, it's just how things are, pressures, all the rest of it. But we have nine kids, with associated friends, girlfriends, and we just have to get on with it."
She also said she felt the term co-parenting is a buzzword which just meant "we take it in turns to shout at the kids".
Following their split, the Yorkshire shepherdess began filming a new More4 documentary, titled Amanda Owen's Farming Lives, her first solo series without Clive.
Beyond The Yorkshire Farm: Reuben & Clive is her former husband's show.
Source: Read Full Article