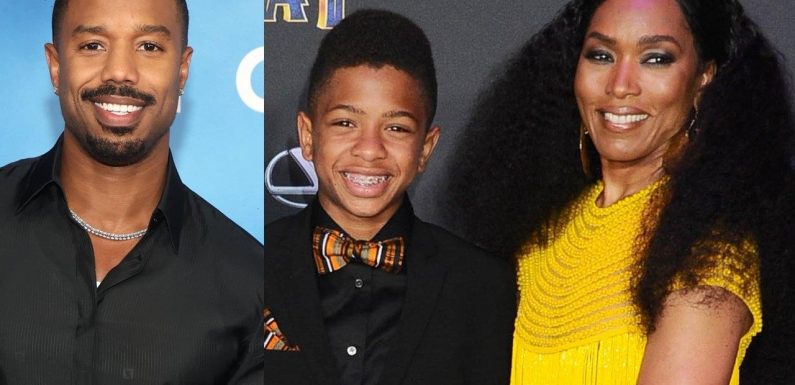 Last month, Slater Vance, the son of the Queen Ramonda depicter in 'Black Panther', issued a public apology after he joined 'harmful trend' on TikTok by trolling his mom with fake news of her co-star's death.
AceShowbiz –Angela Bassett has finally spoken out after her son Slater Vance sparked controversy with a viral celebrity death prank. The Queen Ramonda depicter in "Black Panther" has defended her 16-year-old son and shared what he learned after he sparked controversy with Michael B. Jordan death prank.
When speaking to Entertainment Tonight at the Palm Springs International Film Festival's Creative Impact Awards on Friday, January 6, the 64-year-old star said that the mistake was a "teachable lesson" for the 16-year-old boy. "We all make mistakes, own up to them, take responsibility," she added, "Then hold your head up and move forward."
Angela and Michael both starred in last year's long-awaited "Black Panther" sequel, "Black Panther: Wakanda Forever", and Angela scored a Golden Globe nomination for her performance. She later told the outlet that she's looking forward to honoring her colleagues at the awards ceremony next week. "They're honoring Ryan Murphy, I have a long history with him," she said. "Honoring 'Black Panther' with song, Best Song with Rihanna, I'm looking forward to that."
Last month, Slater caught heat on the Internet after he filmed his parents' reaction to the fake news that Michael died. "Did you hear this…Michael B. Jordan dead at 35?" the teenager asked her parents in a short TikTok video.
Angela was speechless as she put her hand over her chest while her jaw dropped. Her husband Courtney B. Vance could be heard telling his son, "Stop it. You're playing," as Angela rushed toward her teenage son repeating, "Unh-uh."
Angela later reached for her son's phone before the snippet came to an abrupt end. The prank was particularly unsavory as Angela dealt with the tragic loss of another "Black Panther" co-star, Chadwick Boseman, not long ago.
After deleting the video, Slater issued an apology. He said in a video, "I would sincerely like to apologize for taking part in such a harmful trend. I apologize to Michael B. Jordan's entire family, his extended family and Michael directly as he is an idol of mine and taking part in a trend like this is completely disrespectful."
"I don't wish any bad ramifications of my actions upon his family nor my parents as they deserve none of the backlash," he continued. "I own this was a mistake and I hope this can be a teaching lesson to anyone else who uses social media as a tool and a source of entertainment to truly understand that your actions can have consequences that extend beyond you."
You can share this post!
Source: Read Full Article