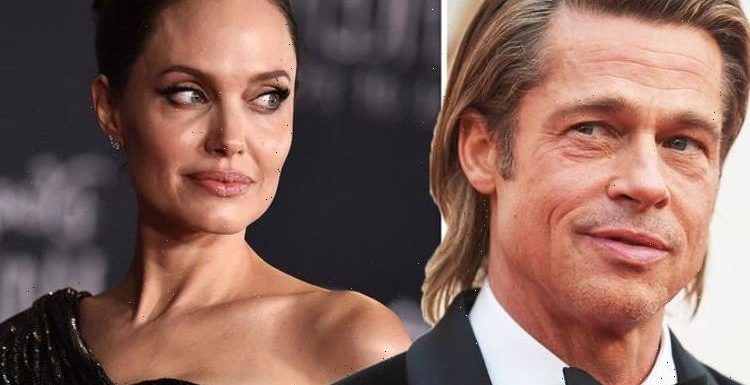 Angelina Jolie says there are 'beautiful messages' in Maleficent
We use your sign-up to provide content in ways you've consented to and to improve our understanding of you. This may include adverts from us and 3rd parties based on our understanding. You can unsubscribe at any time. More info
Troy actor Brad Pitt, 57, has filed a new lawsuit against his ex-wife, Hollywood actress Angelina Jolie, in Luxembourg today. The documents claim that the Tomb Raider star, 46, is attempting to cut her ex-spouse out of a deal to sell her shares of their jointly owned $164million property in France, which they were married in seven years ago, according to reports.
Hollywood actor Brad has criticised his ex-wife's move in the new lawsuit he has filed against her.
The lawsuit accuses the A-List star of "systematic obstruction" for reportedly attempting to cut her ex-husband out of a deal to sell her shares of their French property, Chateau Miraval in Correns, France.
Documents obtained by the Daily Mail report that the Ocean's Eleven star held a 60 per cent take in the shares, while the Salt actress held the other 40 per cent.
The publication states that the property is owned by Quimicum, which the former couple jointly own.
Brad reportedly owns his stake in the property through his company company Mondo Bongo, while Angelina owns the rest through her company, Nouvel.
But the publication reports that three years before their split, the Troy star transferred ten per cent of Mondo Bongo's shares to Nouvel, rendering the former couple equal stakeholders in Quimicum.
The lawsuit alleges that The Changeling actress is trying to sell her 50 per cent shares, without allowing her ex-husband his "right of first refusal and profit" despite the "incredible amount of work, time and money" he invested into the brand.
However, the lawsuit states that the 10 per cent transfer from Mondo Bongo to Nouvel is invalid, as the shares were "sold" for one Euro and not a "serious" amount, as required by Luxembourg law.
Nevertheless, the documents alledge that the actress is trying to sell her 50 per cent stake while circumventing Pitt's right of first refusal.
It also claims that she is attempting to profit from the "incredible amount of work, time and money" invested by Pitt and his business partners.
The documents read: "It is worth mentioning that, for the last four years, Nouvel did not act in the best interest of Quimicum by systematically delaying the approval of the annual accounts and the renewal of the manager.
"We understand that behind this systematic obstruction, the real purpose of Nouvel and its shareholder [Jolie] is to sell its stake in Chateau Miraval SA in a way that would circumvent Mondo Bongo's right of first refusal.
"Taking, as a result, a capital gain raised thanks to Mondo Bongo's investment and to which Nouvel did not contribute."
Express.co.uk has gone to Angelina and Brad's representatives for comment.
Chateau Miravel's 1,000-acre estate in the Var region is estimated in the lawsuit as being worth over 140 million Euros.
In August 2014, the couple married at the luxury property with all six of their children by their side.
While Maddox and Pax walked their mum down the aisle, Zahara and Vivienne were flower girls, while Knox and Shiloh were ring bearers.
Once Hollywood's golden couple, Brad and Angelina were married for five years between 2014 and 2019 before splitting and becoming embroiled in a custody battle over their children.
Earlier this month, the Maleficent actress addressed her split from her ex-husband, claiming their situation is "complicated".
Speaking to the Guardian Magazine, Angelina addressed the couple's divorce, saying: "It took a lot for me to be in a position where I felt I had to separate from the father of my children.
"It has been so horrific that I almost have to see it as a godsend to be in a position to be able to fight this system."
Angelina added that she had been left "broken", but insisted she wanted the family to find peace.
"It's not that I want to talk about anything really, because I just want my family to heal," she explained.
"And I want everyone to move forward – all of us, including their dad. I want us to heal and be peaceful. We'll always be a family."
Source: Read Full Article