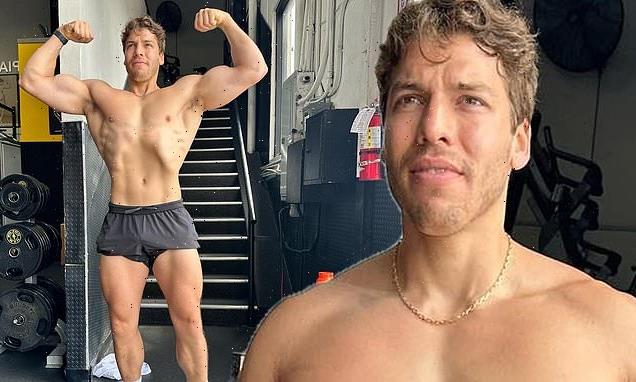 Arnold Schwarzenegger's son Joseph Baena puts bulging biceps and massive leg muscles on display as he does classic bodybuilder pose at famed Gold's Gym in Venice Beach
Joseph Baena has surely taken to two of the passions that helped send his famous father to superstardom  
Like Arnold Schwarzenegger, Baena followed in his dad's footsteps with his love of bodybuilding and acting.
And on Friday the real estate agent, fitness model and DJ put on a show at the Gold's Gym in Venice Beach by striking a couple of poses for the camera that he shared on is Instagram page.
One of them showed him flexing his bulging biceps and massive leg muscles, in what's considered a classic bodybuilding move.
'Oh hey look a traffic cone!' he joked in the caption, in a reference to the orange cone sitting to his right near the stairs.
Bust a move: Joseph Baena, 25, drops into classic bodybuilding pose and flexes his bulging biceps and massive legs muscles for his latest Instagram post on Friday
In the cover photo, the Los Angeles native can be seen sucking in his stomach while showcasing the results of all the hard work he puts in at the gym.
For the impromptu shoot, Baena went shirtless, opting to wear just a pair of skimpy black workout shorts and black-and-white-checkered sneakers with socks.
The exercise enthusiast was also photographed doing a mock jumprope routine that included him still flexing his leg muscles.
For the most part, Baena typically uses his Instagram page to share photos of himself working out or flexing for the camera.
Some of the times he and his father team up for a workout at that very same Gold's Gym, which Schwarzenegger helped make famous after he arrived in the U.S in October 1968, when he was just 21.
Many people in the health and fitness and bodybuilding worlds attribute the pairing of Schwarzenegger, 75, and Gold's Gym for helping put mainstream fitness on the map back in the 1970s. 
The Terminator star was inducted into the Gold's Gym Hall Of Fame at its 50th anniversary celebration during the company's convention in Dallas in 2015.
'When I first came to America, I went to Gold's Gym before I even went to my first apartment. Gold's Gym became my home. It was like a family to me,' Schwarzenegger, 75, said during his speech, as reported by Club Industry.
He added, 'At the time, physical fitness wasn't mainstream, but look at what we have accomplished in these 50 years. Now everyone is working out. Remember that you all are a part of the fitness crusade that we started 50 years ago.'
Ripped: The Los Angeles native showed off the results of all his hard work in the gym by going shirtless with just a pair of skimpy black shorts
Making his way: Baena has been trying out several career options since graduating from Pepperdine University in 2019 that includes DJing, real estate agent, fitness model and acting
Bangin' beats: The DJ can be seen showing of his DJ skills at a recent gig
Following in dad's footsteps: Baena has no less than five films currently in the works
Baena has been trying out a number of different career options since graduating from Pepperdine University in 2019, that includes being a real estate agent, fitness model, DJ, and acting.
Currently, he's got no less than five films in the works that includes roles in Gunner, starring Luke Hemsworth, and Athena Saves Christmas, which has Cuba Gooding Jr. in the lead.
Baena was born in October of 1997 as the result of an extramarital affair between Schwarzenegger and his family's former housekeeper Mildred Patricia 'Patty' Baena.
At the time, the former California governor was married to Maria Shriver, whom he would end up separating and divorcing from after his secret affair was made public. 
The former couple have four children together: sons Patrick, 29, and Christopher, 25, and daughters Christina, 31, and Katherine, 33. 
Source: Read Full Article