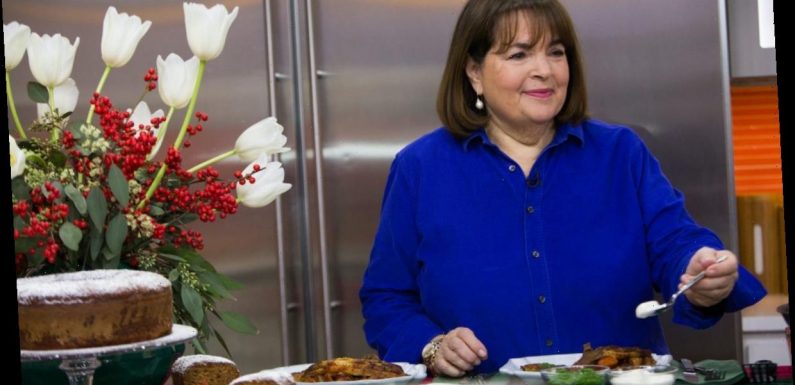 When it comes to chicken dinners, no one compares to Barefoot Contessa star Ina Garten. From delicious comfort food to quick and easy weeknight meals, these top seven chicken dishes go beyond Jeffrey's favorite dish.
The 'Barefoot Contessa's' chicken pot pie is an absolute classic
Garten absolutely outdoes herself with her recipe for chicken pot pie. The creamy chicken filling features peas, carrots, onions, cream, butter, and homemade chicken stock. But what really makes this dish stand out is the homemade pastry crust.
Ina gives clear step-by-step instructions for how to make the yummy pastry crust. You will need a food processor fitted with a metal blade to mix the flour, salt, baking powder, shortening, butter, water, and egg.
Ina Garten's favorite weeknight dish is her 30-minute Parmesan chicken
Garten says that her intermediate recipe for Parmesan chicken is her absolute favorite 30-minute weeknight dinner. All you need is: six boneless, skinless chicken breasts, a cup of all-purpose flour, Kosher salt, freshly ground black pepper, good olive oil, unsalted butter, two extra-large eggs, 1 1/4 cups of seasoned dry bread crumbs, and 1/2 cup of finely grated Parmesan cheese.
To pound the chicken breasts to 1/4 inch thickness, you can use a meat mallet or rolling pin. You'll also need a large shallow bowl, two dinner plates, and a large sauté pan.
The 'Barefoot Contessa' knows roast chicken
Garten's recipe for the perfect roast chicken is actually Jeffrey's favorite, and that's because it is absolutely legendary. This mouth-watering chicken dish is so amazing that Jeffrey requests it every Friday night.
The chicken takes just 20 minutes to prep, and the "roasting rack" of onions, carrots, and fennel turns into a yummy side dish. For a different flavor, Garten also has a recipe for lemon and garlic roasted chicken that's made with bacon.
Ina Garten's oven-fried chicken must be prepped the night before
Garten's oven-fried chicken is a must-try, but you will need a large heavy-bottomed stockpot for this recipe. The night before you want to serve this dish, Garten says to place the chicken pieces in a large bowl and pour a quart of buttermilk over them. Then, cover with plastic wrap and refrigerate overnight.
To make this dish, start by preheating the oven to 350 degrees. Next, combine two cups of all-purpose flour, one tablespoon of kosher salt, and one tablespoon of freshly ground black pepper in a large bowl. Take the chicken pieces out of the buttermilk one by one and coat them thoroughly with the flour mixture.
Pour vegetable oil into a large heavy-bottomed stock pot to a depth of one inch. Work in batches by carefully placing chicken pieces in the oil. Fry for approximately three minutes on each side until the coating is light golden brown. Remove the chicken pieces from the oil and place on a metal baking rack on top of a sheet pan. Bake for 30 to 40 minutes.
The 'Barefoot Contessa' has two quick chicken dishes that will have you cooking like a pro
If you're looking to impress your family or friends, try Garten's lemon chicken. It's a simple dish with a simple sauce, and the results are incredible.
Ingredients for lemon chicken:
¼ cup olive oil
3 tablespoons minced garlic, 8-9 cloves
⅓ cup dry white wine
1 tablespoon lemon zest, from about 2 lemons
2 tablespoons freshly squeezed lemon juice, about 1 lemon
1 ½ teaspoons dried oregano
1 teaspoon fresh thyme leaves
Salt and pepper to taste (optional)
4 boneless, skin-on chicken breasts, 4 bone-in, skin-on chicken thighs, or 2 skin-on half chickens, patted dry
slices Lemon, from remaining lemon after zesting
Another delicious easy chicken dish is Garten's crispy mustard chicken & frisée. Just remember, the fingerling potatoes are non-negotiable because they absolutely make the meal.
The Barefoot Contessa airs Saturdays on The Food Network.
Source: Read Full Article