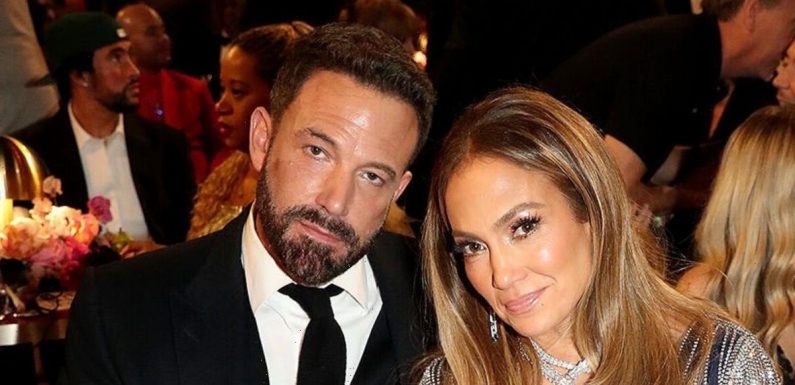 Jennifer Lopez appears to 'snap' at Ben Affleck
We use your sign-up to provide content in ways you've consented to and to improve our understanding of you. This may include adverts from us and 3rd parties based on our understanding. You can unsubscribe at any time. More info
Ben Affleck, 50, attended the Grammy Awards ceremony alongside his wife Jennifer Lopez, 53, with the pair being caught on camera looking tense when host Trevor Noah sat near them. The Hollywood actor has been pictured since, and appeared to ignore a photographer who asked him about the seemingly heated exchange.
Ben has been pictured in Los Angeles in casual-wear since the Grammys, alongside a female companion.
The actor rocked a checked blue shirt, jeans, and trainers while appearing to show very little emotion on his face.
A clip has also surfaced of a photographer asking the actor about the reported argument between himself and wife J.Lo, however, Ben seemingly ignores the gentleman and gets into his car.
In the original clip from the Grammy Awards ceremony, Ben could be seen leaning into his wife to whisper something to her.
The sentiment appeared to be met with disagreement from J.Lo, who put her hand to his chest briefly before seemingly indicating for Ben to sit up straighter, which he then did.
Jennifer then seemed to turn away from her husband and rolled her eyes, before noticing the cameras, at which point she smiled and pointed her attention to host Trevor.
She has since appeared to deny rumours of any tension in her marriage, taking to Instagram to share a loved-up montage of the couple at the Grammy Awards.
She captioned the clip: "Always the best time with my love, my husband."
However, social media users still took to the comments to share their views on how "miserable" the actor seemed at the awards ceremony.
Bolleslatham said: "Leave Ben home. Clearly, it's not his thing."
Athenscanuk added: "The pictures and video I saw did not portray happiness."
While Fredlentros commented: "To all the negative Nancy in the comments especially the ones that are married. Imagine the whole process of getting ready for the Grammys, photos, flashes, interviews, so many people, cameras, the anxiety!
"The pressure of being watched means that you need to be smiling the whole damn time otherwise people will say that your marriage is broken!
"I think they look cute and like a normal married couple. Are they not human? Do they have to sit like smiling robots so people can think that's a happy marriage? If that's what you think you're in a fake marriage or not married LOL."
A source has also since claimed to Entertainment Tonight, that there was a reason why Ben was not feeling his best at the Grammy Awards ceremony.
The source explained: "Jen [Lopez, Affleck's wife] and Ben had a fun date night out at the Grammys, but they have both been very busy working on several projects, and Ben was feeling tired.
"He wanted to go and support Jen, but he wasn't his usual self."
"Jen had a great time and wanted Ben to be excited to be there, but she understood where he was coming from.
"Jen knows Ben is a great husband and they still made sure to have a good night together."
Jennifer and Ben married last year, 17 years after they broke off their first engagement in 2002.
Source: Read Full Article