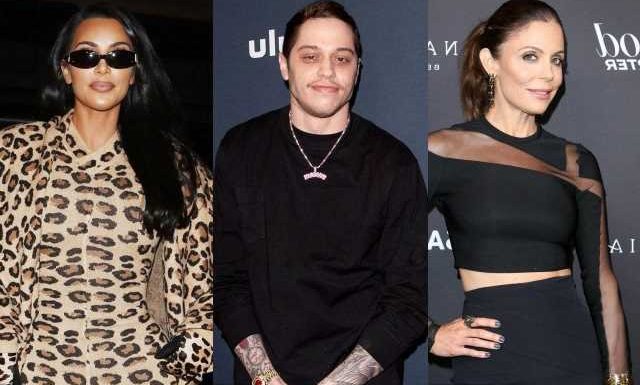 'The Real Housewives of New York City' alum doubles down on a theory about the 'Saturday Night Live' cast member's genital size as saying that he 'shoots diamonds out of his penis.'
AceShowbiz –Bethenny Frankel has brought up an old rumor about Pete Davidson's manhood size following reports of his rumored romance with Kim Kardashian. Taking to her social media platform, "The Real Housewives of New York City" alum made a comment on the comedian's private parts.
On Wednesday, November 3, the Bravo star tweeted, "Years later, I still maintain that Pete Davidson shoots diamonds out of his penis." She added, "[Pete] needs a deal with @ZalesJewelers (and yes he is talented, charming, smart & cute) but his game is tight."
Many Twitter users replied to her tweet with one saying, "He's just funny with a huge c**k- any dude with these attributes will thrive." In the meantime, a separate person wrote, "I feel like every other famous/wealthy man just cannot be funny at all, because he's really dating the most stunning, powerful, famous women- just because he can make them laugh."
Previously, a fan had asked Ariana Grande, when she dated Pete, about his "big d**k energy." Referring to a song named after the "Saturday Night Live" cast member, the question read, "How long is Pete?" In response, "The Voice" judge replied and later deleted, "Like 10 inches? …oh f**k…i mean…like a lil over a minute."
More recently, Chrissy Teigen also said that Pete's "big d**k energy" might have played a role in his reported relationship with the "Keeping Up with the Kardashians" alum. "It's definitely a thing, for sure," the "Chrissy's Court" star stated, noting that it was "probably" a factor for Kim.
When Chrissy was asked about "Pete Davidson for Kim," the 35-year-old model responded, "Everybody's asking me! I have no idea," adding that she didn't "know either way" if Pete and Kim were or were not dating. However, she said that the comedian is "good for" the reality TV star.
"Funny guys do a lot," Chrissy shared. The wife of John Legend then praised her husband as saying, "Look at John — he's hysterical." The 42-year-old musician agreed with her statement, adding, "I'm hysterical. Who wouldn't want to be in love with a funny guy." After the cameraman suggested that "humor is the way to a girl's heart," she added, "Yes, that's what John knows best."
Kim and Pete reportedly spent a week together when she hosted "Saturday Night Live" back in October. In a skit, the SKIMS founder also shared a lingering kiss with "The King of Staten Island" actor.
In a separate sighting, Kim and Pete were spotted holding hands at a Halloween event in California. However, sources shut down the romance reports, stressing that the two are "just friends," who hang out in the same circles.
Then on Tuesday, November 2, Kim reportedly came to Campania restaurant in Pete's native Staten Island for a quiet date night. A source spilled, "Pete arranged a dinner on the rooftop privately. It was just the two of them. They quietly were able to sneak in and out."
Source: Read Full Article