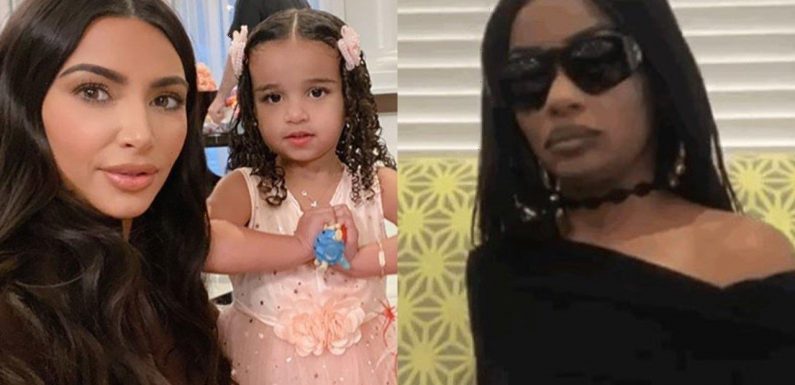 In a new interview, Tokyo Toni claims that her daughter called CPS over the incident and questions why the nanny who allegedly 'burnt' her granddaughter wasn't on the news.
AceShowbiz –Blac Chyna's mom apparently still has pent-up anger towards the Kardashians. Following her daughter's loss in the defamation lawsuit against the famous clan, Tokyo Toni has launched another serious allegation against Rob Kardashian's family.
In an interview on the Night & Day Network, Toni claimed that the Kardashians' nanny has caused her granddaughter Dream to get "burnt" twice. "This is why I don't like the rest of them, Kim, Khloe, none of them h*es is because when Dream got burnt two times, the nanny did it," she said in a clip of the interview.
Toni said her daughter called CPS over the incident. "Chyna got CPS over there and everything but these b***hes forget," she recalled. "Chyna done played fair with these h*es for a long time, because I'm going to tell you right if now my child over your house and got burnt the first time I don't know about letting that slide. A second time in the same place, oh she ain't coming back over there."
Toni then questioned why TMZ didn't pick up the story about the alleged incident. "Why the nanny wasn't on TMZ with her face shown in cook county, I don't know where the f**k its at I'm just being funny, Calabasas County Jail," she wondered.
Back in May, a jury voted in favor of the Kardashian family in Chyna's lawsuit against them seeking more than $100 million for defamation. Showing her support to her daughter, Toni reportedly wrote on Instagram in the wake of the ruling, "It's a FIGHT ITS OKAY!!! A fight is a fight!! Chyna is a Boss like her momma ' Lol ' ROUND 1!!!"
She went on declaring, "Chuckles —- NO BUCKLE/We riding [strong arm emoji] MILE EVERYONE ' it's going to be okay'!!! Life gots on ' Appeal coming ' Chyna again for the [gold medal] win! She duck walked them still!!! Powerful moves and A QUEEN doing it!!"
Toni, who has a tumultuous relationship with her daughter, also created a GoFundMe page to support Chyna's appeal bid. "Hi I am Shalana Hunter BKA Tokyo Toni. I would like to appeal to the public this Go Fund Me Fundraiser to help my daughter, Angela R. White BKA Blac Chyna financially in this endeavor to get justice," she wrote on the page.
Source: Read Full Article