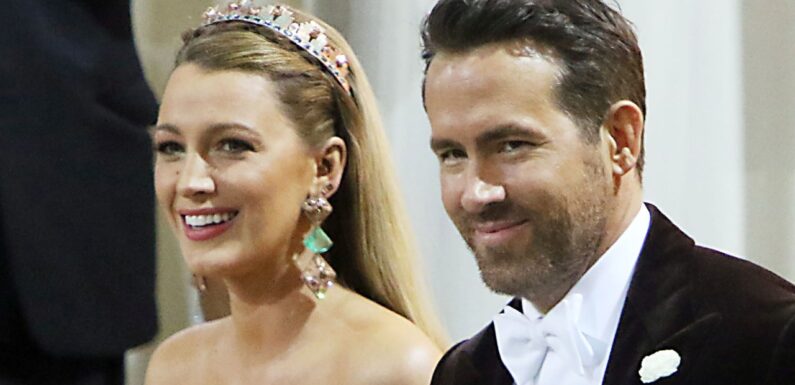 Months after welcoming their fourth child together, the former 'Gossip Girl' star gets cheeky when reposting her husband's photo that shows off his toned summer body.
AceShowbiz –Blake Lively has shared an "extra spicy" photo of her hunky husband. On Sunday, May 28, the former "Gossip Girl" star treated her followers to a hot snap of Ryan Reynolds after the "Deadpool 3" actor showed off his toned summer body on social media.
Making use of Instagram Story, the 35-year-old actress reposted a photo originally shared by her 46-year-old husband. It captured her hubby's toned body in a sleeveless white top, a pair of long ivory pants and a pair of black sunglasses. Over the photo, she added sriracha sauce stickers as well as red pepper stickers. She also included a red "Caution: Extra Spicy" sign sticker.
Blake's husband initially let out the photo on his Instagram Story as an ode to summer. Over his picture, he noted, "Summer in New York makes me sorry for the way I treated winter in New York." He further hinted that the photo was taken by his wife.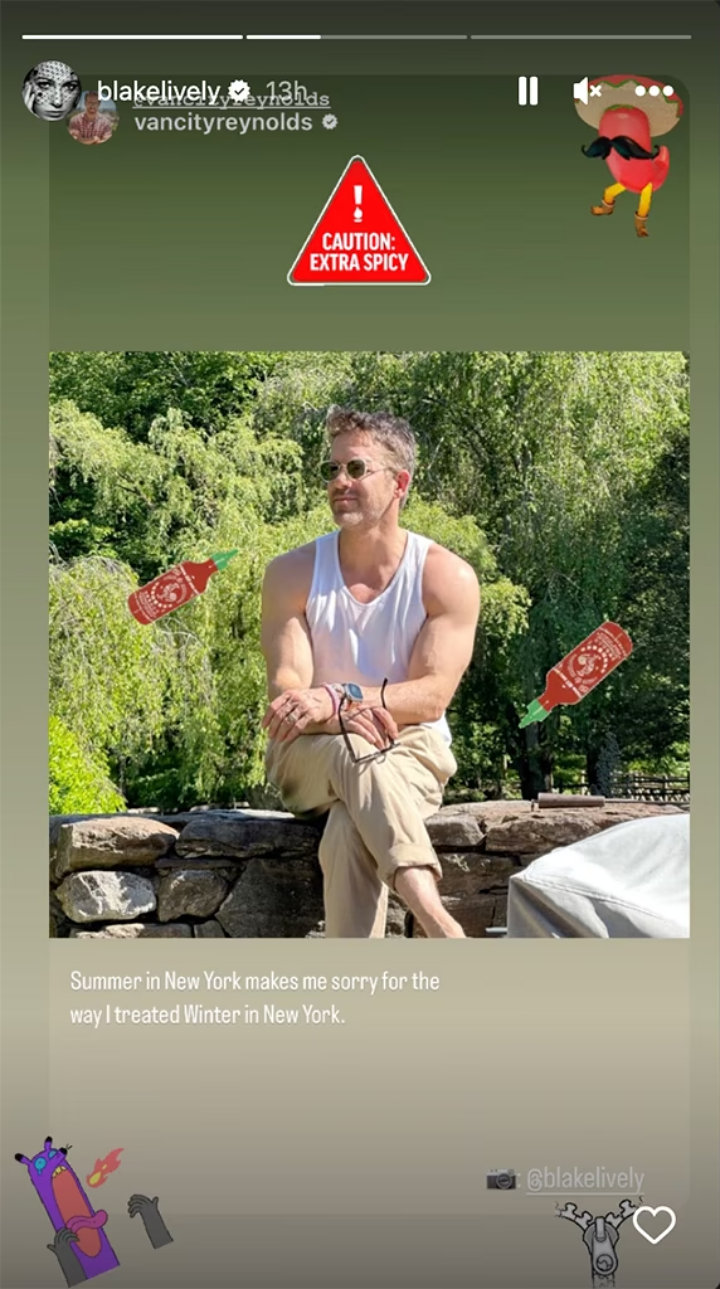 Blake Lively shared photo of hunky husband Ryan Reynolds.
Blake's spicy repost came a few months after she hinted that she had given birth to her fourth baby with Ryan. On February 12, she took to Instagram to let out a photo of herself and her husband together with her mother-in-law. At that time, she captioned the photo, "Puppy Bowl Sunday 2023 been busy."
Although Blake did not directly announce that she had welcomed her fourth child, eagle-eyed fans made the conclusion, seeing that she wore a body fit sleeveless black tee and paired it with a pair of fitted dark-blue jeans. The top and pants that she donned looked flat on top of her belly and no baby bump appeared.
In the comments section of Blake's post, one asked, "Did I miss something? Where is the baby bump?" Another one gushed over the actress' appearance. "She discreetly gives birth and then looks like this right afterwards in a tight shirt. She's good at this," the fan exclaimed.
You can share this post!
Source: Read Full Article