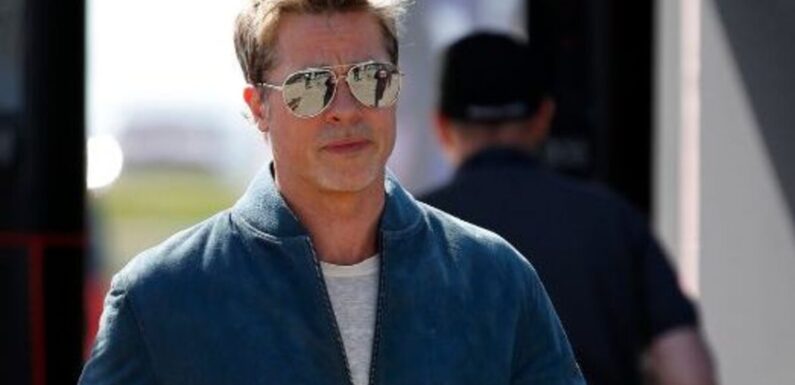 Brad Pitt claims Angelina Jolie unlawfully sold vinyard stake
Hollywood A-lister Brad Pit looked youthful as he was pictured filming his new F1 movie on Thursday.
The actor, 59, was spotted at Silverstone sporting a blue jacket, teamed with white trousers and a t-shirt as he filmed on the iconic racecourse.
We will reportedly see the Oscar-winner race Lewis Hamilton in the next British Grand Prix as part of the movie shoot.
Brad, who played the titular character in 2008's The Curious Case of Benjamin Button, which is about a man who ages in reverse – appears to be taking just after the character as he hasn't seemed to age over the years.
After dazzling the world with his smooth complexion and Hollywood smile, many fans have drawn comparisons between the actor and one of his most famous roles.
READ MORE: Kate Garraway emotional as she recalls last conversation with Fiona Phillips
He was pictured hiding his eyes behind a pair of silver shades and seemed to be in high spirits as he smiled and chatted with crew members on the set.
Laura Kay, cosmetics specialist, and founder of Laura Kay London told FEMAIL that the multi-award-winning actor's young appearance could be explained by a combination of a good skin maintenance programme, plus a few procedures tweaking his appearance.
Don't miss…
Barbara Windsor's widow 'looking for dementia cure' as Fiona Phillips diagnosed[LATEST]
James Martin slammed for 'overpriced' hotel experience costing more than £400[EXCLUSIVE]
Dan Wootton 'heartbroken' as he learns of Fiona Phillips' Alzheimer's diagnosis[INSIGHT]
We use your sign-up to provide content in ways you've consented to and to improve our understanding of you. This may include adverts from us and 3rd parties based on our understanding. You can unsubscribe at any time. More info
As he radiated youthful energy, Laura revealed how she believes the Oscar winner has managed to age in reverse – much similar to Benjamin Button.
She said: "Brad appears to have very subtly invested in some 'tweakments' to retain a youthful appearance.
"He has reduced fine lines today and his skin is dewy and fresh. Therefore, he may have had botox to reduce wrinkles and face peels will help to rejuvenate his skin."
Adding, "He could also have focused on certain areas including the neck, jowls and his hairline/hair that are very noticeable signs of ageing – and with a skilled practitioner people will hardly notice the difference, yet it will look transformative."
She even suggested, if Brad has opted for a few nips and tucks to create a more youthful look, it may be related to his recent split from Angelina Jolie, 48, mother to his children and partner of 12 years.
She said: "Post divorce surgery and tweakments are officially on the rise, and it is not just a trend amongst women."
Source: Read Full Article