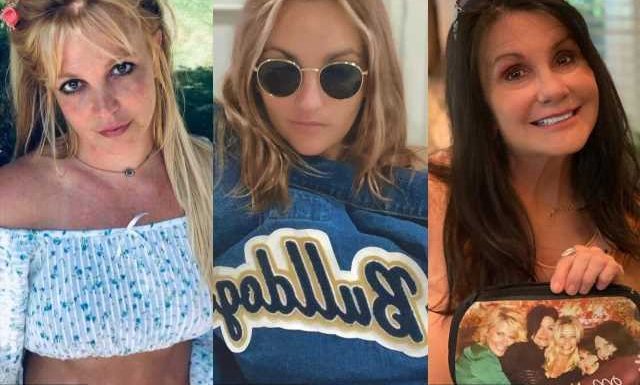 After Britney unleashes her wedding pictures and videos on Instagram, the 67-year-old author sends good wishes to her daughter, saying she is 'soooo happy for [her].'
AceShowbiz –Britney Spears' mother and sister have reacted to her wedding to Sam Asghari. Lynne Spears and Jamie Lynn Spears, who were not invited to the nuptials, expressed their excitement in their own ways.
Lynne sent good wishes to her musician daughter after the latter unleashed pictures and videos from her big day on Instagram. In the comment section, the 67-year-old first gushed, "You look radiant and so happy!"
"Your wedding is the 'Dream' wedding! And having it at your home makes it so sentimental and special!" the author went on raving. "I am soooo happy for you! I love you!"
Jamie Lynn, for her part, did not leave any comments on Britney's wedding posts. The 31-year-old singer/actress, however, gave a thumbs up in a photo that saw the "…Baby One More Time" hitmaker posing alongside Paris Hilton, Madonna and Selena Gomez.
Aside from excluding her mom and sister from the guest list, Britney also snubbed her father Jamie Spears following her consevatorship drama. The only family member she invited was her older brtoher, Bryan Spears, but he seemingly did not attend the Thursday, June 9 wedding.
Britney's two kids Sean Preston and Jayden James, whom she shares with her ex Kevin Federline, were also absent. Though so, they remain supportive of their mother and her relationship with Sam.
Kevin's attorney Mark Vincent Kaplan told Page Six ahead of the event, "The boys are not going to be in attendance at the wedding." Mark added, "They think the focus of this day should be on Britney and Sam, and they are very happy for her moving forward."
The lawyer gives a similar statement to PEOPLE about Sean and Jayden's absence at their mom's wedding. "They're happy for their mom and they are hopeful that Sam and Britney are starting a great future together," he said. "It's their night and they didn't want to take away from them."
Source: Read Full Article