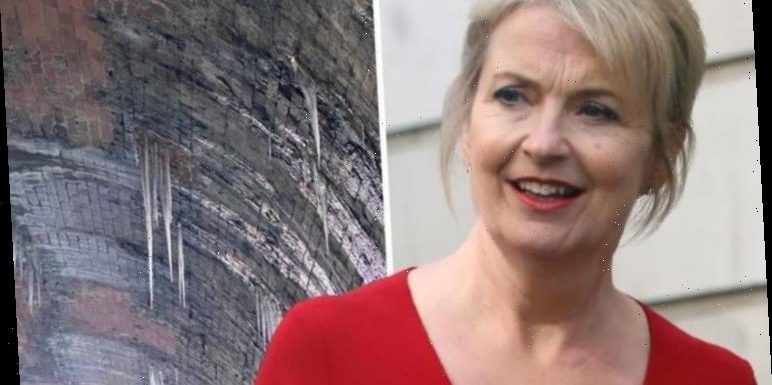 BBC Weather: Carol Kirkwood forecasts snow and rain
When you subscribe we will use the information you provide to send you these newsletters.Sometimes they'll include recommendations for other related newsletters or services we offer.Our Privacy Notice explains more about how we use your data, and your rights.You can unsubscribe at any time.
BBC Breakfast weather star Carol Kirkwood is a regular on our screens as she presents the forecast each morning. Yesterday the meteorologist took to social media as she posted of how the cold weather in her area had caused icicles to form in a tunnel she was about to walk through.
Talking to her 200,700 followers on Twitter, Carol shared a couple snaps as she went on an afternoon stroll.
Although amid the recent cold weather experienced around the UK, the presenter shared her shock when she came across a very icy bridge.
Posting pictures of the tunnel, she wrote: "Went for a walk this afternoon and saw these xxx @BBCBreakfast @bbcweather."
Fans of the BBC Breakfast star were quick to reply as they warned Carol to keep away.
One fan wrote: "Crumbs, you could have been in your own version of a final destination film there."
Another added: "I bet you were walking while keeping an eye on them Carol."
"Goodness, you could have been impaled!" said a third.
A fourth went on to joke of how Carol should have swapped her woollen hat for a hard hat in case of any falling.
They wrote: "Take your hard hat next time!"
Thanking them for the tip, Carol replied: "Good plan Pete xxx."
Carol's post comes as many places across the UK have experienced snowfall and cold weather over the last week.
Talking of the snow on BBC Breakfast yesterday, Carol warned of more upcoming flurries.
DON'T MISS…
Tom Jones 'doubted survival' after wife's death following affairs [INSIGHT]
Holly Willoughby recalls being attacked by a pair of swans [EXPLAINER]
Dan Walker apologises to BBC guest as she calls out show for error [INSIGHT]
She explained: "We've had an array of snow showers come in from the east.
"There will be some sunshine but something else. It will be particularly windy across the English Channel and across the Channel Islands."
The previous day Carol spoke of the coldest night of winter, which has since been beaten as temperatures drop to -17.1C.
She wrote on Twitter: "We have just had the coldest night of this winter so far… the temperature in Altnaharra (Sutherland) has fallen to -15.1C."
Taking to the comments, Carol's followers spoke of the snowfall in their areas.
One wrote: "It's tropical here at zero degrees then Carol on south coast a light flurry of snow yesterday nothing much not laid but feels like minus 5. So there's a 15 degrees difference from Sutherland must be bitterly cold there! Hope everyone has plenty of logs and warm clothes."
A second joked: "Southerners stay indoors Northerners you might need your big coat."
Carol has since reported the temperature has dropped further to -17.1C as she updated her followers of the cold weather yesterday.
BBC Breakfast airs daily on BBC One from 6am.
Source: Read Full Article