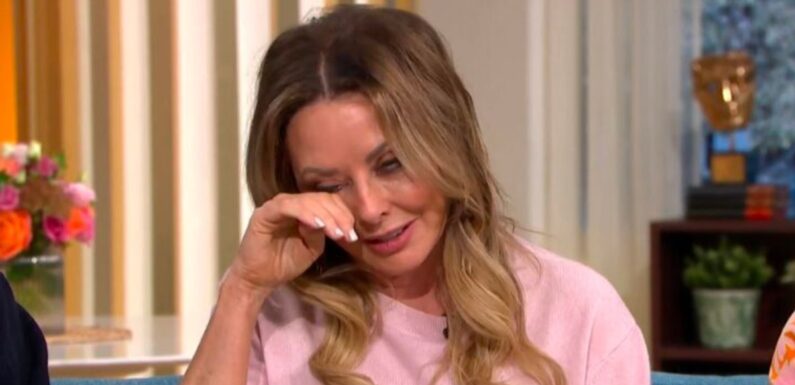 Carol Vorderman shared a rare photograph with her late mum, Edwina, and her two children Katie, 32, and Cameron, 25, as she marked her mother's 95th birthday.
The 62-year-old posted on Twitter: "Morning, Would have been my Mum's 95th birthday today. She lived with us for 40 yrs until her death, she was 'my everyday'.
"Going to her grave for the 1st time since her funeral. Not sure I'm ready, but there we are I know lots of us go through this so sending love out to you." (sic)
Her 803,000 followers sent their condolences: "Awww…beautiful photo. Sending love and light Carol" and "May she rest in peace".
Journalist Dawn Neeson commented: "Still cry at my dad's resting place. And he's been gone 26 years."
Carol lost her beloved mum in 2017 after battling cancer for the fourth time.
The photograph was taken just two months before her death aged 88.
The I'm A Celebrity…Get Me Out Of Here! star also shared the photo to mark Mother's Day this year.
She recalled that "mum had lived with [her] & Katie & Cam (photo of the 4 of us) for decades: we existed as one. I'd employed her since 1986.
"She ran my office. She lived with us through my marriage, and all years since. She was our everyday and I adored her," Carol continued.
Don't miss…
Cheryl Baker speaks on the stigma of growing up in second-hand clothes[LATEST]
Kevin Spacey a 'sexual bully', the court hears[LATEST]
James Whale says 'I won't be alive this time next year'[HEALTH]
Edwina was crucial in her daughter's rise to fame as she discovered the newspaper advert that launched her career.
She previously tweeted her love to the Yorkshire Post where the advert was originally seen.
"Always loved the @yorkshirepost. I got my job on Countdown when my Mum read about it in YP when we moved to Leeds in 1982. Ha," Carol posted.
In a 2017 interview with The Sun, Carol shared how her mother helped her land the job.
We use your sign-up to provide content in ways you've consented to and to improve our understanding of you. This may include adverts from us and 3rd parties based on our understanding. You can unsubscribe at any time. More info
"She (Edwina) spotted an advertisement in the local paper asking for a girl who was good at maths to help present a new TV show, Countdown.
"She sent in an application for me and I ended up with the job," the mother-of-two recalled.
Carol appeared on the game show as a co-presenter from 1982 to 2008.
Source: Read Full Article