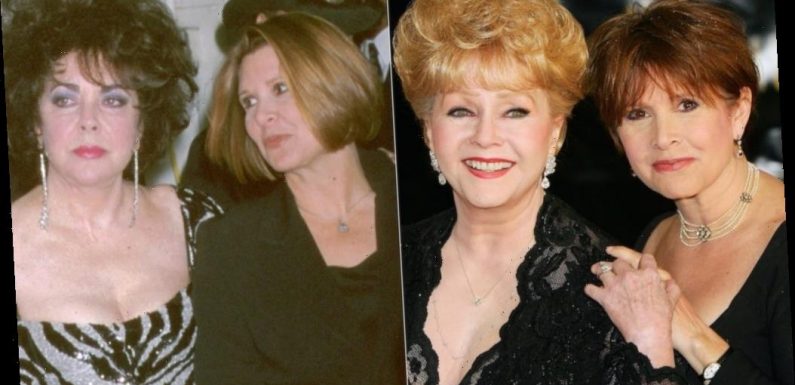 Elizabeth Taylor's affair with Eddie Fisher flipped Debbie Reynolds and Carrie Fisher's lives upside-down. Decades later, the three women shared a "unique bond" built on history and respect, but how did they get there?
Carrie Fisher was a baby when Eddie Fisher left Debbie Reynolds for Elizabeth Taylor
Reynolds and Eddie were America's sweethearts, and Taylor and her third husband, Mike Todd, were their best friends. Reynolds and the singer even named their son, Todd Fisher, after Mike. When Mike died in a plane crash in 1958, Reynolds told her husband to go comfort Taylor. And that's when their affair started.
Fisher was just 18 months old when her father left. Todd was even younger. From that point on, Eddie was largely absent in their lives. Fisher noted how the abandonment and lack of a father figure in her life affected her in her various memoirs and her HBO special, Wishful Drinking.
In The Princess Diarist, Fisher revealed she had an affair with Harrison Ford while filming the first Star Wars movie. In her diaries from that time, the late star noted that Ford's emotional unavailability made him her "ideal mate" because her father was the same way.
Carrie Fisher and Debbie Reynolds didn't blame Elizabeth Taylor for the Eddie Fisher affair
The interesting part about the entire scandal is that neither Reynolds nor Fisher really resented Taylor for the affair. They both held Eddie accountable for his actions. Reynolds told People in 1983:
"I never felt bitter about Elizabeth. A man doesn't leave a woman for another woman unless he wants to go. You know, when Mike Todd died, I sent Eddie to help Elizabeth. I don't think she ever really loved Eddie. He was an interim interest during her mourning period."
Reynolds and Taylor reconciled in 1966 when they both happened to be on the same cruise ship.
Taylor was Fisher's stepmother from 1959 to 1964, but their relationship didn't grow until the Star Wars legend was an adult. And when it did, Fisher had nothing but positive things to say about her former stepmother.
Fisher presented Taylor with a GLAAD award in 2000, and in her speech, she praised the Cleopatra star and slammed her father.
"The best thing Elizabeth Taylor did for me was to get Eddie Fisher out of our house," she said. When Taylor died in 2011, Fisher told Entertainment Weekly that if her father were to abandon them for anyone, she was glad it was her.
Carrie, Debbie, and Elizabeth stayed close for the rest of their adult lives
Fisher had another reason to be grateful for Taylor. Reynolds was alone in her hotel room during the Sept. 11, 2001, terrorist attacks in New York City, and Taylor had her assistant, Tim Mendelson, send her a car so she wouldn't go through the day alone.
Todd said in his 2018 memoir My Girls that he and Fisher couldn't get a hold of their mother that day, so they were flooded with relief when they found out she was with Taylor.
Mendelson told People in 2017 that the bond between Fisher, Reynolds, and Taylor continued to move him. He said:
"They were both intelligent and had great senses of humor. The history between them was palpable. And Carrie was fascinated with Elizabeth, who was her stepmother. She respected her and loved her. Carrie, like Debbie, had a real respect for the people who made Hollywood and Hollywood history. All three of them had a unique bond."
Indeed, Reynolds and Fisher did cherish Hollywood history. Reynolds had a massive collection of Hollywood memorabilia that included some of Taylor's Cleopatra costumes. Of course, the lives of celebrities are just as storied as the films they starred in, so their continued bond between the three actors helped preserve Hollywood's history even more.
Source: Read Full Article