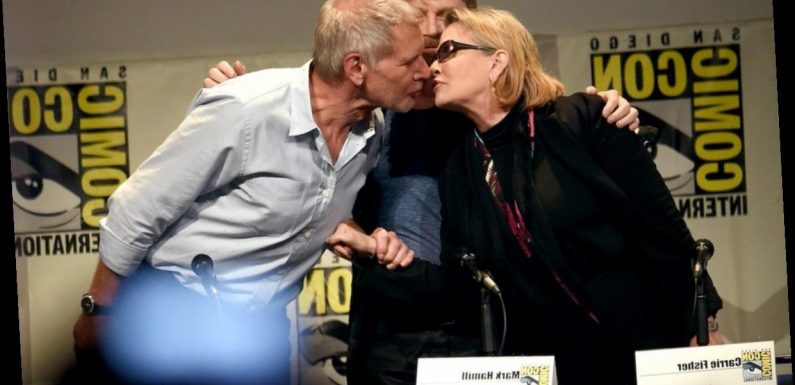 There is a reason Han Solo and Princess Leia have such excellent chemistry in the Star Wars movies. As Carrie Fisher has revealed in her 2016 memoir titled The Princess Diarist, she and Harrison Ford had an affair while filming A New Hope. And although their romance didn't last long, Fisher became utterly enamored with her co-star. 
In fact, she was so smitten with Ford that 40 years after their affair, she told the actor that there was still time for them to "grow old together."
How did the affair between Carrie Fisher and Harrison Ford begin?
Fisher was just 19 when she got cast to play one of the most iconic movie characters of all-time. Meanwhile, Ford was in his mid-30s. Because of their age difference (along with the fact that Ford was already married,) Fisher never assumed she'd have a romantic relationship with him. Yet all that changed during George Lucas's 32nd birthday party. 
Once the night had come to an end, Ford leaned in to kiss his co-star. As Fisher notes in her memoir, this gesture was the beginning of the end. Following their locking of lips, Fisher admits that she became "obsessed" with Ford and that he became her "number one priority" while filming the first Star Wars movie.  
Yet sadly, her co-star/lover didn't seem to reciprocate her feelings.
She reveals in her book, "I'm sure that on our relative lists of priorities as we went about filming, I might have ranked as high as number fifteen on his agenda, while Harrison was my number one."
Carrie Fisher told Harrison Ford that there was still time for them to 'grow old together'
While Fisher was known for her brilliant sarcasm and incredible sense of humor, her memoir exposes a more vulnerable side of her personality. In her book, it's made very clear that her feelings for Ford were genuine, even four decades after their affair. 
She even made an offer to her old friend, saying that there was still a chance for them to settle down with one another. (The book was published months before her tragic death.)
Fisher wasn't hopeful that Ford would actually accept her offer, yet she said it would "absolutely" be "worth the effort."
Fisher wrote,
"So while there's still time for Carrison to grow old together, that gateway is steadily closing. If we're going to get back together, we're going to have to do it soon. And getting back together with someone you were never truly with is, to say the least, complicated. But absolutely worth the effort. Or not. I'll probably regret writing this, but if you have the impulse to yell at me, please don't. Periodically, I feel guilty enough on my own. My hopes aren't high, and neither, as it happens, am I."  
Nothing serious ever came out of the relationship between the 'Star Wars' actors
Sadly, despite Fisher's best efforts, nothing serious ever came out of their affair. Once A New Hope wrapped up, Ford went back to his wife, and that was the end of it. But secretly, Fisher fantasized about her Star Wars co-star leaving his wife for her. 
"Harrison could expectedly (but gently and responsibly) leave his wife," she wrote. "And after a barely noticeable, dignified amount of time, he would marry me (in an unsentimental, tasteful way.) We would subsequently astonish everyone- including ourselves- by remaining together for the rest of whoever died first's life."
Source: Read Full Article