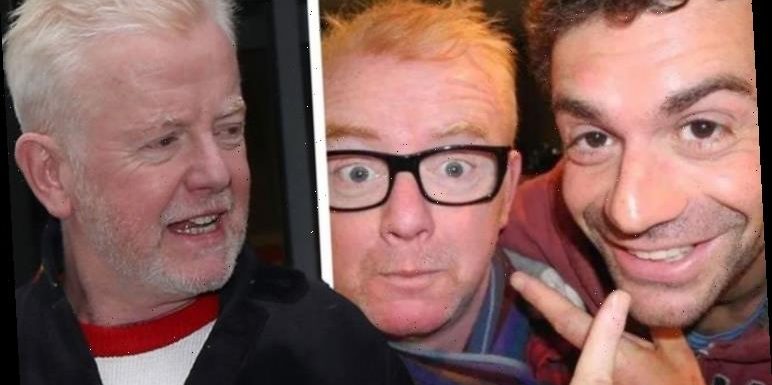 Chris Evans defends radio co-host for receiving his vaccine
When you subscribe we will use the information you provide to send you these newsletters.Sometimes they'll include recommendations for other related newsletters or services we offer.Our Privacy Notice explains more about how we use your data, and your rights.You can unsubscribe at any time.
Chris Evans, 54, was disgusted when his co-star Vassos Alexander, 46, revealed he had received abusive messages because he was called to have his coronavirus vaccination. The radio DJ told trolls to "wind their neck in" and "stop listening" to his show in defence of his co-star, who admitted he felt bad for being called despite his age.
Those who sent one of those texts – can you just not listen to the show anymore!

Chris Evans
Chatting amongst themselves on-air, Chris was shocked to find out about the backlash poor Vassos had received.
"You had your first jab," he acknowledged.
"Will you have a second?"
"I guess so," Vassos replied, shrugging.
Chris wondered: "Will everybody have a second? Even somebody as young, as spry, as fit and as fine fettle as you are?"
The 46-year-old went quiet for a second before admitting he didn't know why he was called.
"I know," Chris interrupted: "Because some regions are ahead!"
"Because the demographics have been…" he trailed off when he suddenly questioned: "You're not feeling bad about this are you?!"
"Have you had some push back on it?"
Vassos sheepishly replied: "A little bit."
As stated on the NHS website, the vaccine is currently being offered to people most at risk from coronavirus.
But Chris was absolutely appalled that his pal had been the victim of such messages and demanded to know who they were from.
While Vassos was reluctant to name drop on-air, he revealed some people were angry that a fit and healthy 46-year-old had been chosen before others in an older age demographic had been given their jab in other areas of the country.
Instead, he just said "people," to which Chris responded: "People… where? Who has said things to you?"
Vassos sighed as he explained: "We've had a few texts in and you say it to people that you've had your jab and you think, 'Well surely once you've got your text to go to for your jab…'
"They're so busy the NHS, you don't want to phone them up and say 'Are you sure?'"
But the amount of messages did leave a niggling feeling in the back of his mind that maybe he should have rang the doctors surgery to check if they had the details correct, after a clerical error saw 32-year-old Political Editor Liam Thorp at the Liverpool Echo, called for his vaccination.
DON'T MISS…
Lady Gaga left 'emotional and grateful' after dog walker's ordeal [UPDATE]
Michael Ball talks age difference with partner 'Too old to be toyboy' [INTERVIEW]
Susanna Reid left in tears after Piers Morgan's trolls target her [LATEST]
When he queried the letter he had received, Liam found out his height had been recorded at 6.2cm instead of six foot two and this combined with his weight, gave him a whopping Body Mass Index (BMI) of 28,000.
Dismissing his worries, Chris was adamant that Vassos shouldn't be listening to such negativity.
"Why are you engaging with people texting in," he exclaimed.
"Why are people texting such things while listening to this show?! Go listen to another show, seriously!"
"Vassos is doing nothing wrong, because this is what's happening in certain areas and districts, everyone who has needed to receive the vaccine first has received it and they simply cascade down the demographic and obviously where Vassos lives, they're way ahead of the other places!"
He then snapped: "Get back in your box, wind your neck in – what's the matter with you guys?!"
"Don't be ruffled by people like that, you silly sausage, you get enough ruffling by me every morning!"
Vassos agreed, still wondering whether he should have checked but Chris claimed the situation he had been put in was very unfair on him.
"This is unfair, I can't believe you've let them ruffle you," he sympathised.
He then directed his attention to those who have been sending him abuse: "Those who sent one of those texts – can you just not listen to the show anymore!"
The Chris Evans Breakfast Show airs weekdays at 6:30am on Virgin Radio.
Source: Read Full Article