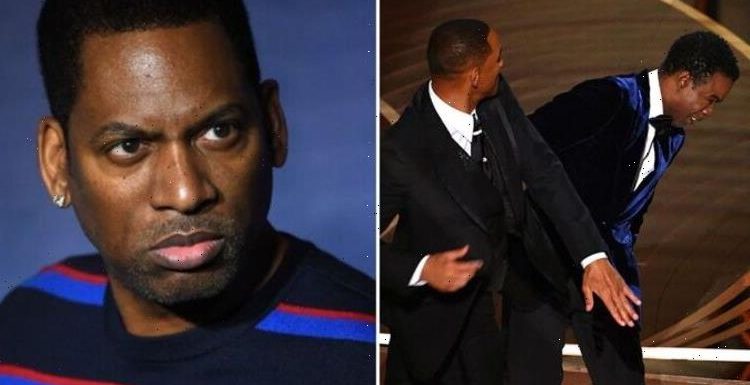 James Corden mocks Will Smith's Oscars slap in parody song
We use your sign-up to provide content in ways you've consented to and to improve our understanding of you. This may include adverts from us and 3rd parties based on our understanding. You can unsubscribe at any time. More info
Chris Rock's brother, Tony, 47, has spoken out on social media to suggest that his brother and Will have not yet made up following the debacle at the Oscars.
Yesterday, rapper Sean "Diddy" Combs said that the feud between Chris and Will was over and resolved.
A fan took to Twitter to confirm whether or not the news that they had still not resolved the issue was true.
Tony replied confirming that despite Diddy's claims, Chris had not yet forgiven Will.
The Twitter user, @Breesymone wrote: "@TonyRock so Diddy was lying when he said Chris and Will made up that night and are good now?"
In view of his 101,700 followers, Tony replied in a quote tweet, saying "Yep."
Express.co.uk has reached out to Chris' reps over Diddy's and Tony's comments.
This comes after the incident at the 94th Oscar Academy Awards ceremony on Sunday.
Comedian Chris appeared on stage to present the Best Documentary Feature award.
The film producer then went on to make fun of Will's wife Jada Pinkett Smith, who was sitting in the audience.
Chris Rock joked at the event: "Jada, I love you. G.I. Jane 2, can't wait to see it."
The 1997 movie featured a bald Demi Moore.
Jada lost her hair due to a health condition known as alopecia.
Initially, Will laughed at the joke told by Chris.
However, noting that his wife was upset by the comment, decided to take to the stage and strike the comedian.
The actor, who later went on to win an award for his role in King Richard, later apologised to Chris on Instagram.
He penned: "I would like to publicly apologize to you, Chris. (sic)
"I was out of line and I was wrong.
"I am embarrassed and my actions were not indicative of the man I want to be.
"There is no place for violence in a world of love and kindness."
Diddy's comments about the Will and Chris feud had come in an interview with Page Six.
Twitter user @Pullyourcard wrote to Tony: "Do you approve of the apology?"
Tony responded, saying: "No."
Source: Read Full Article