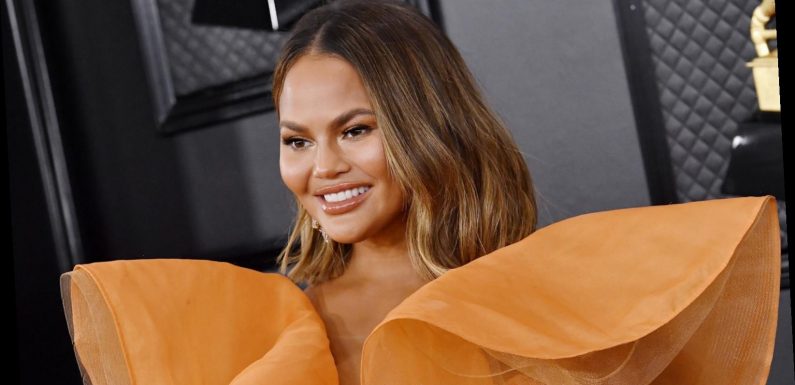 You might best know Chrissy Teigen for her Sports Illustrated cover, her incredibly successful cookbooks, or for her blunt and honest portrayal of herself on social media. That's right, while a lot of models prefer to keep an air of mystery and let their looks do the talking for them, John Legend's wife chose to jump on the chatter train and has collected quite the audience because of it. Teigen currently has more than 13.4 million followers on Twitter, and more than 33 million followers on Instagram.
If you're already following, then you are probably not too surprised to hear she has just dropped another explosive admission that would normally make other models go into hiding. Teigen has just lost a tooth (which really makes us wonder how much the tooth fairy gives in the Teigen/Legend household). Telling the world that she lost a tooth is a pretty open confession, yet in classic Teigen fashion, she's sharing even more hilarious details.
This is not the first time Teigen has shared her dental woes
"I just lost my tooth in a fruit roll up," she shared on Twitter. In a recent video, Teigen appeared near-topless, wrapped in a blanket, relaying the message in a deadpan fashion about her dental dilemma — as if losing a tooth in a fruit roll up is a common occurrence for adults. All the while, as she spoke, she held up one of her pearly whites that had been clearly lodged in the fruity snack. Luckily, it wasn't her real tooth. After being asked by a concerned fan if it was actually a cap or a veneer, Teigen clarified, "Cap but i loved him like he was a real tooth" (via Twitter).
This is not the first time Teigen has shared her dental woes. In February of 2019, she revealed that she had damaged a tooth during a taping of Family Feud. "I can't say if we won or lost family feud but we definitely brought a flask, I definitely chipped a tooth, and there was definitely a record set," she shared on Instagram (via Refinery 29). Fast forward a few months later and the saga continued after she posted a photo of herself at the dentist claiming, "My tooth fell out. Now, I've got to get a new tooth" (via Women's Health). We're starting to see a trend here, but we're not worried. It would be so classic Teigen to proudly share with her followers she's taking on denture modeling.
Source: Read Full Article