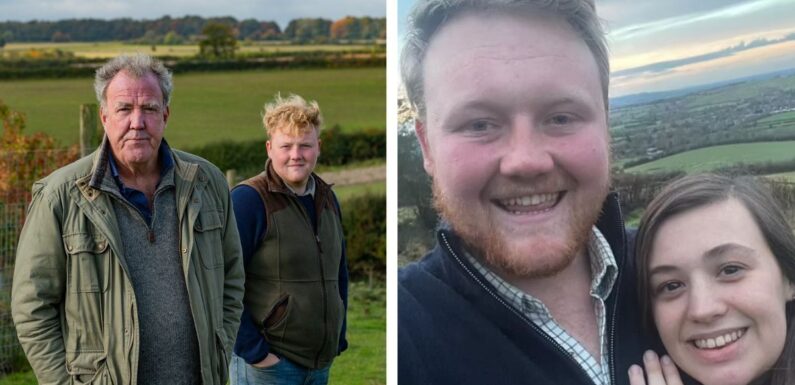 Clarkson's Farm season 3 wraps up for filming
Clarkson's Farm star Kaleb Cooper has made the shock revelation that his partner Taya started making plans for their wedding within "20 seconds" of delivering their second child.
Daughter Willa arrived this June, as a baby sister for two-year-old son Oscar – and, as the pair have been engaged for almost a year already, Taya wasted no time in booking a wedding venue.
"She did say that as soon as the second baby is born she'd be planning this wedding," Kaleb confided.
"About 20 seconds after delivering the baby, she says 'Right, wedding planning, should we have it here or here?'
"She's already booked the venue! So yeah, she's smashing it!"
READ NOW: Michael Ball talks 'fights' with partner he once rejected before romance
The 24-year-old farmer might be exhausted juggling TV commitments with plans for a UK tour to promote his second book – as well as, of course, working in the fields – but with Taya by his side, life is still running smoothly.
"No matter what happens or how late I have to work, she's always helping at home, whether it's just by saying 'Dinner's on the table when you get in, let me know when you're coming back,' or the kids have had a bath and are in bed," Kaleb marvelled.
Praising her organisational skills, he added: "My other half is the reason I am where I am today."
Meanwhile, Kaleb has divulged that writing a book has helped him step out of his comfort zone, going from someone who had scarcely left the village where he was born and needed to be taught by Jeremy where the continent of Africa is to a man contemplating a UK-wide tour.
Don't miss…
Stacey Solomon breaks silence on husband Joe Swash's absence after sparking fear[LATEST]
Holly Willoughby and beau facing their 'toughest test' after she quit ITV show[NEWS]
Big Brother star Chantelle's chilling encounter with 'creepy' Jimmy Savile[INSIGHT]
Advert-free experience without interruptions.
Rocket-fast speedy loading pages.
Exclusive & Unlimited access to all our content.
"Writing [my] first book made me want to step out of Chippy [Chipping Norton] and I think it made me realise that I'm missing out on other things – whether I like it or not!" he explained.
Now he's been writing a second book, which sees him "looking closer in to explore what's going on in parts of Britain that people may not know about".
"There are such rich traditions and rituals to be discovered and I'm all for it!" he exclaimed.
"Writing the book also got me thinking I needed to physically get to some of these places and now, believe it or not, I'm going on a theatre tour next year!
Kaleb shot from total obscurity to nationwide fame after appearing as Jeremy Clarkson's sidekick on his Amazon Prime show – and viewers have loved the banter between the two.
Meanwhile, Kaleb might be more than two and a half times away from Jeremy's age, but he's always been on hand to lend his help and farming expertise, even famously dragging his pricy Lamborghini tractor out of a ditch on occasion.
Jeremy joked in his Sunday Times column at the time: "I'm very bad at [harvesting]. Kaleb, my tractor driver, says he can't watch when I'm doing it!"
The mishap saw him branded the "Wolf of Chipping Norton" – a wordplay on Leonardo Di Caprio's character Jordan Belfort in The Wolf Of Wall Street.
Kaleb's partnership with Jeremy has delighted viewers – and now they'll get to see him step out on his own more too.
Britain According to Kaleb: The Wonderful World of Country Life, published by Quercus, is available in hardback, ebook and audiobook.
Source: Read Full Article