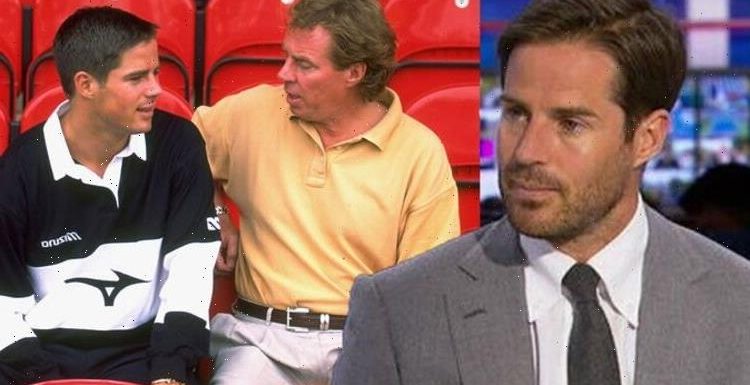 Jamie Redknapp appears topless behind Harry Redknapp
We use your sign-up to provide content in ways you've consented to and to improve our understanding of you. This may include adverts from us and 3rd parties based on our understanding. You can unsubscribe at any time. More info
Jamie Redknapp, 48, was a professional footballer, following in the footsteps of his father Harry, 75, who played for Tottenham Hotspur and West Ham United. The TV personality has taken to Instagram to mark his father's milestone 75th birthday, along with a heartfelt message and throwback pictures of the pair in Jamie's early football days.
Happy birthday to my best mate from day 1.

Jamie Redknapp
Jamie posted a series of ten snaps in view of his 1.4 million followers.
The first shows a young Jamie on a football pitch with his father who was in the midst of his football career.
The pictures then follow on to show Harry with his grandchildren, and on the sidelines for Jamie when he was playing professionally.
He made sure to include a picture of Harry with his beloved wife Sandra, along with pivotal moments from his managing career.
View this post on Instagram

A post shared by Jamie Redknapp (@jamie.redknapp)
He captioned the post: "Happy birthday to my best mate from day 1.
"Could not have asked for a better dad or mentor thanks for everything. (sic)
"Have the best day. Love you dad x."
Many social media users took to the post's comments to wish Harry a happy birthday and comment on Jamie's heartfelt message.
Jamie's wife Frida penned: "Happy Birthday @harryredknapp!"
Jarlathregan_irishmanabroad said: "Great pics Jamie. Happy Bday Harry." (sic)
Jamesgillcomedy added: "Never seen a closer father and son.
"I remember asking you guys if you ever argued and you looked at each other and answered: 'No never'.
"I'm practically dabbing an eye."
Angie_shaffi commented: "Wow these pics are fab. Happy Birthday pure gent Harry."
Harry pulled on the heartstrings of the nation when he gushed over his wife Sandra on I'm a Celebrity… Get Me Out of Here! in 2018.
Sandra flew out to support Harry during his stint in the jungle in 2018, which he went on to win.
The pair tied the knot back in 1967 and share Jamie and Mark Redknapp.
Jamie recently took to Instagram to share an adorable video of his newborn Raphael with his granddad Harry.
In the Instagram post from February 18 Jamie shared a video of Harry holding baby Raphael.
It was captioned: "What do you mean everyone says we look like twins?! I look nothing like you, Pop…"
The special moment was captured at Rick Stein's restaurant in Sandbanks, Dorset.
Source: Read Full Article