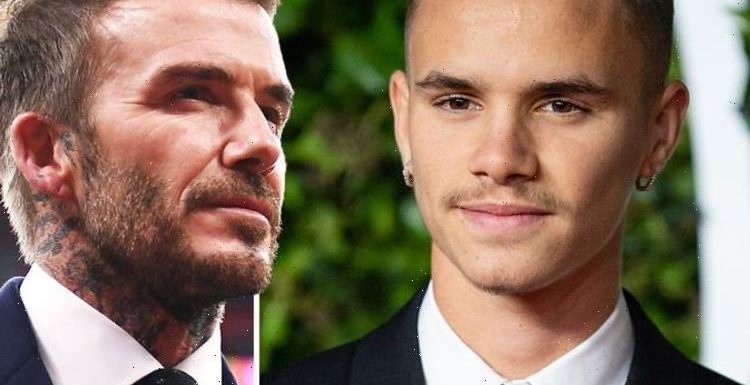 Romeo Beckham and sister Harper work on their football skills
We use your sign-up to provide content in ways you've consented to and to improve our understanding of you. This may include adverts from us and 3rd parties based on our understanding. You can unsubscribe at any time. More info
David and Victoria Beckham's middle son Romeo is now said to have more money in the bank than his three siblings, older brother Brooklyn, 22, younger brother Cruz, 16, and sister Harper, 10, following a brand deal. The young footballer, 19, recently announced that he had signed a lucrative sponsorship deal with sports brand Puma, leading to his parents quickly congratulating him in gushing posts.
He's the richest of the Beckham brood now

Source
The teen footballer landed a seven-figure deal with Puma to become the new face of the brand, reportedly making him the richest of all four of Posh and Becks' children.
Romeo plays as a forward for USL League One club Fort Lauderdale CF, following in his dad's footsteps as a professional footballer.
A source claimed that the recent sportswear deal was the first of many to be presented to him over the coming years.
They said: "Romeo was paid £1.2million for his deal to become the new global face of Puma.
"He's the richest of the Beckham brood now and like his father is on a fast track to super stardom," they told The Sun.
They added that the teen was "carving out a name for himself" through the brand deal.
Romeo is set to wear Puma's Future Z 1.2 football boots next season, which are also worn by PSG's Neymar.
Days ago, Victoria and David spoke out about how proud they are of their middle son Romeo, who shared the big news on Thursday.
After Puma posted the campaign on their social media channels, where the youngster talks about what football means to him, both David and Victoria shared it on their own retrospective Instagram accounts to congratulate their boy.
"Well done mate!" the former Manchester United legend penned.
The fashion designer added her own loving message: "Proud of you Romeo."
Of his partnership with the brand, Romeo said: "The Future Z boots match my game perfectly.
"They're light so that I can use my pace and agility, but they also grip the ball amazingly so I can dribble and pass effectively.
"I love the colours of the Under the Lights pack, which combine my passions of fashion and football."
Recently, the sportsman featured in a festive snap of the Beckham family which left fans amused.
David's followers were quick to spot him standing on his tiptoes as he posed next to his son, who threatened to tower over his father.
In view of his 70.2million followers, the star sent festive wishes to his Instagram fans.
David wrote: "Merry Christmas @victoriabeckham @brooklynbeckham @romeobeckham @cruzbeckham #HarperSeven #Family" alongside a row of heart emojis.
The former England footballer could be seen standing on his tiptoes as his heel was raised off the floor.
The star's fans were quick to point out David's attempt to give himself some extra height in the comments, with Instagram user conrvdm writing: "Becks trying to add a few inches."
Express.co.uk has contacted David's representatives for comment.
Source: Read Full Article