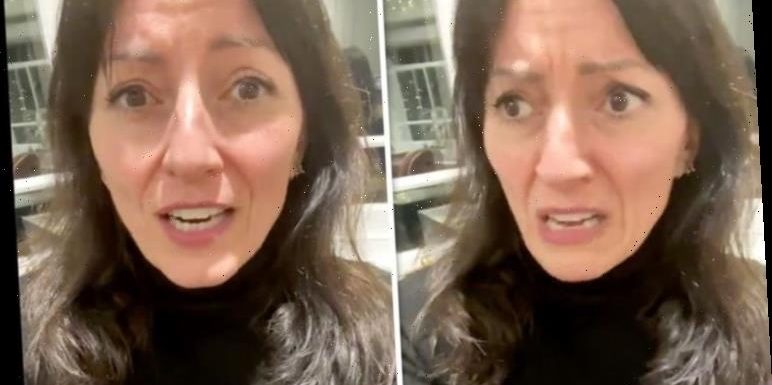 Davina McCall: Drop in COVID-19 cases is 'very exciting'
When you subscribe we will use the information you provide to send you these newsletters.Sometimes they'll include recommendations for other related newsletters or services we offer.Our Privacy Notice explains more about how we use your data, and your rights.You can unsubscribe at any time.
Davina McCall, 53, shared an uplifting tweet yesterday which declared the number of coronavirus cases are "still plummeting", as the UK remains in national lockdown. However, some of the Big Brother host's 2.7 million followers took issue with the statement, as they warned schools reopening in two weeks time could see a spike in cases once more.
I am not happy that people are dying!

Davina McCall
Davina has since spoken out and explained she is celebrating case numbers going in the "right direction" and not in fact celebrating "people dying", as some had claimed.
Looking glamorous in a black polo neck with a full face of make-up, she shared: "So I have just posted about the numbers going down and down and down, and this is really exciting.
"I am so happy about that, finally we are all going in the right direction. So many people have responded so negatively, like, 'Oh you just wait for kids to go back to school. 10 million kids, the numbers will soon go up then.
"'Do you know what the rate of infection is?' In schools, it is actually very low, and with the number of people that are getting tested at the moment, these results are very positive."
The star admitted she felt relieved the pandemic could be soon over, as lockdown and vaccinations have made a big impact on the number of daily Covid-19 cases in the UK.
She continued: "No I am not happy that people are dying, of course I'm not, this is not a celebration of people dying. This is a celebration of our numbers going in the right direction.
"Nobody in their right minds, nobody wants anyone to die. That is a stupid thing to think," she finished.
Her message comes a day after she had shared her joy as the case numbers finally begin to lower, nearly 12 months since the first lockdown began.
Re-sharing a list of figures from UK COVID-19 statistics, Davina wrote: "Still plummeting."
In the comment section, her followers shared their opinion on this latest information, and how they felt schools reopening could affect case numbers.
One said: "Until two weeks time and schools are back… then we will have a sharp rise as they are not vaccinated and low on the list- all the vaccinated people still have to stay home!"
Davina responded sarcastically: "Always look on the bright side of life."
DONT MISS:
Bill Giles struggling to enjoy BBC weather as stars resemble 'dogs' (PHOTOS)
Martin Lewis pokes fun at presenter wife's outfit (NEWS)
Richard Hammond's fear of 'hurting himself' prevents him doing stunts (LATEST)
While another typed: "Davina cases are really surging downwards in fact there skyrocketing downwards. People leaving hospital is soaring upwards death plummeting."(sic)
The Big Brother host seemingly found this one tweet particularly funny, and replied with a series of laughing emojis and wrote: "Love it."
While a third commented: "Wait till the schools go back."
However, others like Davina opted to take the news positively as they also celebrated the "fab" news.
One said: "This is fab news!"
A second replied: "For a Tuesday it's an amazing number. Tuesdays are normally catch up day from the low reporting weekend."
Meanwhile a third shared: "Plummeting around the world when you look at the world data."
According to the data provided, as of yesterday, there have been 343 new deaths and 6,391 have tested positive for coronavirus.
Source: Read Full Article