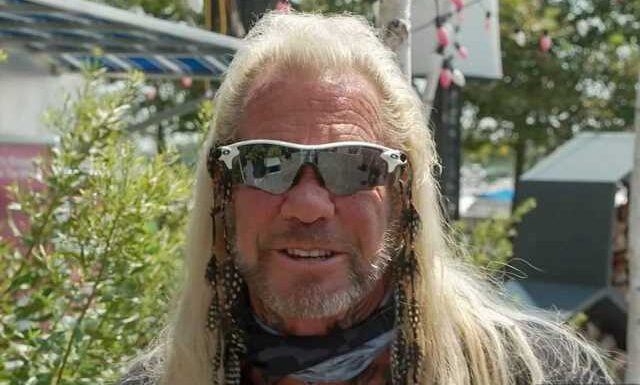 The 'Dog's Most Wanted' star faces backlash after saying in a new interview that 'we don't need more sissy men' and blaming people who don't go to church for 'kids changing their sexuality.'
AceShowbiz -Dog the Bounty Hunter a.k.a. Duane Chapman is making headlines for the wrong reason. After living a relatively quiet life with his wife Francie Frane, the reality TV star has now caught some flak following his homophobic rant.
The 70-year-old launched into a tirade against the LGBTQ+ community in an interview with online Christian ministry founder Sharell Barrera which was released on Tuesday, July 11. Appearing with his wife in the video, he blamed people who don't "go out and be the church" for "kids changing their sexuality."
"For many years, these holy rollers have done just that – rolled around," he said. "And you see where they've got us now. They've got kids changing their sexuality. They talk about tithing more than they do about what's going on."
The "Dog's Most Wanted" star called out the LGBTQ+ community as he continued, "They're so wacko themselves that where they have brought us all is to the gates of hell. So we have to stop all that, rebuke them."
"Jesus was not a sissy … he was not a sissy man," he went on claiming. "We don't need no more sissy men […] We need men and women that are willing to stand up against evil and speak the word of God," he added as both his wife Francie and Sharell cheered.
Duane then addressed Pride Month and businesses such as Target, which reportedly lost $9 billion following backlash over their Pride merchandise. "All these guys that are backing those jokers up are taking billion-dollar beatings, they're falling," he mocked them, noting that he has "compassion" for "people that are lost like that" but they "need to be saved."
The bounty hunter additionally confessed that he has LGBTQIA+ friends and family members, but he insisted "that's not the way God made us." He went on reasoning, "He didn't make Adam and Steve, he made Adam and Eve. So, that's exactly how it is."
Needless to say, Duane soon faced backlash for his comments on the LGBTQ+ community. A disagreeing Twitter user wrote, "Apparently @DogBountyHunter hasn't actually read the bible it says that the golden rule is to love thy neighbor and it also says not to judge others for the only one to judge is God and If a man say, I love God, and hateth his brother, he is a liar we are all god's children."
Another blasted him, "@DogBountyHunter has been telling us who he is for awhile. He gets louder when he wants attention." A third hit back at Duane, "Says the man with a mullet aka women hair. Okay buddy it's 2023 not 1991…you must love it In the a**. Btw..you are not attractive nor do you make enough money to make you attractive."
Another sarcastically reacted, "Yeah, let's listen to what @DogBountyHunter has to say about a community, because if anyone is a compass or morality it's the man who kids hate him, goes on racist tirades, was shacking up with someone new before his wifes body was even cold and wears a childs hairstyle at 70."
Still, there were a few who supported Duane's opinion. One of them said, "I'm with u Dog PHK these lil sissy boys- Long Live Masculinity Long Live the traditional heterosexual household." Another commented on the interview, "Absolutely agree! So do most Americans! Don't buckle full speed ahead!"
Duane was previously labeled as homophobic and racist by his daughter Bonnie Joanne Chapman, whom he shared with his late wife Beth Chapman. He dismissed his daughter's accusations the following month, alleging that Bonnie's "been fed what to say."
"I have three men on my staff that are gay," the father of 13 explained to Entertainment Tonight at the time. "My daughter is gay, baby Lyssa. I don't understand why anybody would ever say that."
You can share this post!
Source: Read Full Article