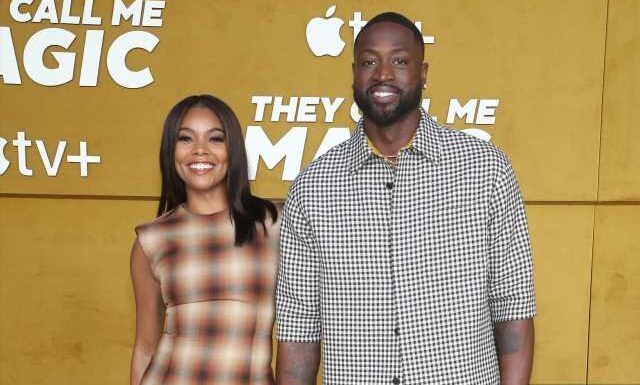 During his appearance on a podcast, the former NBA star reveals that he and his wife had a disagreement one time where he said he paid for the house, so she decided that she paid half of their new house in L.A.
AceShowbiz –Dwyane Wade has finally addressed his wife Gabrielle Union's comments that they "split everything 50/50." During an interview with Shannon Sharpe on his "Club Shay Shay" podcast, the former NBA star detailed their financial arrangement, only to earn more criticisms from social media users.
"I haven't given no color to this, but it's thinkpieces going around about me as a man," Dwyane began his explanation. "Let's talk about it. So, the whole 50/50 concept, so I understand what 50/50 means. [It] means that everything in life, you got your half and I got my half. We'll put this s**t together and try to make 100. That is not how our relationship works, all right? Everybody think 50/50, they think 'Hey, if he gettin' a sandwich, you gotta put 50% on that!' "
The 41-year-old continued, "50/50 in our household is- first of all, let's say that I have 20 to 50 responsibilities. My wife has 20 to 50 responsibilities. When I say that, that means she has a mother, she has her sisters, she has her dad, she has a lot of things that she's responsible for. You know what she does? She pays one hundred percent of that." He went on stressing, "You know what I do? I pay one hundred percent of my life."
Dwyane later recalled a disagreement he had with his wife when they were living in Miami, during which he said that he paid for the house. "My wife is a working actress, spends time away from the family, we decided together. I think one time, we were in Miami, I said something about it being my house that I pay for. She said, 'You will never say something like that to me again when it's something that we share.' So my wife was like 'When we move to L.A., I got half on it,' " he shared.
His remarks only drew more negative comments from fans, who accused Dwyane of making Gabrielle feel "insecure." One of them claimed, "So basically you made a statement that made your wife felt uncomfortable and unsafe and thars [sic] why She feel the need to compete with being man in the relationship.."
"She's just going half and half with him because she's traumatized by him," another remarked. "S**t he did to her in the past and him making that comment about the house he paid for. They can act all in love, but she doesn't trust him completely."
Similarly, someone concluded from Dwyane's statements, "So it's basically from a place of insecurity… cos you put her in that spot by being the classic 'this is my house, it's gonna be by my terms' man. Gotcha!!"
"The worst thing your spouse can do is make you feel unsafe . Now I see why it's 50/50," a fourth user remarked, while another alleged, "Any man that looks at his wife and tells her 'this is my house' doesn't respect her or love her! This interview made it wayyyy worse omg."
Others, however, respect the couple's decision, with one saying, "I respect it.. it's not that hard to understand." Another agreed, adding, "If it works for them then who are we to judge….let them be happy & stop giving our opinions on things that have nothing to do with us. We have to do better as a people."
"Whatever works for them. Apply your opinion to your own family," someone weighed in, while another responded to the backlash, "S**t. Wtf is wrong with 50/50?"
Gabrielle first opened up about her family's financial arrangement during an interview with Bloomberg. She admitted that she got nervous if her movie didn't do well as she and Dwyane "split everything 50/50."
She explained, "I think I just have more responsibilities for my money so I get nervous like oh God that movie didn't open, well what does that mean? Am I going to have enough to hold everybody up and everyones like it's coming calm down." The "Think Like a Man" star continued, "It's weird to say I'm head of household because in this household we split everything 50/50."
Gabrielle then defended their financial arrangement. "Every household is different and doing what's best for you and yours is the key," she wrote in an Instagram comment on May 21. "And what some don't understand is that I'm 100% responsible for 3 other households and D has even more. The majority of those households are elderly ppl and minors."
The 50-year-old actress added, "We both come from families that step up to help care for children or elderly relatives. So being able to be with someone who meets me half way and lightens my load gives me peace and support. He's offered to cover me trust, but that's not my ministry nor brings me peace."
"All that to say, I love how we recognize that there's billions of ways to exist and you just gotta find what's right for you that brings YOU peace. I found mine," she concluded.
You can share this post!
Source: Read Full Article